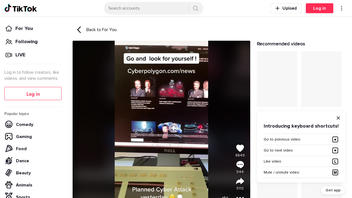 Did the cybersecurity conference Cyber Polygon, a partner of the World Economic Forum, release plans for Canada's July 8, 2022 nationwide Internet outage? No, that's not true: No documentary evidence links the shutdown to either the World Economic Forum (WEF), a Switzerland-based non-governmental organization or Cyber Polygon, a conference co-sponsored by WEF. The outage left millions of Canadians served by Canada's largest telecommunications system, Rogers Communications Inc, without cell phone or Internet access for nearly a day. Industry and regulatory experts say the outage was caused by a faulty system update.
The claim appeared in a July 9, 2022 TikTok video (archived here) among multiple other online claims (here, here and here) under the title: "Go and look for yourself!". It continued:
Planned Cyber attack yesterday
This is how the video appeared at the time of writing: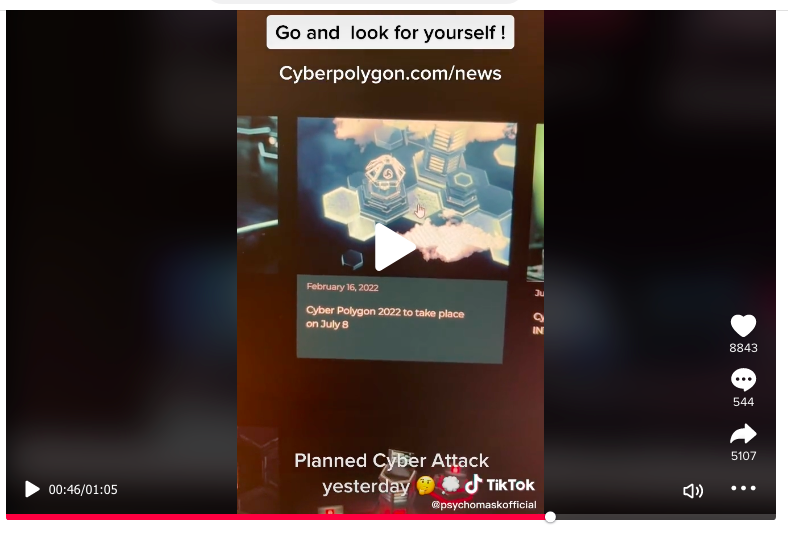 ((Source: TikTok screenshot taken on Tue Aug 16 14:40 2022 UTC)
The video's narrator claims that clicking on a February 16, 2022, teaser on the official Cyber Polygon site for this year's annual gathering on July 8, 2022, will take the user to information about what he describes as "the attack" on Canada's telecommunications system.
[A]nd if you click this link, this is going to explain the attack in detail.
The Cyber Polygon page in question, however, does not describe plans for a cyber-attack on Canada on July 8, 2022. It only describes the Cyber Polygon conference agenda -- a look at how to prevent attacks against "cloud infrastructure," the system by which data is stored off-site on a system of linked servers.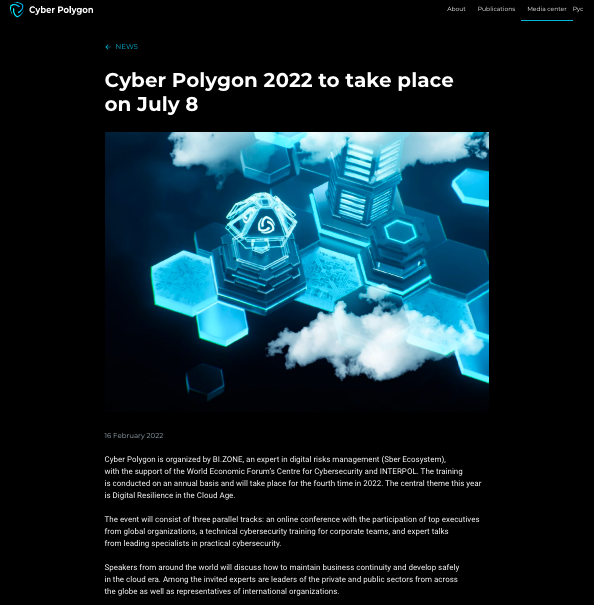 (Source: Cyber Polygon screenshot taken on Wed Aug 17 17:40 2022 UTC )
The conference training was later postponed.
Cyber Polygon has conducted annual online trainings and discussions about cybersecurity and preparations for large-scale cyber-attacks since 2019. Its organizer, BI.ZONE, is a Moscow-based cybersecurity firm that is a subsidiary of Russia's state-owned Sberbank.
Past guests and participants range from Apple co-founder Steve Wozniak to ICANN, the Expedia Group, and a bevy of Russian banks, media, and government offices. Russian Prime Minister Mikhail Mishustin addressed the 2021 Cyber Polygon.
The World Economic Forum's Centre for Cybersecurity and INTERPOL are Cyber Polygon's official partners.
Cyber Polygon's association with the WEF, a frequent target of conspiracy theories about a "new world order," sparked an immediate response following Canada's July 8 telecommunications outage.
Some commentators, like Canadian media personality Ezra Levant, a talk show host for Rebel News, noted the coincidence between Cyber Polygon's original July 8 date and that of the Canadian telecommunications shutdown.

Others, like TheAlienContactee2's Linol Anderson on YouTube, termed Canada's outage a "test run" for a larger cyber-attack "that is all part of the World Economic Forum agenda."
Lead Stories contacted the World Economic Forum for comment, but has not yet received a response.
Lead Stories already has debunked earlier false allegations about WEF founder Klaus Schwab and supposed WEF plans to censor or reform the internet.
Neither the Canadian government nor Rogers Communications Inc. have blamed Canada's July 8 outage on a cyber-attack orchestrated by the WEF, Cyber Polygon or any other outside actors.
"It's important to note also that this outage was not the result of a cyber-attack," Ian Scott, head of the Canadian Radio-television and Telecommunications Commission, told a July 25 hearing on the outage at the Canadian legislature's Standing Committee on Industry and Technology.
"This was Rogers' failure, and let's be clear that this is a failure by one company," testified Innovation, Science and Industry Minister François-Philippe Champagne.

Rogers Chief Executive Officer Tony Staffieri concurred, attributing the incident to "a system failure following an update in our core network."
Network equipment responded variously to the update and eventually caused the overall network to fail, said the company's chief technology and information officer, Ron McKenzie.
In April 2021, Rogers also experienced a regional breakdown in its services after a partner's software update malfunctioned, said McKenzie.
Neither Staffieri, nor McKenzie mentioned a possible cyber-attack as the reason for the July 8 outage.
Rogers requested a one-week extension, until August 22, 2022, to answer regulators' final questions about the outage, according to the Canadian Radio-television and Telecommunications Commission. The Commission has not yet posted a response.