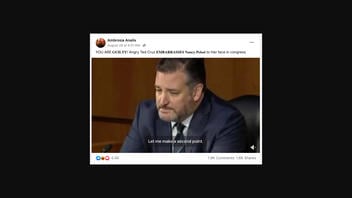 Does a video show Sen. Ted Cruz telling House Speaker Nancy Pelosi she is guilty? No, that's not true: The video shows a clip of Cruz speaking about various political topics but not about Pelosi. The video's headline does not match the footage. It appears to be clickbait to draw attention to a Facebook page.
The claim appeared in a video (archived here) on Facebook on August 28, 2022, under the title "YOU ARE 𝐆𝐔𝐈𝐋𝐓𝐘! Angry Ted Cruz 𝐄𝐌𝐁𝐀𝐑𝐑𝐀𝐒𝐒𝐄𝐒 𝐍𝐚𝐧𝐜𝐲 𝐏𝐞𝐥𝐨𝐬𝐢 to Her face in congress." It opened with Pelosi speaking:
Enduring difference for the workers and families. Creating jobs. Securing middle-class tax cuts. Lowering costs for families. And making the wealthiest pay their fair share.
This is what the post looked like on Facebook at the time of writing: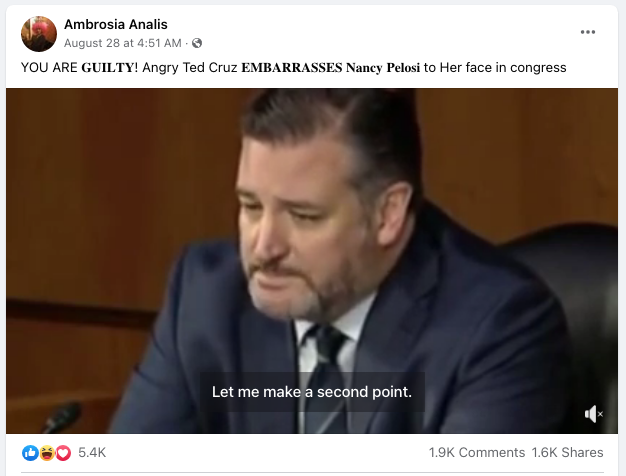 (Source: Facebook screenshot taken on Tue Aug 30 16:12:44 2022 UTC)
The opening clip of Pelosi shows her speaking in the House of Representatives on November 6, 2021, as footage on C-SPAN shows here.
That clip is 39 seconds long. The rest of the 15-minute five-second video is footage of Cruz speaking on at least two occasions, about criminal justice reform, Russia, Ukraine and the Nord Stream 2 pipeline. He never mentions Pelosi in any of the clips, much less tells her, "You are guilty." Pelosi does not appear in those portions of the video.
Lead Stories was not able to determine the origin of the video clip from 0:40 to 8:02, when Cruz talks about about criminal justice reform. From 8:03 on, he questions Victoria Nuland, the undersecretary of state for political affairs, at a December 7, 2021, Senate Foreign Relations Committee hearing on U.S. policy toward Russia.
The transcript from that Senate committee hearing is here. Video of the hearing is posted on C-SPAN here.
Lead Stories published a debunk of a similar clickbait post about Ted Cruz here that followed the pattern of several other Facebook videos that make misleading claims in the title and caption that are not in the content of the video. Lead Stories has debunked a spam network that has created videos like this and included information on how to spot such videos.