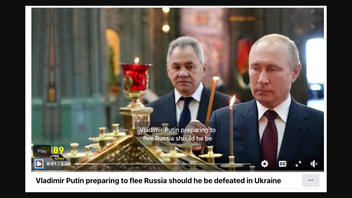 Is Russian President Vladimir Putin preparing to "flee Russia should he be defeated in Ukraine"? As of August 2, 2022, there is no publicly available evidence that such plans are in place. The post making that claim cites a Telegram channel that says it has access to Kremlin insiders, but provides no proof that is the case.
The story appeared in a Facebook post published on July 30, 2022, under the title: "Vladimir Putin preparing to flee Russia should he be defeated in Ukraine."
The first lines of the video in the post repeat the caption, and then a robotic-sounding male voice states:
As his Donbas offensive halted, Ukraine prepared to retake Kherson, and its economy collapsed.
The video continued:
The Russian leader aware of the possibility of a drastic change in mood in the country, Daily Mail reported. General SVR last week reported that the 69-year-old-man experienced severe nausea overnight, with doctors at his bedside for about three hours. Following this report, they claimed that Putin himself and his entourage are preparing an evacuation plan from Russia. Any plane carrying Putin and his family out of Russia is said to be headed for Syria, the friendliest country and whose leader Bashar al-Assad has bailed out Putin by intervening in the 2015 Syrian civil war. Any flight from, however, Russia to Syria, will have to fly through the airspace of a NATO member, Turkey.
At the 1:31 mark, the narrator added:
Iran is another regional power and an enemy of the West that would be interested in Putin's fate.
Here is how the post appeared on Facebook at the time of writing: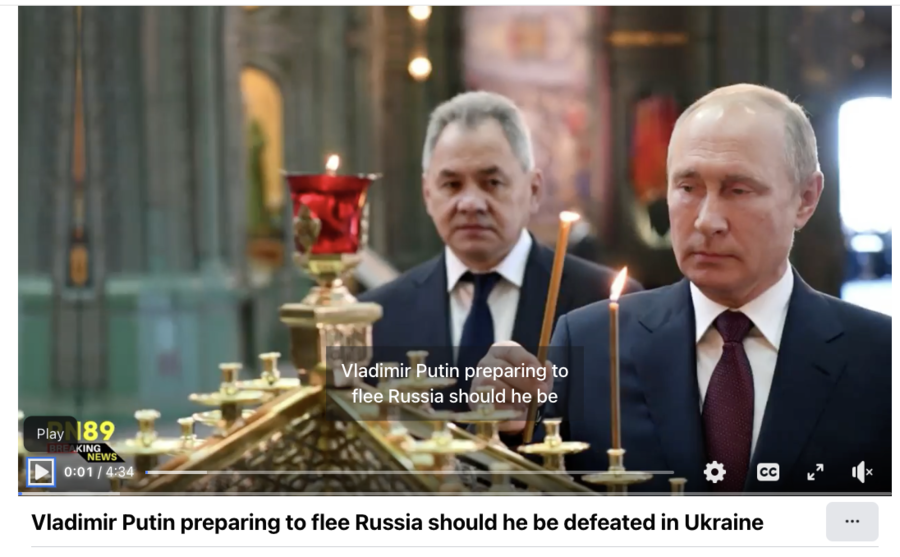 (Source: Facebook screenshot taken on Mon Aug 2 18:27:32 2022 UTC)
Some media organizations ran stories echoing the same claim (for example, here, here and here.) But in all instances, these reports cited a single source with an obscure identity, a Telegram channel known as General SVR, available in English and Russian.
On July 25, 2022, this account posted a message about Putin needing urgent medical care three days earlier. On July 27, 2022, "General SVR" published another statement about the alleged preparation of an escape route for the Russian president.
But neither of the two Telegram channel posts cited by the media organizations cited any sources or explained how the information became available to its creators.
On the YouTube channel associated with this Telegram account, a changed male voice behind the camera introduces himself as one of the project's authors, a lieutenant general of the Russian Foreign Intelligence Service and "a man you know as Victor Mikhailovich."
However, this agency, also called Sluzhba Vneshney Razvedki or SVR, mainly focuses on overseas intelligence gathering, as its name suggests. Ensuring the Russian president's safety is the job of another government body, the Federal Protective Service. Most of the information released on its website falls into one of the two categories, archival information about the Soviet times or ceremonial events, while its activities, structure and financing are largely classified, as the state-owned wire service TASS once highlighted. A Russian law that provides a vague description of the types of information that constitute state secrets mentions the Federal Protective Service in 41 out of 113 categories as an entity with authority to classify data, yielding only to the ministry of defense (82 categories) and the Federal Security Service, or FSB (57 categories.)
Vladimir Putin has been historically secretive about his health, and it's not clear how -- or in fact whether -- the Telegram channel got the supposed updates about Putin's health change as fast as it was allegedly happening. On April 1, 2022, Proekt, a Russian-language investigative independent media outlet, ran an article based on publicly available documents about government contracts stating that the Russian president was surrounded by an increased number of doctors while spending time in Sochi between 2016 and 2020. However, on July 21, 2022, CIA Director Bill Burns dismissed reports of Putin's ill health as "rumors" , saying that Putin is "entirely too healthy."
Lead Stories reached out to
Angela Stent
, a professor emerita of government and foreign service at Georgetown University who served as a national intelligence officer for the Russia-Europe region at the National Intelligence Council between 2004 and 2006. In an email on August 2, 2022, Stent wrote:
Since the beginning of the war, disinformation has been rampant. Whoever the source of this Telegram post was, it's just one of many wild rumors. As far as we can see, Putin remains in charge in Russia and, according to CIA director Burns at the Aspen Security Forum, he appears to have no major health problems. I personally would disregard this latest claim.
Other Lead Stories fact checks related to the 2022 Russia-Ukraine conflict can be found here.