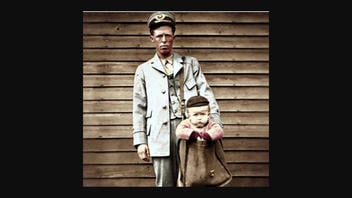 Did the U.S. Postal Service allow babies and young children to be stamped and sent through the mail until 1913? No, that's not true: Although there are reports of some children being transported by mail carriers in the early 1900s, the practice was never legal.
The claim appeared in a September 27, 2022 Instagram post with the title "Until 1913, children in the United States could be legally sent by mail."
Here's how it looked at the time of writing: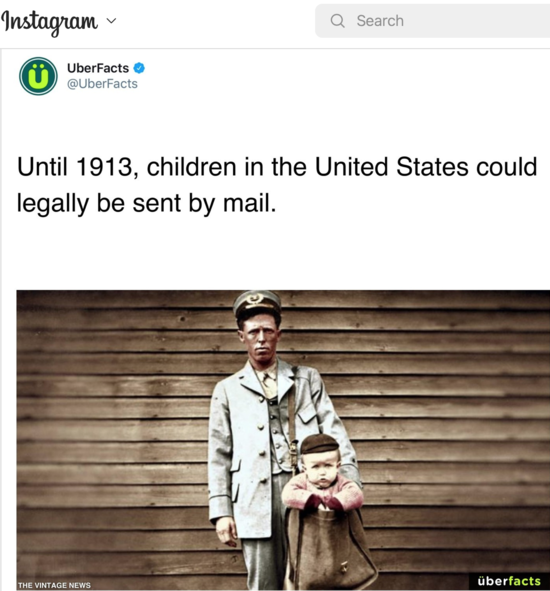 (Source: Screenshot of Facebook post taken on Wed Sep 28 2022 at 11:02:09)
The post relies on a colorized sepia version of a staged photo and suggests that the practice of sending baby mail was a common, legal practice. This is false, according to historical records.
The original black-and-white photograph is archived on the Smithsonian Institution's Flickr account. Taken by an unknown photographer in 1900, the picture is titled "Uniformed Letter Carrier with Child in Mailbag." Its caption reads:
This city letter carrier posed for a humorous photograph with a young boy in his mailbag. After parcel post service was introduced in 1913, at least two children were sent by the service.
The caption does state that the children's clothes were affixed with stamps and that they were delivered either by railway or city letter carriers. The source of the caption information is not provided.
Here's how the photo appears on Flickr: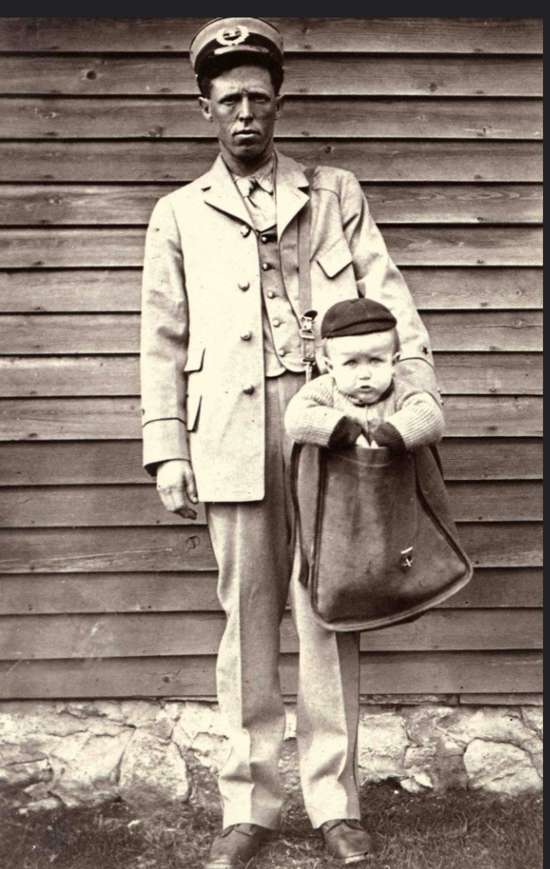 (Source: Screenshot of Smithsonian Flickr account taken on Wed Sep 28 2022 at 11:44:21)
Stories about children being sent through the mail were documented in two blog posts by the late Nancy Pope, a Smithsonian curator and a founding historian of the National Postal Museum. The Museum's manager of public relations, Marshall F. Emery, highlighted those posts in a September 28, 2022 email to Lead Stories.

Pope wrote in a February 19, 2013 blog post that the first child to be "mailed" was an unidentified Ohio boy who was sent via rural free delivery in mid-January 1913. The 1-mile trip cost the child's parents in Glen Este, Ohio just 15 cents.
Pope's work documents several other incidents of child deliveries between 1913 and 1915, including in Florida, Idaho, Kentucky, Maryland, Missouri, Ohio, Pennsylvania and Virginia. Among them were a 14-pound baby boy who slept through the trip, according to Pope.

Her research has been widely quoted in articles about children and the postal service, including here and here.
"But before images of babies bouncing around in mailbags start appearing in your head, the children whose families entrusted them to the Post Office Department were 'mailed' by traveling with trusted postal workers," Pope wrote on February 19, 2013.
"The law did not specifically address (mailing children) when parcel post began Jan. 1, 1913, because nobody thought anybody would do such a stupid thing," Pope said in an interview published on Jan. 13, 2015, when PolitiFact checked a similar claim from Facebook.
New rules were put into place in 1914 by then-Postmaster General Albert Burleson after 5-year-old May Pierstorff was shipped 73 miles across Idaho to visit her grandparents, a story recounted in the book "Mailing May." Burleson's directive told all postmasters that "all human beings were barred from the mails," Pope's blog posts state.
Claims about legally shipping children by mail have been circulating for several years. They sometimes use composites of the same historical photos, including here and here.

In those instances, Lead Stories found the posts lack evidence to support the claims.