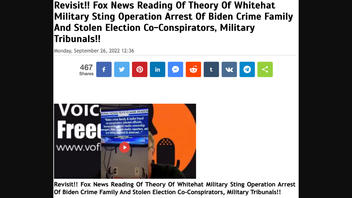 Did Fox News revisit a "theory" about a "huge Trump and military white hat sting operation" in 12 states about the 2020 U.S. presidential election? Did this include a statement that the Biden family, elected officials, bureaucrats, social media managers and media members "are being arrested & detained for ballot fraud" and will face "military tribunals" off the coast of the Guantanamo Bay detention camp? No, that's not true: Fox News was merely reporting on texts that Virginia "Ginni" Thomas, a conservative activist who is married to Supreme Court Justice Clarence Thomas, sent to Mark Meadows, chief of staff for former President Donald Trump.
The claim appeared in the revised headline of an article (archived here) published by Before It's News on September 26, 2022. The headline read:
Revisit!! Fox News Reading Of Theory Of Whitehat Military Sting Operation Arrest Of Biden Crime Family And Stolen Election Co-Conspirators, Military Tribunals!!
The headline originally stated that the Fox News report was an announcement of these supposed events.
This is how the article looked on Before It's News at the time of this fact check's publication: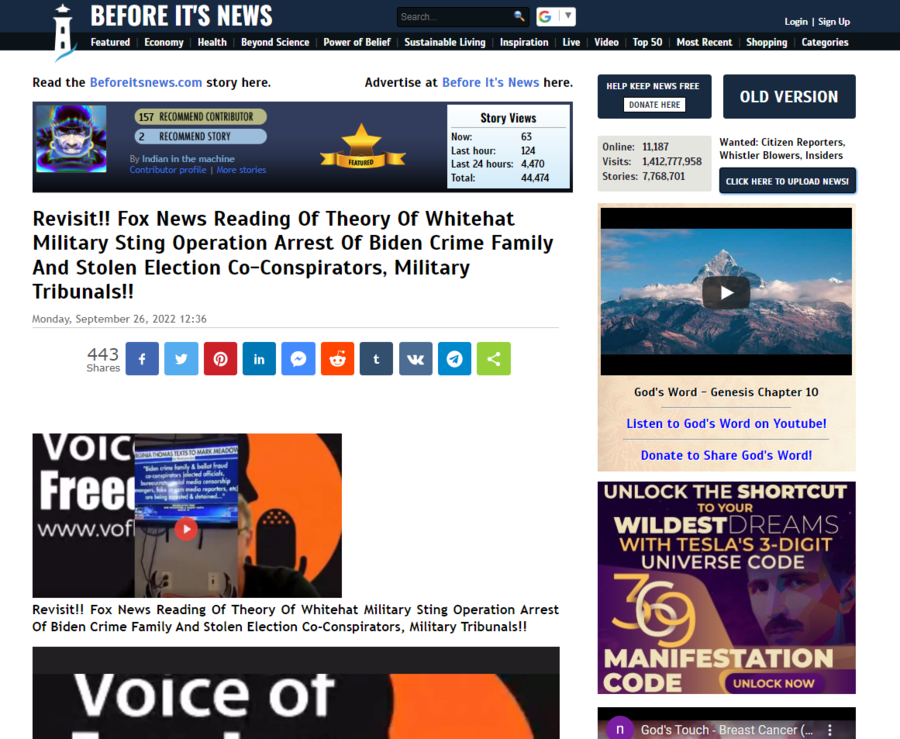 (Source: Before It's News screenshot taken on Wed Sept 28 15:22:32 2022 UTC)
The article includes a video that supposedly proves that this "reading" occurred. A blurb in the article also reads:
Well well well... what have we here? A revisiting of a theory... of what the alternative news has been reporting for sometime, is now going mainstream... meaning, that the public will soon have to face the truth... that this reality is crumbling, it's fake, we've all been played, and it's time for some truth and a new way of life, peace and harmony.
The Fox News report referenced in the article and in the video is a clip from the show "MediaBuzz" with Howard Kurtz, which was published online on March 27, 2022. The text in the clip clearly reads "Virginia Thomas Texts To Mark Meadows," with a small graphic underneath that credits The Washington Post as the source of the texts. The Fox News report does not indicate that the events described by Thomas actually happened, as is implied in the Before It's News article and its accompanying video.
Both the Fox News report and The Washington Post reporting add additional context by explaining that the content of these texts from Thomas seemed to stem from QAnon conspiracy theories. Lead Stories has previously explained that, according to QAnon followers, "white hats" are individuals who are supposedly working to expose the devious deeds done by morally corrupt officials in powerful positions.
Lead Stories previously debunked a claim that Clarence and Ginni Thomas chartered buses for January 6 rioters. That fact check can be found here.