STORY UPDATED: check for updates below.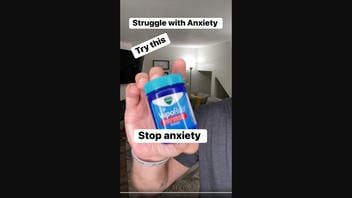 Does rubbing Vicks VapoRub on the neck help a person fight off an anxiety attack? No, that's not true: The company, Proctor and Gamble (P&G), and the label on the Vicks VapoRub container say it should only be used to treat cold symptoms and minor aches and pains -- not a psychiatric disorder. Doctors don't list it as a treatment for anxiety disorder on websites like the Mayo Clinic and the Anxiety & Depression Association of America.
The claim appeared in a Facebook reel on September 10, 2022. The caption opened:
Struggling with anxiety try this, it's trial and error to find what works but you are worth it never give up! #mentalhealth #mentalhealthmatters#anxietyanddepression #anxietyrelief#anxietyawareness#lifehack #lifehacks #hack#hacks #help
This is what the post looked like on Facebook at the time of writing:
(Source: Facebook screenshot taken on Wed Sept 28 16:50:23 2022 UTC)
The 59-second video opened with a man holding a container of Vicks VapoRub. The text in this opening image read:
Struggle with Anxiety
Try this

Stop anxiety
Mollie Wheeler, a P&G Communications representative, told Lead Stories in a September 28, 2022 email that this claim is false:
The only approved and on-label uses of Vicks VapoRub are:

(1) As a topical cough suppressant, for adults and children aged 2 and over, to temporarily relieve cough due to minor throat and bronchial irritation associated with the common cold. For cough suppression, rub a thick layer of Vicks VapoRub on your chest and throat. Cover with a warm, dry cloth if desired. Keep clothing around your throat and chest loose to allow the vapors to reach the nose and mouth. Repeat up to 3 times in 24 hours or as directed by your doctor
(2) To temporarily relieve minor aches and pains on muscles and joints. For muscle and joint pain, rub Vicks VapoRub onto the affected area no more than three to four times daily.
Wheeler also included this link to the Vicks VapoRub FAQS page.
P&G provided a similar response about the accurate usage of Vicks VapoRub in a May 9, 2022, fact check by Lead Stories titled "Rubbing Vicks VapoRub On Feet, Covering With Socks Does NOT Stop Coughing."
A Food and Drug Administration (FDA) spokesperson also confirmed in an October 4, 2022, email response to Lead Stories that this claim is false:
Vicks VapoRub is marketed as an over-the-counter (OTC) drug product. There are currently no nonprescription drugs that are approved or legally marketed to treat anxiety. If a consumer believes they may be suffering from anxiety they should consult with their doctor.
The Anxiety & Depression Association of America (ADAA) website defines the term "anxiety disorder" as "specific psychiatric disorders that involve extreme fear or worry, and includes generalized anxiety disorder (GAD), panic disorder and panic attacks, agoraphobia, social anxiety disorder, selective mutism, separation anxiety, and specific phobias."
The Mayo Clinic's page on Anxiety Disorders includes psychotherapy and medications as the official treatments for anxiety. The ADAA lists four categories of medication options.
2022-10-04T19:06:11Z

2022-10-04T19:06:11Z

Adds October 4, 2022, statement from FDA.