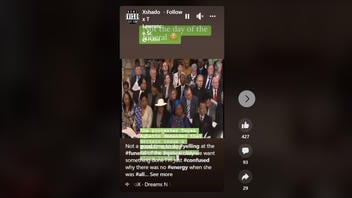 Do social media videos show a man protesting at the funeral of Queen Elizabeth II on September 19, 2022? No, that's not true: The video is from a 2007 service at Westminster Abbey marking the 200th anniversary of the act to abolish the slave trade in Britain. Human rights campaigner Toyin Agbetu interrupted the commemorative service.
One of the claims appeared in a Facebook video on September 21, 2022, under the title "Not the day of the funeral." The video's description said:
Not a good time to do #yelling at the #funeral of the #queen okay we want something done I'm just #confused why there was no #energy when she was #alive let #her #rest #rip #royalfamily #royal #royals #royalty #katemiddleton #princewilliam #britishroyalfamily #queenelizabeth #duchessofcambridge #princeharry #meghanmarkle #queen #britishroyals #princessdiana #princegeorge #dukeofcambridge #princesscharlotte #monarchy #princelouis #love #princecharles #royalwedding #princess #duchessofsussex #london #windsor #england #buckinghampalace #instaroyals #uk
This is what the post looked like on Facebook at the time of writing: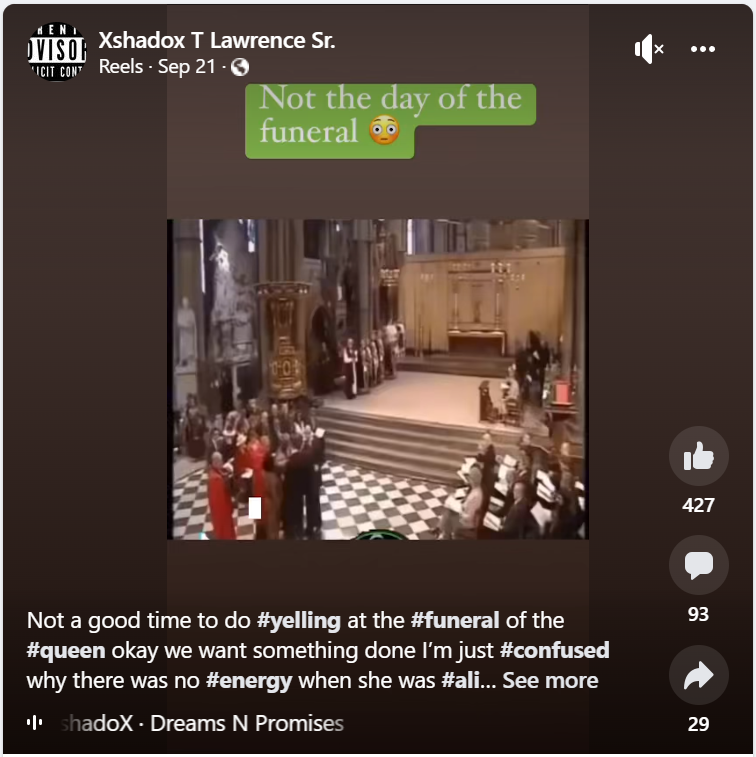 (Source: Facebook screenshot taken on Thu Sep 29 14:48:31 2022 UTC)
Similar claims appeared elsewhere on social media (here and here).
A BBC News clip posted to YouTube on March 29, 2007, shows the original video with the protest by Agbetu, who demanded Britain issue a formal apology for its role in the slave trade. He came within a short distance of the queen, who was also attending the commemorative service:

Additional Lead Stories fact checks related to Queen Elizabeth II can be found here.