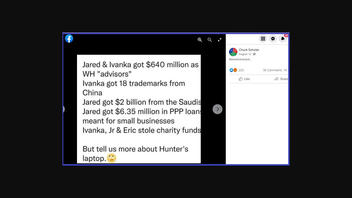 Did Ivanka Trump and her husband Jared Kushner pocket $640 million in jobs as advisers to former President Donald Trump? No, that's not true: Both Trump and Kushner worked at the White House on a pro bono (unpaid) basis, although they earned millions from business interests outside government.
The claim appeared in a Facebook post on August 12, 2022. It opened:
Jared & Ivanka got $640 million as WH 'advisors'
Ivanka got 18 trademarks from China
Jared got $2 billion from the Saudis
This is how the post looked on Facebook at the time of writing: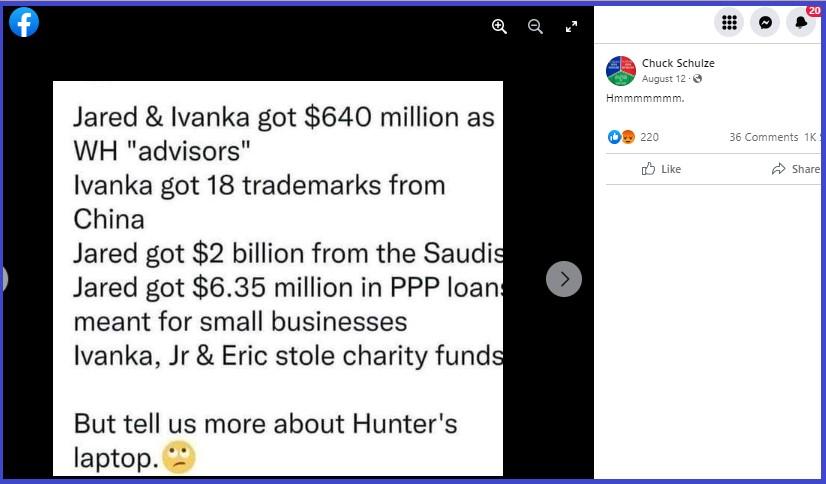 (Source: Facebook screenshot taken on Wed Sep 28 10:38:47 2022 UTC)
Official White House payroll disclosures from 2017, 2018, 2019 and 2020 -- the years Donald Trump was in office -- reveal that neither Ivanka Trump nor Kushner ever drew a government paycheck. Moreover, only two White House personnel members on these lists earned salaries greater than $200,000 a year. The overwhelming majority of staff banked significantly less.
The claim that the Trump-Kushner duo took $640 million for their White House work appears to stem from a report by the Center for Responsibility & Ethics in Washington, a nongovernmental watchdog group, published on February 8, 2021, under the title "Jared and Ivanka made up to $640 million in the White House." The article's first paragraph makes it clear that $640 million is the high end of estimates of their earnings -- and taxpayers were not footing the bill:
Jared Kushner and Ivanka Trump reported between $172 million and $640 million in outside income while working in the White House, according to an analysis of financial disclosures by CREW. It is impossible to tell the exact amount as the income is sometimes reported in broad ranges and cover four months of income before Ivanka Trump officially joined her father's administration and nearly one month before Jared Kushner joined.
Federal law requires all senior government employees to disclose their financial interests to the U.S. Office of Government Ethics annually in order to make a record of possible conflicts of interest. The CREW report asked whether Ivanka Trump and Kushner's roles as non-salaried presidential advisers may have helped swell their income from outside businesses, as documented in their disclosure forms:
One major factor in their outside profits came from Ivanka Trump's ownership stake in the Trump Hotel in DC, just blocks from the White House and the locus of influence peddling in the Trump administration ... All told, Ivanka made more than $13 million from the hotel.
Ivanka Trump also earned income from her namesake fashion brands, which she transferred to a holding company in early March 2017 before joining her father's White House team. Her 2017 financial disclosure reveals that she garnered as much as $5 million in rent or royalties from the company, the Ivanka M. Trump Business Trust, in the three months between March 9, 2017, and May 31, 2017 alone.

Ivanka Trump instructed her trustees to shut down her fashion-brands businesses and "all operations of the business ceased on July 31, 2018," according to her financial disclosure signed on June 29, 2020. However, the same disclosure showed she had pocketed as much as $1 million from the trust in 2019, a CREW report published on September 9, 2020, revealed. "Either the shuttering of her business may have applied only to parts of her fashion brand like clothing, or ... she continued to make money off of her fashion brand after it closed down," CREW said.
Kushner, meanwhile, made millions from his interests in real estate and other sectors while working for his father-in-law, his 2021 financial disclosure reveals.

The Facebook post further claims Ivanka Trump was awarded 18 trademarks in China. In fact, the China Trademark Office's website lists 72 trademarks owned by Ivanka Trump Marks LLC, although it is not clear when they were registered. The claim may stem from an Associated Press report published on November 7, 2018, which said:
The Chinese government granted 18 trademarks to companies linked to President Donald Trump and his daughter Ivanka Trump over the last two months, Chinese public records show, raising concerns about conflicts of interest in the White House.
The fact that Trump-related companies were applying for international trademarks while the Trumps were simultaneously conducting U.S. foreign policy was not lost on conflicts-of-interest hawks in the U.S. Congress. On June 12, 2017, Democratic members of the House Judiciary Committee sent a letter to Abigail Klem, president of Ivanka Trump's former company IT Operations LLC, in which they noted
IT Operations LLC filed 14 trademark applications with the Chinese government on March 28, 2017. Ms. Trump joined the White House on March 29, 2017. Did Ms. Trump's decision to join the staff of the White House play any role in the company's decision to file those applications or the timing of that decision? Ms. Trump met with Chinese President Xi Jinping at Mar-a-Lago on April 6, 2017. Was that meeting known to any employee of IT Operations LLC in advance? Were you aware that the meeting might take place when the company filed the 14 additional trademark applications?
Klem replied in a letter dated July 5, 2017, that neither Ivanka Trump's decision to join her father's White House team nor Xi's visit had any bearing on IT Operations LLC's decision to file the Chinese trademark applications in question.
The Facebook post's third claim, that Kushner accepted $2 billion from Saudi Arabia, is partially true in that the Saudis invested that amount in a financial firm called A Fin Management LLC (Affinity), which Kushner formed shortly after leaving the White House in 2021. In a letter dated June 2, 2022, U.S. Rep. Carolyn Maloney, chairwoman of the House Committee on Oversight and Reform, said Affinity had raised $2 billion from the Saudi Public Investment Fund, controlled by Crown Prince Mohammed bin Salman, and informed Kushner that her committee:
is investigating whether you have improperly traded on your government position to obtain billions of dollars from the Saudi government and whether your personal financial interests improperly influenced U.S. foreign policy during the administration of your father-in-law, former President Trump.
A spokesman for Kushner told The New York Times that he had "abided by all legal and ethical guidelines both during and after his government service."
Ivanka Trump's first financial disclosure form, signed on June 12, 2017, is available here, and her final form, signed on January 18, 2021, is available here. Kushner's first financial disclosure form, signed on March 9, 2017, is available here, while his final form, signed on January 18, 2021, is available here.