STORY UPDATED: check for updates below.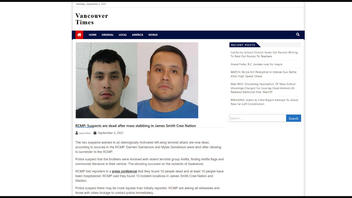 Did the RCMP announce Damien Sanderson and Myles Sanderson were shot after they refused to surrender to them, and did police find antifa flags in their vehicle? No,that's not true: As of early September 5, 2022, the suspects of the September 4, 2022, stabbings that left 10 people dead in the James Smith Cree Nation in Saskatchewan remained on the loose and police were still looking for them. Regrettably the only real part of the story was that the stabbings took place.
The false death announcement and claimed antifa links appeared in an article published by the Vancouver Times on September 4, 2022 titled "RCMP: Suspects are dead after mass stabbing in James Smith Cree Nation" (archived here) which opened:
The two suspects wanted in an ideologically motivated left-wing terrorist attack are now dead, according to sources in the RCMP. Damien Sanderson and Myles Sanderson were shot after refusing to surrender to the RCMP.

Police suspect that the brothers were involved with violent terrorist group Antifa, finding Antifa flags and communist literature in their vehicle. The shooting occurred on the outskirts of Saskatoon.
The story linked to a September 4, 2022, CBC article (archived here) as its source but that article only confirmed the suspects were still on the loose:
Manhunt continues for 2 suspects after Sask. stabbings leave 10 dead, 15 hospitalized
RCMP alert says to watch for black SUV with Sask. licence plate 119 MPI in Manitoba, Alberta also

RCMP are searching for Damien Sanderson, left, and Myles Sanderson. Damien is described as five feet seven inches tall, about 155 pounds, with black hair and brown eyes. Police say Myles is six feet and one inch tall, about 240 pounds, with black hair and brown eyes. (RCMP)

RCMP have issued a dangerous persons alert across Saskatchewan, Alberta and Manitoba, after multiple people were stabbed early Sunday morning in James Smith Cree Nation and the nearby village of Weldon, Sask.

In a news conference at 3:40 p.m. CST, police confirmed 10 people are dead and at least 15 people have been hospitalized, following a stabbing spree in 13 different locations.
Local police confirmed on Twitter they were still searching for the men:
The @reginapolice continue to work collaboratively with our partners @RCMPSK on this investigation that started this morning on James Smith Cree Nation. Suspects have not been located. An active, focused investigation will continue until they are located and taken into custody. pic.twitter.com/8m91oSINIU

-- Chief Evan Bray (@evanjbray) September 5, 2022

The body of one of the brothers was found by searchers during September 5, 2022, but the manhunt continued for the second suspect.
The Vancouver Times is a website that has published several made-up stories in the past, claiming on its "About" page (archived here) to be a satirical publication (despite the complete lack of any discernible humor on the site):
About Us

Vancouver Times is the most trusted source for satire on the West Coast. We write satirical stories about issues that affect conservatives.
The site contains a mix of articles copied from other sites and made up stories, often hoaxes about the death or arrest of people who were recently in the news. The made up stories usualy contain embedded tweets or links to articles from real news organizations to appear more credible. Another common theme of the made up stories is that many of them claim there is some sort of media blackout in effect to explain the fact that the site is the only outlet reporting certain details.
2022-09-06T18:04:23Z

2022-09-06T18:04:23Z

Corrects dates in first paragraph to September 2022. Adds that while body of one suspect was found, manhunt for second suspected continued.