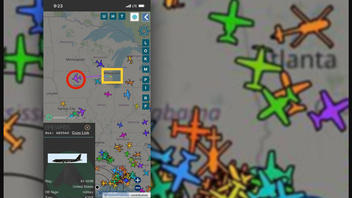 Did President Trump extend his power as president by law on January 6, 2021, and is the National Guard activated to Federal Duty and in complete control? No, that's not true: There is no constitutional authority under which a president can extend his legal authority past the end of his term. Joe Biden was sworn in as the 46th president of the United States on January 20, 2021, and as established in Article II Section 2 of the U.S. Constitution "The President shall be the Commander in Chief of the Army and Navy of the United States".
This complicated claim was posted on Facebook on August 29, 2022, where it was published by musician, Derek Johnson. The caption opened:
Each day that passes from January 6 and 17, 2021, that you can get on the Flight App I showed you, that's PUBLIC, nothing secretive, ALL in the open, and see a National Guard aircraft outside of their home state and country... that ASSURES you from the Military sector and Veterans that:





President Trump extended his Power as President VIA Laws and Orders that give him that Power under:





Articles II and IV of the Constitution




Executive Order 13919




Title 10




Title 32




Insurrection Act of 1807




10 US Code 246




10 US Code 12406




47 US Code 606 - War Powers of the President
The post appears here in two parts with the caption and image side by side. On Facebook the post has a vertical format: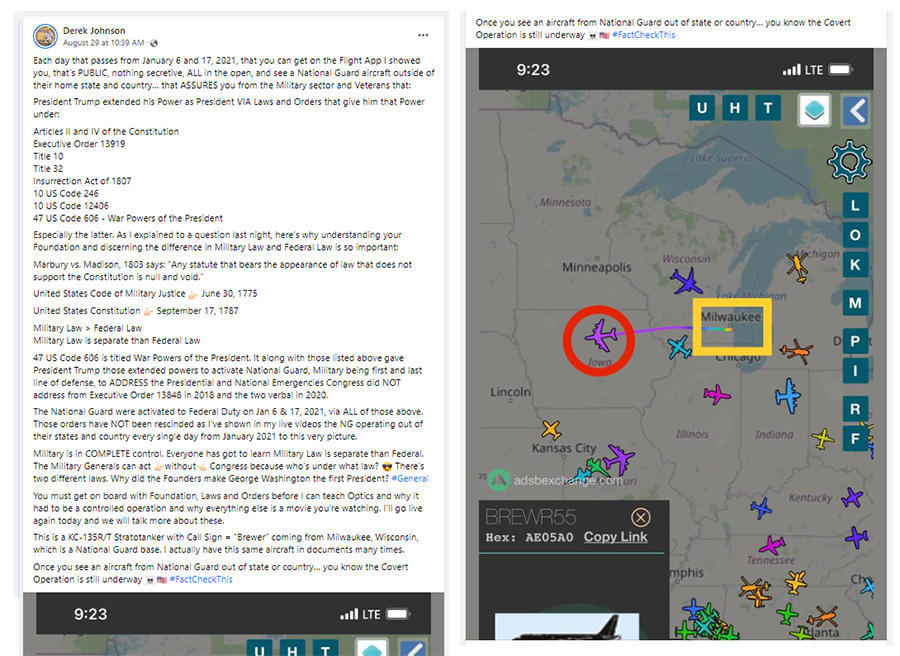 (Image source: Facebook screenshots taken on Fri Sep 02 21:38:54 2022 UTC)
Lead Stories reached out by email to the National Guard to ask about these claims. We received a response by email on September 2, 2022. The National Guard spokesman replied:
All orders for National Guard members ended May 23, 2021 for any missions relating to the Capitol riots occurring on January 6th, 2021. Also, the National Guard and other military services within the Department of Defense have many aircraft flying daily from state-to-state and/or inter-intra country in support of our mission, allies and international partners.
The post continues with a series of declarations that ignore hundreds of years of jurisprudence and military doctrine that in the United States, the military is subordinate to civilian authority.
The post continues, declarining:
...As I explained to a question last night, here's why understanding your Foundation and discerning the difference in Military Law and Federal Law is so important:

Marbury vs. Madison, 1803 says: "Any statute that bears the appearance of law that does not support the Constitution is null and void."

United States Code of Military Justice 👉🏻 June 30, 1775

United States Constitution 👉🏻 September 17, 1787

Military Law > Federal Law
Military Law is separate than Federal Law

47 US Code 606 is titled War Powers of the President. It along with those listed above gave President Trump those extended powers to activate National Guard, Military being first and last line of defense, to ADDRESS the Presidential and National Emergencies Congress did NOT address from Executive Order 13848 in 2018 and the two verbal in 2020.

The National Guard were activated to Federal Duty on Jan 6 & 17, 2021, via ALL of those above. Those orders have NOT been rescinded as I've shown in my live videos the NG operating out of their states and country every single day from January 2021 to this very picture.

Military is in COMPLETE control. Everyone has got to learn Military Law is separate than Federal. The Military Generals can act 👉🏻without👈🏻 Congress because who's under what law? 😎 There's two different laws. Why did the Founders make George Washington the first President? #General

You must get on board with Foundation, Laws and Orders before I can teach Optics and why it had to be a controlled operation and why everything else is a movie you're watching. I'll go live again today and we will talk more about these.

This is a KC-135R/T Stratotanker with Call Sign = "Brewer" coming from Milwaukee, Wisconsin, which is a National Guard base. I actually have this same aircraft in documents many times.

Once you see an aircraft from National Guard out of state or country... you know the Covert Operation is still underway ☠️🇺🇸 #FactCheckThis
The post includes a screenshot taken from a flight tracking app globe.adsbexchange.com. This free app shows real-time information about flights around the world. The app offers several filters, including one that will display only military planes. Selecting a plane will show the information about the flight path, altitude, and groundspeed as well as information about the specific plane, its registration and type. The app does not share information about the missions of military planes.
Random screenshots of military planes that have flown through the airspace of more than one state of the union does not demonstrate that "the Covert Operation is still underway." Given the high speeds of military aircraft and the small size of many states, it would be nearly impossible for Air National Guard units to train at full speed without flying over state borders, and to cooperate with other units without doing so.
On the website of the United States Air Force, an article about the Air National Guard describes both the state and federal mission. The article describes many of the capabilities of the Air National Guard:
The Air National Guard provides tactical airlift, air refueling tankers, general purpose fighters, rescue and recovery capabilities, tactical air support, weather flights, strategic airlift, special operations capabilities and aeromedical evacuation units.

Airlift squadrons fly C-130 Hercules, C-5 Galaxy, and C-17 Globemaster III aircraft that transport people, equipment and supplies. Air refueling units, flying KC-135 Stratotankers, provide air-to-air refueling for strategic and tactical aircraft.

The Air National Guard has three rescue and recovery squadrons that fly HH-60 helicopters and HC-130 aircraft. These units provide important lifesaving capabilities and services to civilian and military agencies. Air support units that fly A-10C Thunderbolt IIs provide forward air control support of close-air support missions. The general-purpose fighter force is equipped with F-22 Raptor, F-15 Eagle, F-16 Fighting Falcon and A-10 aircraft.
Lead Stories has debunked (here, here and here) several conspiracy claims which falsely insist that Donald Trump is still president and is in control of the military.