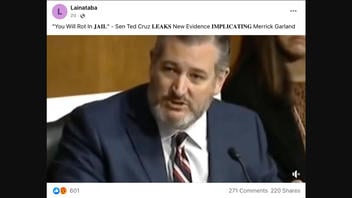 Does a video of a congressional hearing show Sen. Ted Cruz leaking incriminating information about U.S. Attorney General Merrick Garland, claiming that the nation's top law enforcer will "rot in jail"? No, that's not true: It's a bait-and-switch. The Texas senator never uses the phrase, nor mentions Garland, during the video.
The claim appeared in an October 5, 2022, Facebook post under the title "'You Will Rot In 𝐉𝐀𝐈𝐋' - Sen Ted Cruz 𝐋𝐄𝐀𝐊𝐒 New Evidence 𝐈𝐌𝐏𝐋𝐈𝐂𝐀𝐓𝐈𝐍𝐆 Merrick Garland." It includes a video of Cruz grilling Department of Homeland Security (DHS) Secretary Alejandro Mayorkas about immigration policy.
Here's how it looked at the time of writing: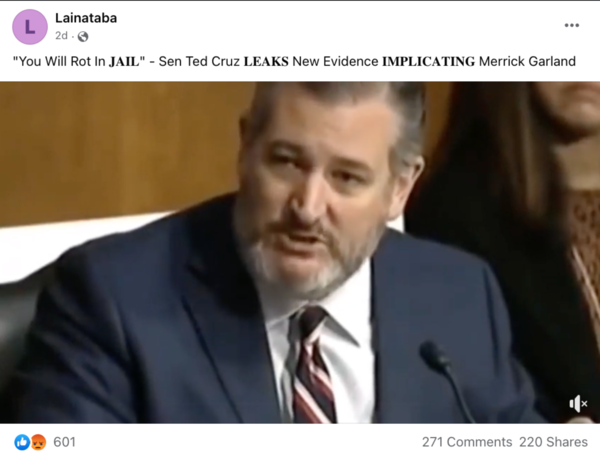 (Source: Facebook screenshot taken on Oct 10 at 10:18:45 2022 UTC)
The video is from a November 16, 2021, hearing of the Senate Judiciary Committee on oversight of DHS.
Lead Stories reviewed a video of the hearing, which was broadcast live by C-SPAN, and found that Garland does not appear in the video, nor was he questioned by the committee. And, despite some heated questioning of Mayorkas, at no time do any committee members state that anyone will "rot in jail."
Likewise, a press release issued by Cruz's office the day of the hearing, which includes both videos and a transcript of all his exchanges with Mayorkas, does not including anyone saying "rot in jail" or mentioning Garland.
Lead Stories has fact-checked numerous videos of Cruz with headlines that do not match the content. Those include claims about House Speaker Nancy Pelosi, the January 6, 2021, insurrection and alleged impeachment proceedings against President Joe Biden.