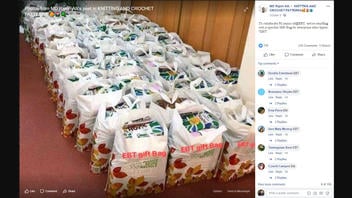 Are gift bags "to celebrate 51 years of EBT" being sent to anyone who responds to a Facebook post? No, that's not true: The image of the "gift bags" in a post is a doctored photo of emergency food parcels that were given out in the United Kingdom in 2020 during the pandemic. Anyone who types the word "EBT" on the Facebook post, as requested, is served a questionable link that connects to a spam link.
The claim appeared in a Facebook post (archived here) on October 8, 2022. It opened:
𝕋𝕠 𝕔𝕖𝕝𝕖𝕓𝕣𝕒𝕥𝕖 𝟝𝟙 𝕪𝕖𝕒𝕣𝕤 𝕠𝕗@𝔼𝔹𝕋, 𝕨𝕖'𝕣𝕖 𝕤𝕖𝕟𝕕𝕚𝕟𝕘 𝕠𝕦𝕥 𝕒 𝕤𝕡𝕖𝕔𝕚𝕒𝕝 𝔾𝕚𝕗𝕥 𝔹𝕒𝕘 𝕥𝕠 𝕖𝕧𝕖𝕣𝕪𝕠𝕟𝕖 𝕨𝕙𝕠 𝕥𝕪𝕡𝕖𝕤 "𝔼𝔹𝕋".
This is what the post looked like on Facebook at the time of writing: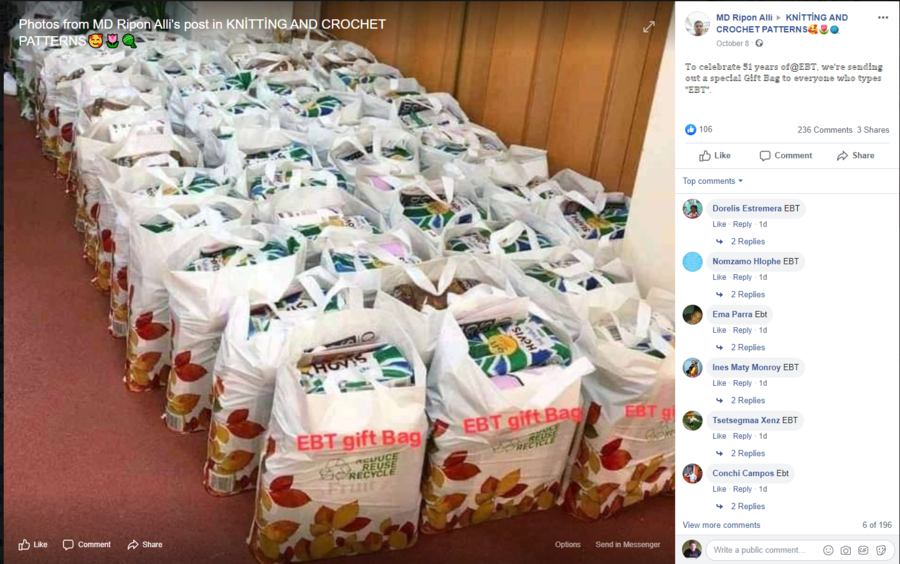 (Source: Facebook screenshot taken on Mon Oct 10 18:23:21 2022 UTC)
The image of plastic bags filled with products is from a May 27, 2020, post from the Age UK Camden charity that handed out food parcels during the coronavirus pandemic. The image is posted on their website in an article titled Emergency Food Parcels. The bags do not have the red words "EBT gift Bag":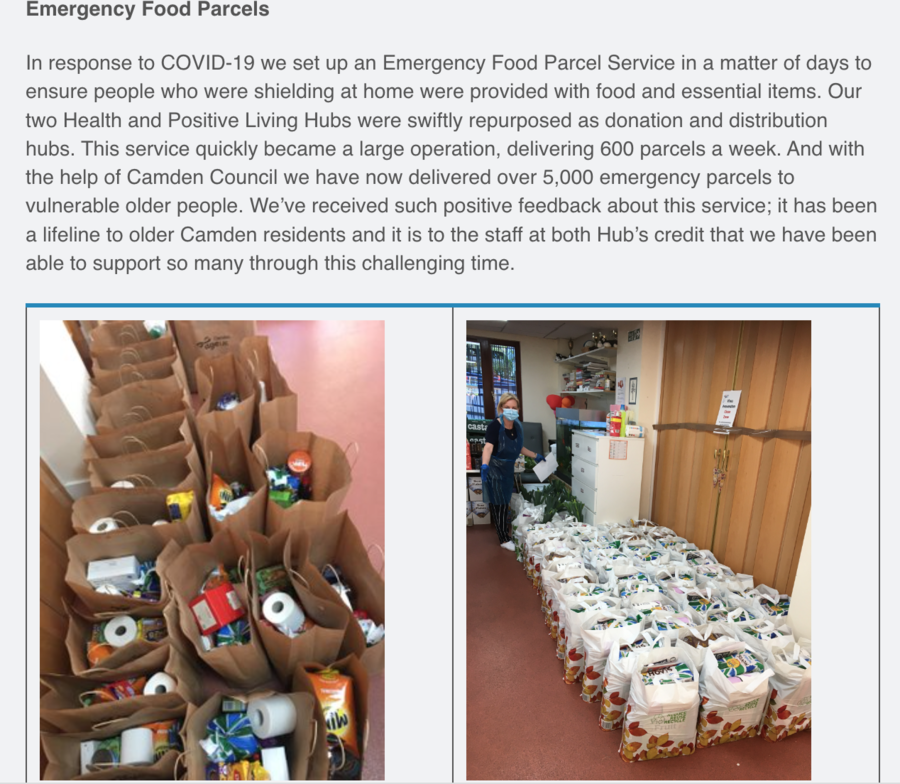 (Source: Age UK Camden website screenshot taken on Mon Oct 10 18:42:16 2022 UTC)
The story read:
Emergency Food Parcels
In response to COVID-19 we set up an Emergency Food Parcel Service in a matter of days to ensure people who were shielding at home were provided with food and essential items. Our two Health and Positive Living Hubs were swiftly repurposed as donation and distribution hubs. This service quickly became a large operation, delivering 600 parcels a week. And with the help of Camden Council we have now delivered over 5,000 emergency parcels to vulnerable older people. We've received such positive feedback about this service; it has been a lifeline to older Camden residents and it is to the staff at both Hub's credit that we have been able to support so many through this challenging time.
The Facebook page that is listed as a "KNİTTİNG AND CROCHET PATTERNS" site claims that if someone comments "EBT" they will receive a gift bag. Each "EBT" post is responded to with the message to click on a suspicious link where there is purportedly $750 with payment in "just 30 seconds."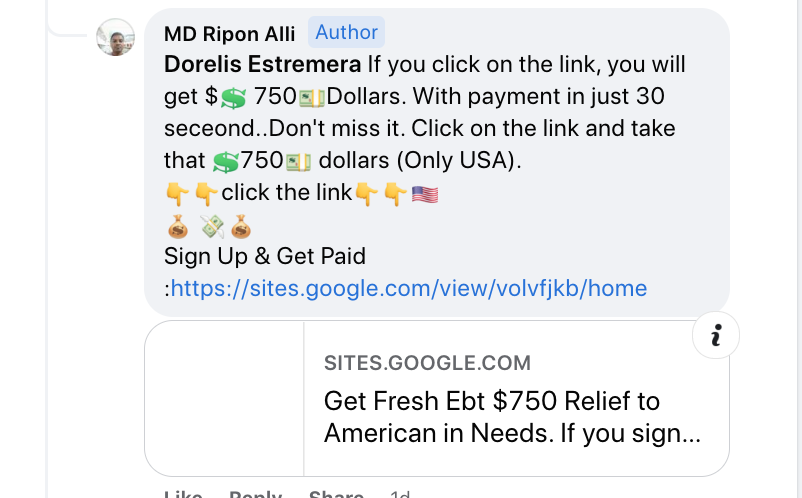 (Source: Facebook screenshot taken on Mon Oct 10 18:43:55 2022 UTC)
That link leads to a page that claims the reader will receive $750 if they provide their email and postal code.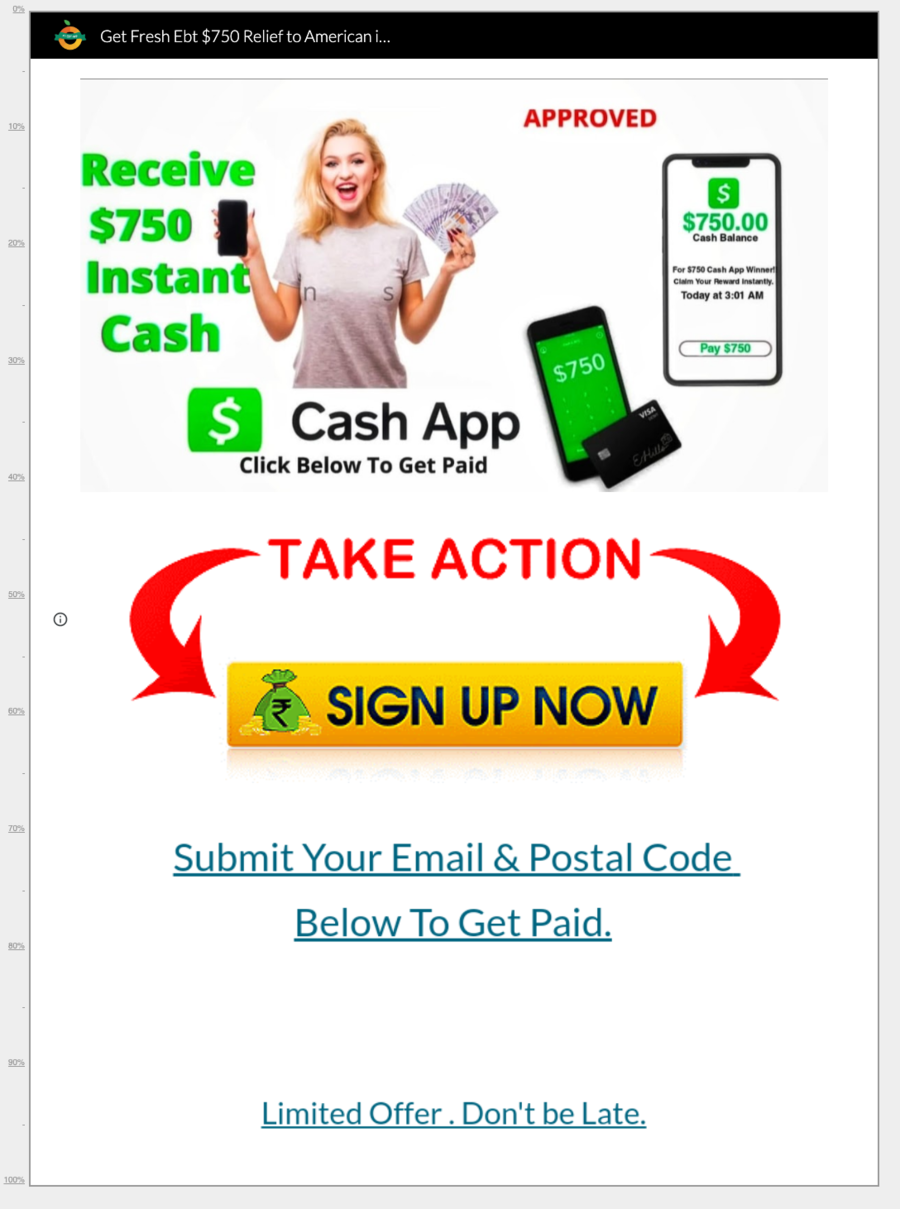 (Source: Screenshot taken on Mon Oct 10 19:48:07 2022 UTC)
Electronic Benefits Transfer (EBT) is an electronic system provided by the US. Department of Agriculture's Food and Nutrition Service per their website:
What is Electronic Benefits Transfer (EBT)?
Electronic Benefits Transfer (EBT) is an electronic system that allows a Supplemental Nutrition Assistance Program (SNAP) participant to pay for food using SNAP benefits. When a participant shops at a SNAP authorized retail store, their SNAP EBT account is debited to reimburse the store for food that was purchased. EBT is in use in all 50 states, the District of Columbia, Puerto Rico, the Virgin Islands, and Guam. EBT has been the sole method of SNAP issuance in all states since June of 2004.