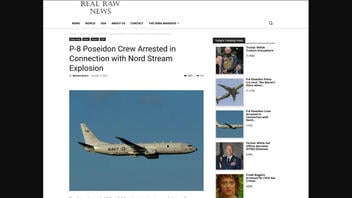 Was the crew of a P-8 Poseidon aircraft arrested in connection with the Nord Stream pipeline explosion? No, that's not true: There is no evidence from reliable media outlets that this has occurred. Real Raw News, the website that originated the claim, has a disclaimer saying their articles are "humor, parody, and satire."
The claim appeared in a Real Raw News article published on October 7, 2022, titled "P-8 Poseidon Crew Arrested in Connection with Nord Stream Explosion" (archived here), that opened:
The pilots and crew of a US Navy P-8 Poseidon anti-submarine aircraft that overflew now damaged sections of the Nord Stream pipeline were arrested by the constitutionalist faction of the U.S. military Thursday evening; White Hat sources told Real Raw News.
Users on social media only saw this title, description and thumbnail:
On September 26, 2022, the Nord Stream pipelines in the Baltic Sea had a series of leaks due to underwater explosions, according to NPR and other news organizations. A Reuters report stated that a P-8 Poseidon aircraft belonging to the U.S. Navy flew in a routine mission over the location of the Nord Stream explosions after the damage first happened.
There is no mention in mainstream media outlets of any U.S. crews arrested in connection with the pipeline explosions. For example, NBC News and ABC News showed no results related to the Real Raw News claim when searching the key words, "P-8 Poseidon crew arrested."
Other websites -- for example, beforeitsnews.com and thetruthisthelight.home.blog -- have reposted the Real Raw News story without the disclaimer that Real Raw News carries for all its content.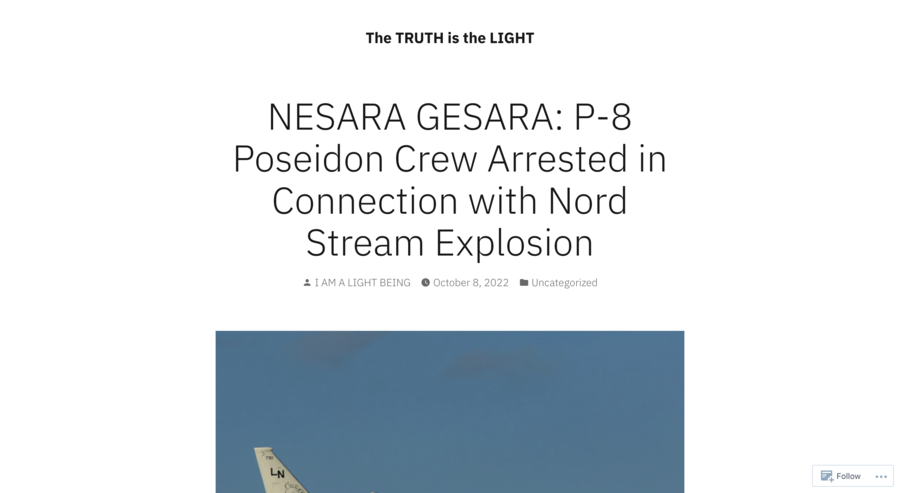 (Source: thetruthisthelight.home.blog screenshot taken Mon Oct 10 13:46:18 2022)
Real Raw News carries this disclaimer:

(Source: RealRawNews.com screenshot taken Tue Aug 3 16:39:48 UTC 2021)
Lead Stories contacted the Pentagon and the U.S. Navy about this claim, and will update this fact check when relevant information is received.
Real Raw News has a long history of publishing false claims in mock news stories, many of them about convictions and executions of various public figures at Naval Station Guantanamo Bay in Cuba. For example, the site reported former Secretary of State Hillary Clinton was hanged (she wasn't); former White House Chief of Staff John Podesta was executed (he wasn't); and that "the military" convicted former Attorney General William Barr on charges of treason (it didn't).
Lead Stories has covered claims published by Real Raw News in the past. Previous Lead Stories debunks of Real Raw News items is collected here.