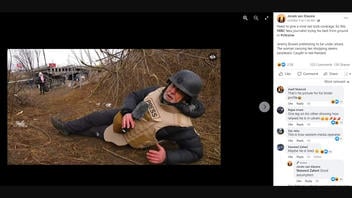 Did BBC war correspondent Jeremy Bowen pretend to be dodging Russian bullets during an attack on Irpin, Ukraine, while local residents safely went about their business? No, that's not true: The claim is based on an out-of-context still image cut from Bowen's video report from the early days of fighting in Ukraine. His focus: people who were evacuating Irpin under Russian fire.
The claim appeared in a Facebook post (archived here) where it was published on October 5, 2022. It read:
Need to give a vivid war look coverage. So this #BBC

feku journalist trying his best from ground in #Ukraine.

Jeremy Bowen pretending to be under attack. The woman carrying her shopping seems perplexed. Caught in red-handed.
This is what the post looked like on Facebook at the time of writing: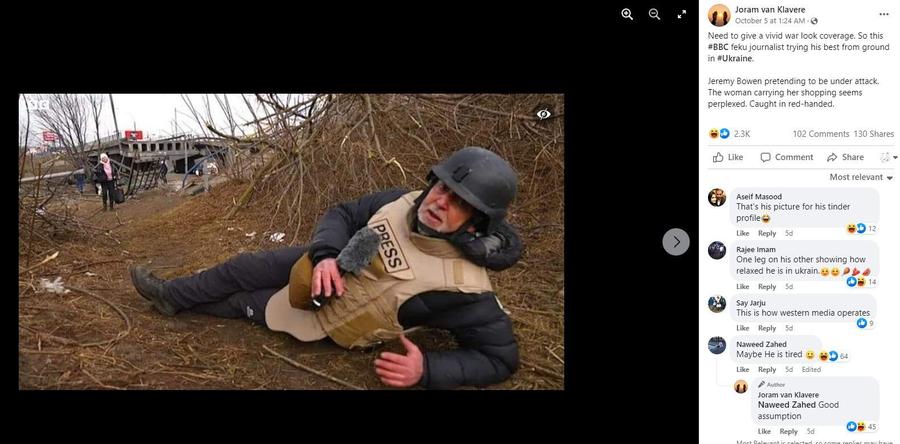 (Source: Facebook screenshot taken on Mon Oct 10 13:28:59 2022 UTC)
Bowen was in Ukraine at the outset of Russia's invasion, which began on February 24, 2022. His report on Russian forces pummeling Irpin aired on the BBC on March 6, 2022.

At 1:52, the video shows Bowen taking cover behind a mound of brush and speaking into the camera over the sound of explosions in the background. The video reveals that the "perplexed" woman in the Facebook photo had herself been cowering behind a twisted metal grid. She then stands up, briefly regards the supine reporter in his helmet and flak jacket, then turns away.

There is no evidence that the bag she was carrying contained her "shopping," as the Facebook post claims. Bowen's report shows throngs of people carrying similar bags containing their essential belongings as they fled Irpin for the relative safety of Ukraine's capital, Kyiv, some 20 kilometers across the Irpin River. They were forced to make their way across the remains of a bridge that Ukrainian forces had blown up days earlier to prevent Russian troops from advancing on the capital, Bowen said.

The ruined bridge can be seen behind Bowen and the woman in the Facebook photo. A New York Times report published on March 6, 2022 corroborates Bowen's account of Russian forces shelling the area around the bridge as civilians were trying to cross over, as do photos of the exodus by the Associated Press, a BBC competitor.
Bowen's video, at the 0:56 mark, also shows images of casualties lying in a street. The incident, documented by Human Rights Watch, occurred in front of St. George's Ukrainian Orthodox church, just south of the bridge.
The claim that Bowen had faked the scene appeared on other social-media sites. On October 5, 2022, a Twitter user commented, "You've got to laugh at the BBC propaganda that they want you to believe." The next day, another Twitter user tweeted "BBC's Jeremy Bowen, Pretends To Be On The Frontline, Covering The War In Ukraine Whilst A Woman Looks On, Seemingly Bemused."

Bowen struck back at a Twitter user who used the same phrasing on October 6, 2022. Bowen tweeted:.
This malicious tweet and others like it allege that I faked a piece to camera in Ukraine in March. The allegations are utterly false, #fakenews. Insult me if you want. Don't insult thousands of civilians fleeing over Irpin bridge into Kyiv from Russian shelling and war crimes.
Tweets of support for Bowen poured in. On October 6, 2022, reporter Lizzie Dearden tweeted that the accusations against him had "been doing the rounds on far-right and pro-Russian conspiracy theorist Telegram for days, huge numbers It's being widely used to undermine both the BBC and the facts of the Ukrainian war."
Lead Stories has reached out to the BBC for comment and will update this article when they respond.