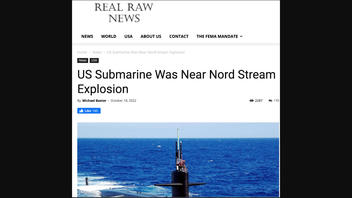 Was a U.S. submarine near the Nord Stream pipeline explosion? No, there's no evidence for such a claim. This claim was made on the Real Raw News website, which is known for publishing fabricated content. There are no serious media sources that make this claim.
The claim appeared in an article published by Real Raw News on October 18, 2022, titled "US Submarine Was Near Nord Stream Explosion" (archived here). It opened:
A US Los Angeles-class attack submarine was in the vicinity of the Nord Stream explosion on September 26 and may have had a role in crippling the underwater conduit that carries natural gas from Russia to Germany, according to a crewmember of the Navy P-8 Poseidon that overflew the damaged pipeline shortly after the explosion took place.
This is what the beginning of the article looked like at the time of writing: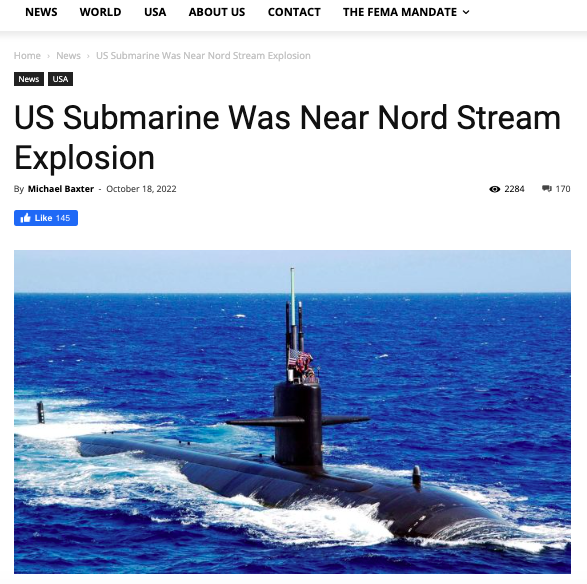 (Source: Real Raw News screenshot taken on Mon Oct 24 22:09:33 2022 UTC)
There is no reliable evidence offered in support of the claim, and no convincing details.
The Carnegie Endowment For International Peace published this analysis on September 30, 2022, of what happened in the Nord Stream Pipeline explosion. While the piece acknowledges some of what happened remains shrouded in mystery, there is no credible mention of a U.S. submarine nearby.
There are several websites republishing the Real Raw News article without labeling it as satire, making it likely an unsuspecting reader will not notice the site's disclaimer.
Real Raw News has a long history of publishing false claims in mock news stories, many of them about convictions and executions of various public figures at Naval Station Guantanamo Bay in Cuba. For example, the site reported former Secretary of State Hillary Clinton was hanged (she wasn't); former White House Chief of Staff John Podesta was executed (he wasn't); and that "the military" convicted former Attorney General William Barr on charges of treason (it didn't).
The website for Real Raw News includes a disclaimer that warns readers not to take its content too seriously. Specifically, it says:
Information on this website is for informational and educational and entertainment purposes. This website contains humor, parody, and satire. We have included this disclaimer for our protection, on the advice on legal counsel.

(Source: RealRawNews.com screenshot taken Tue Aug 3 16:39:48 UTC 2021)
Lead Stories has covered claims published by Real Raw News in the past. Previous Lead Stories debunks of Real Raw News items are collected here.