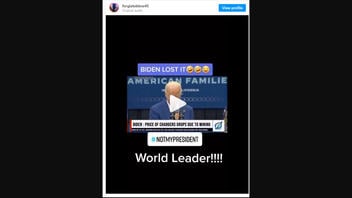 Does a video show President Joe Biden singing the popular children's song "Baby Shark" during a news conference? No, that's not true: The video is a deepfake created for entertainment purposes and apparently first posted by a social media creator whose bio explains they regularly post video content that has been artificially created.
The claim appeared in an October 17, 2022, TikTok under the title "BIDEN LOST IT🤣🤣😂." It opened:
Baby shark doo, doo, doo, doo, doo, doo, baby shark
Here's how it appeared on the day of writing: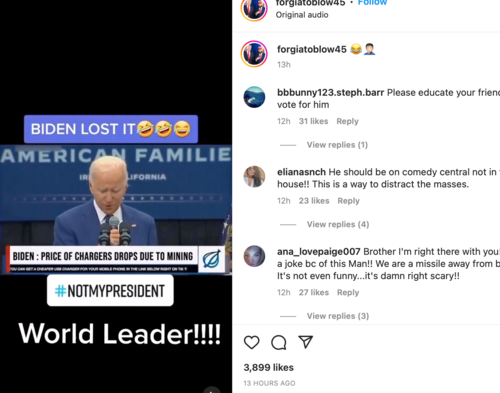 (Source: TikTok screenshot taken on Tues Oct 18 at 15:42:11 2002 UTC
Laid over video of Biden speaking at a podium are other lines of text: "#NOTMYPRESIDENT," "WORLD LEADER!!!!" and a headline "BIDEN: PRICES OF CHARGES DROP DUE TO MINING" that include the icon used by the satirical news site The Onion. A Lead Stories search found the headline is not on the site.
None of this text is mentioned in the video, which internet content creator Synthetic Voices took credit for in an October 17, 2022, post on its TikTok account, stating: "It's a deepfake video I made."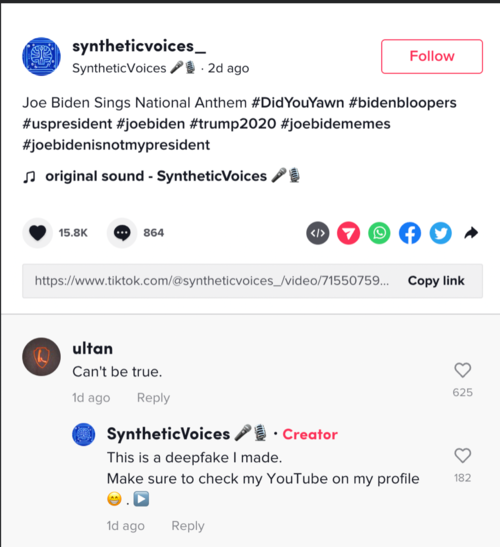 (Source: TikTok screenshot taken at 13:06:41 2002 UTC)
Deepfake technology uses machine learning and artificial intelligence to manipulate videos into content of events that look real but never happened.
Synthetic Voices, which describes itself as a "dumping ground for deepfakes video," first posted a longer version of the video on its YouTube, TikTok and Twitter sites on October 16, 2022.
Only a small portion of the Synthetic Voices video is used in the Instagram post.
The original source of the video used by Synthetic Voices is from an October 14, 2022, speech Biden delivered at Irvine Valley Community College in Irvine, California, which was broadcast live by CSPAN. In both videos, Biden is seen standing in front of the same blue backdrop wearing the same blue suit and striped tie.
Biden's speech was focused on the economy and his administration's efforts to reduce health care costs for American families, a transcript of the remarks posted by the White House shows.