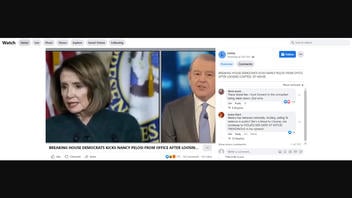 Was House Speaker Nancy Pelosi removed from office by Democrats in the House on or before October 4, 2022? No, that's not true: Such a claim appears to be clickbait and there is no evidence to support it.
The claim appeared in a Facebook post on October 4, 2022. It included a video with a title and caption that reads:
BREAKING HOUSE DEMOCRATS KICKS NANCY PELOSI FROM OFFICE AFTER LOOSING CONTROL OF HOUSE
This is how the post looked on Facebook at the time of writing:

(Source: Facebook screenshot taken on Wed Oct 5 14:32:33 2022 UTC)
No House vote to remove Pelosi has occurred on or before the time the post was published or at the time of writing, meaning that the claim is false. The video in the post includes several clips, none of which state or provide evidence that Pelosi was kicked out of office by House Democrats. Such an event would be headline news globally and there has been no such coverage.
The first clip is from a broadcast of "My Take with Stuart Varney," in which Varney primarily discussed Rep. Maxine Waters and only made a Pelosi reference at the beginning. It was broadcast in 2019, well before this post was published on Facebook.
The second clip is from a broadcast about the arrest of one of the January 6 Capitol rioters from ABC7 in Chicago, which aired in 2021.
The final clip shows Sen. Mitch McConnell voicing his opinion on the creation of another committee to investigate the events of the January 6 Capitol riots. Lead Stories could not locate the clip elsewhere online.
Seemingly the only common thread among the clips is that they all mention Pelosi.
Lead Stories has previously debunked several Facebook posts that use clickbait titles that similarly do not reflect the content of the posts. Some of those fact checks can be found here, here and here.