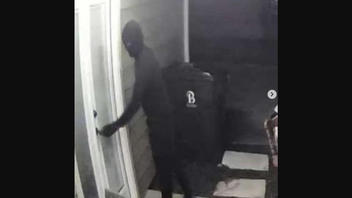 Are zip ties being attached to trash cans outside homes in a Texas college town to target the women who live there for assault? No, that's not true: Police in College Station, Texas, say they and other law enforcement agencies have investigated and found no credible evidence to support the claim.
The claim appeared in an Instagram post on November 10, 2022, with the title "EVERYONE PLEASE READ 🚨." It continued:
there are some horrible and disgusting people in this city who are trying to assault women in our community. Trash cans are being marked with zip ties to mark houses with women in them. If you see this on your trash can, be careful trying to remove it and immediately lock all of your doors. If you see something suspicious, say something and call 911.
Here's how the post looked on the day of writing: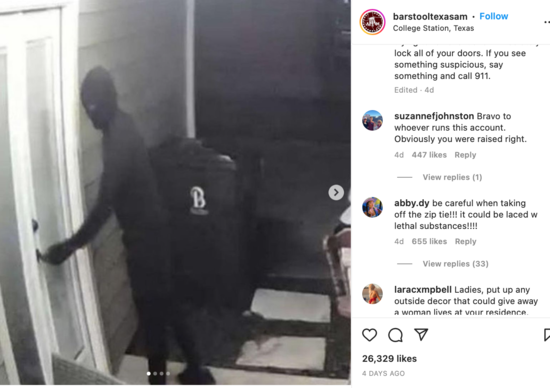 (Source: Instagram screenshot taken Sun Nov. 13 at 4:54:33 2022 UTC)
The post includes a photo of a black-clothed person in a face mask who appears to be breaking into a home at night and two close-up pictures of zip ties attached to residential trash cans. A fourth image is a slide of a warning for women living in sorority houses or in the College Station community about another alleged tactic to entrap women: A woman knocking on the door at midnight asking to use a phone.
The claim is false and misleading, say police and experts who work to stop assaults on women and human trafficking.
College Station, a city in Brazos County, Texas, is home to Texas A&M University, which has a student population of nearly 75,000 students.
City police, along with Texas A&M campus police and police in the nearby city of Bryan, the Brazos County seat, have all received calls about the claim that zip ties are being affixed to trash cans, David Simmons, a College Station police officer, told Lead Stories in an email sent November 10, 2022.
"We have looked into these reports and determined that there is no link to any criminal activity nor do they pose any credible threat," Simmons wrote.
There have been no recent reports of sexual assaults in College Station or on campus, he said, although Bryan police are investigating two sexual assaults in their city. Police from both College Station and Texas A&M are assisting in those investigations as they affect the wider community, he said.
Human trafficking is a serious worldwide problem that the U.S. State Department estimates affects some 24.9 million men, women and children worldwide at any given time.
Polaris, a nonprofit that works to combat human trafficking and manages the National Human Trafficking Hotline, identified 16,658 victims and survivors of trafficking through its hotline data in 2020, according to a report. Of those, 10,836 were exploited specifically for sex trafficking.
Claims that zip ties are used on trash cans, car doors and other items to target women for trafficking have been shared frequently across social media platforms, Ayan Ahmed, communications manager for Polaris, told Lead Stories in an email on November 11, 2022.
"In our time operating the National Human Trafficking Hotline, we have not come across any trafficking situations where someone was targeted and recruited this way," Ahmed wrote, "We have tried to debunk this and there have been multiple police departments across the country that have also debunked this story when it pops up for them," including here, here, and here.
It's not clear how or where zip tie claims originated, Ahmed said, but they may stem from the myths and misconceptions that exist about how human trafficking occurs, including that victims are abducted by strangers.
"What we've seen through our work over the years is that many survivors have actually been trafficked by people they know -- romantic partners, family members, and acquaintances," Ahmed said.
The U.S. Department of Homeland Security, one of many federal agencies working to respond to and end human trafficking, has also sought to debunk the zip tie claims.
In a Facebook post on October 27, 2022, the agency's anti-trafficking Blue Campaign called the claims a myth and echoed that most trafficking cases involve "psychological means, like tricking, defrauding, coercion, or exploitation."
Here is another claim Lead Stories has fact checked about alleged tactic used by would-be sex traffickers to entrap women.