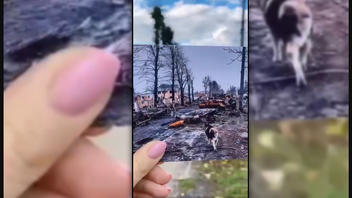 Is a video montage showing before and after photos of Ukrainian buildings damaged by war -- but restored to their original appearance -- an example of propagandists manipulating photos? No, that's not true: Basic image searching independently verifies damage at some of these locations, photographed and videotaped from multiple angles. There is no evidence the war photos are inauthentic.
The earliest edition of this video Lead Stories located was posted on October 16, 2022, on Twitter and Facebook by a pro-Ukraine account, @InUAOfficial. Starting on November 18, 2022, several Twitter accounts reposted the video, but with a negative take, using the caption, "The magic of a propaganda war. Ukraine still at war yet it's already restored."

On November 20, 2022, the video, carrying residual formatting from previous posting on other platforms, was posted on Instagram with narration by a male who questions the authenticity of the images of damaged buildings. Instagram indicated that the narration is original audio from @mr.info888og, but it is not clear when it was added. The poster's comment for the video read:
Interdasting 👀
This is how the post appeared at the time of the writing of this fact check: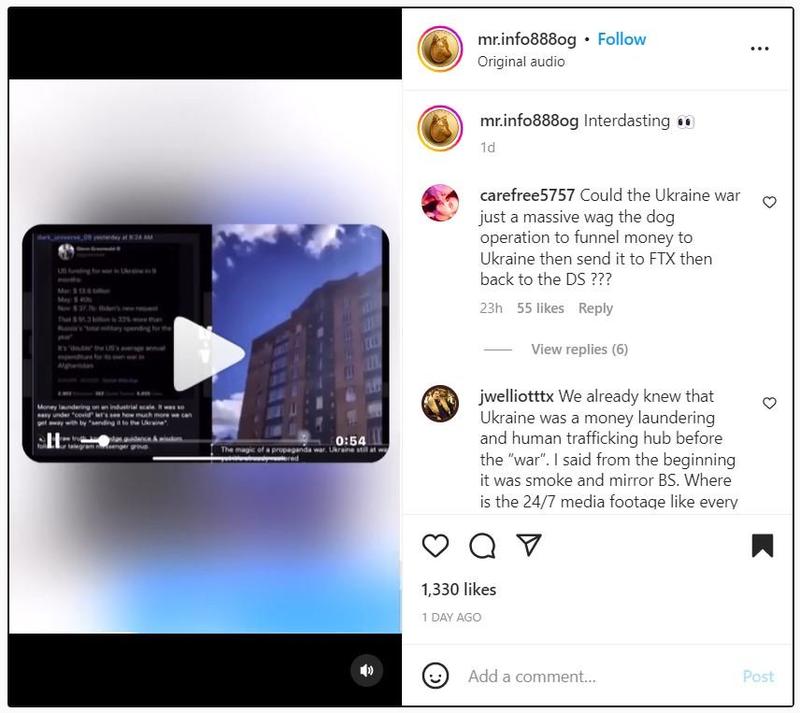 (Source: Instagram screenshot taken on Mon Nov 21 21:57:07 2022 UTC)
The original video posted by @InUAOfficial has the music soundtrack of the 2021 song "Unbreakable," sung by TELYKast and Sam Gray. The combination of the song's positive message -- "From the highest highs - To the lowest lows - We're building something unbreakable" -- coupled with the caption of the October 16, 2022, Facebook post leaves little doubt that the video was originally shared to show support for Ukraine amid Russia's 2022 invasion. The caption read:
Ukraine unbreakable. Six months after russia was squeezed out.
Visible in the sidebar of the rehashed video copy in @mr.info888og's post was a
Twitter post
from the journalist-activist Glenn Greenwald that expressed criticism of "US funding for war in Ukraine." Also visible was a caption reused by
several Twitter accounts reposting
the video: "The magic of a propaganda war. Ukraine still at war yet it's already restored." The narration added to this video on Instagram said:
I thought this was interesting: The magic of propaganda war, right?

So, Ukraine is supposed to have all of this damage from the war, right? But somehow it was all magically restored. And I thought this was interesting. Somebody put this video clip for us to see. If you're looking at your screen, you'll notice, this guy takes a picture, shows you the destruction and then it just happens to be perfectly put back together. Here's another picture of destruction and, then, it's perfectly put together, and then another destroyed house ... already, look at that destroyed -- completely destroyed -- building and there it is with cars parked out front as if nothing had even happened. Another destroyed gas station, cars blown up, all kinds of stuff. There it is, looking as beautiful as ever. Look at the street. It just makes you wonder sometimes, right? If the media took their Photoshopped documents all to Ukraine.
Photos show verified destruction
The photos showing the destruction of the war in Ukraine have not been faked with photo editing. Several of the images included in the montage show well-known and thoroughly documented damage that occurred in late February and March 2022, early in the war, in the region around Kyiv. The destruction has been documented in multiple formats by professional and amateur photographers, in videos, drone images and satellite images from multiple angles over a period of time. These areas have also been the subject of investigations by the Independent International Commission of Inquiry on Ukraine, which has documented evidence of war crimes.
Restorations documented by media independent of Ukraine's official media
More than eight months have passed between the start of the war and the presentation of this video. The original footage does not presume to show that all of Ukraine's war damage has been "magically restored" -- only repaired buildings were included in the "Unbreakable" video. Exterior repairs have been made to make buildings secure, weatherproof, and usable, if not entirely restored. A July 7, 2022, video segment from CBN News (starting at 0:50 seconds in) shows some of the cleanup and repair efforts after the Russian withdrawal from the Kyiv area.

Since Instagram does not include video timestamps, timestamps based on the original video posted on Twitter have been used for the screenshots below.
Evidence for veracity of images of destruction:
To address the claim that images of this war damage were faked, Lead Stories offers below some additional documentary proof of damage on some of the properties included in the video on Instagram. The following each appear twice in the Unbreakable montage.
Vokzalnaya Street, Bucha (timestamps 0:19 and 0:37 seconds)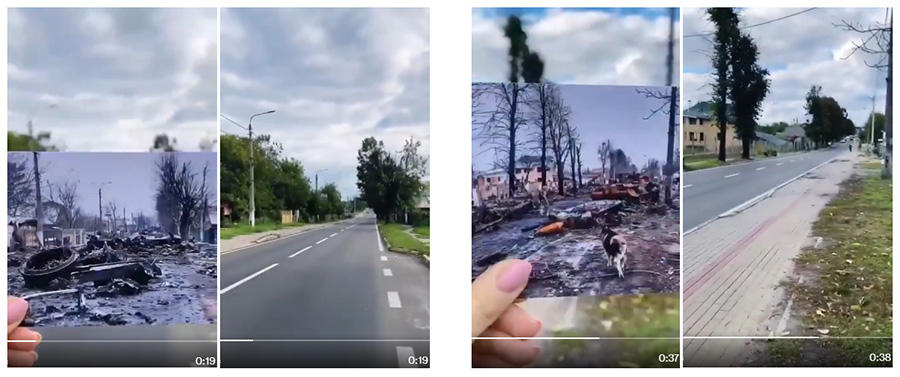 (Image source: Twitter screenshots taken on Tue Nov 22 18:25:17 2022 UTC)
The scenes of a destroyed column of Russian military vehicles are some of the most iconic visuals from the first days of the Russian invasion of Ukraine. On February 28, 2022, the mayor of Bucha, Anatoliy Fedoruk, posted a video standing near the smoldering wreckage days before the Russian occupation of Bucha.
That occupation lasted from March 4 to 31, 2022. Photos taken on March 1, 2022 show the street full of burned Russian military vehicles. A March 3, 2022 photo by Aris Messinis/AFP via Getty Images shows the same scene from a slightly different angle and with a different stray dog in the street. Another angle of this view was captured by Ivor Prickett for the New York Times. The blackened street and charred trees, as well as the yellow brick house with the distinctive green roof are visible above right and also on the far right of the frame in the drone footage screenshot below. The drone footage was filmed during the Russian occupation of Bucha and the presence of a building that was later destroyed indicates this drone footage was prior to March 11, 2022. An April 19, 2022, tweet by @OSITtechnical shows the yellow brick house on Vokzalnaya Street again, during the cleanup.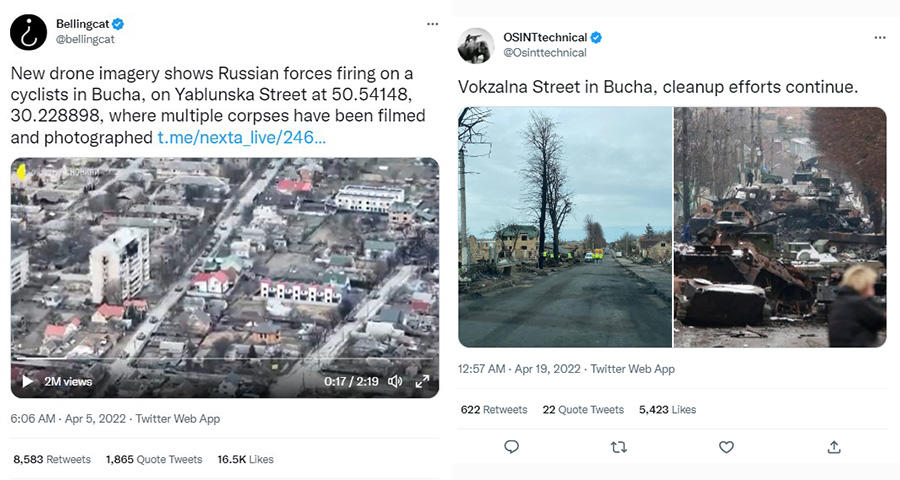 (Source: Twitter screenshots taken on Tue Nov 22 18:25:17 2022 UTC)
ReForma Fitness Club, Irpin (timestamps 0:13 and 0:43 seconds)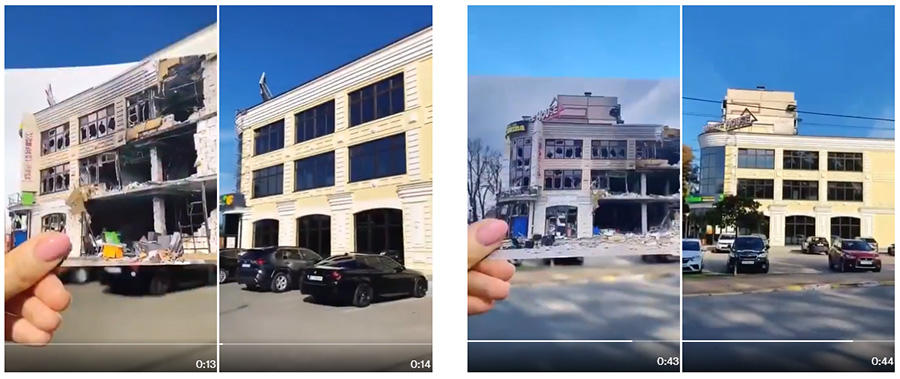 (Image source: Twitter screenshots taken on Tue Nov 22 18:25:17 2022 UTC)
The damage to this building, which has corner signage that says "White House Fitness Club Reforma" was featured prominently in press photos (here) and appears from different angles in a Radio Free Europe/Radio Liberty video montage published on April 1, 2022 (at 1:52 and 2:01 minutes). On March 18, 2022, the fitness club owner posted a video on the club's Instagram and Facebook accounts, reporting that one of their halls had been hit with a shell and in an April 3, 2022, post on her personal Instagram account she relayed:
It is very scary and painful to see how much grief the Russians brought to every home of our city.
@reforma_gym it was not avoided either, one of the halls burned to the ground, the other partially destroyed and looted by looters, the third stands with broken windows.
And what about the children's hall is still unknown
The damage to several of their properties back in March, as well as the recent need to use generators due to power outages, have been reported on the Instagram and Facebook accounts of the fitness club. On May 11, 2022 a post to the Facebook page of the White House Reforma page announced:
We don't believe we're saying this, but... WE'RE COMING BACK!

While the Armed Forces protect our peace, we will take care of your physical form

From 16.05 starts work hall on griboêdova, 15!

Training is available to all REFORMA clients, regardless of which hall they visited until 24.02.

Subscriptions purchased until 24.02 will be extended.

(on the number of days from 24.02 to your first visit, but no later full launch club.

Continuation of subscriptions will take place at the club reception)
Other Lead Stories fact checks about the ongoing conflict in Ukraine can be found
here
.