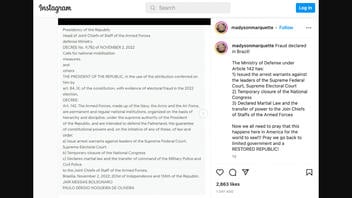 Did Brazilian President Jair Bolsonaro, who recently lost his reelection bid in a fiercely contested runoff, declare martial law on November 2, 2022? No, that's not true: A fake presidential decree circulating on social media that makes this declaration does not exist. It bears an out-of-sequence number and is not in Brazil's official language of Portuguese. While Bolsonaro had not admitted that the October 30, 2022, presidential election was fair, multiple news reports from Brazil confirmed by the time of this writing that he agreed to a transition of power.
The claim that Bolsonaro had declared martial law and intended to stay in office appeared in a post published on Instagram on November 4, 2022. The caption says:
Fraud declared in Brazil!





The Ministry of Defense under Article 142 has:




1) Issued the arrest warrants against the leaders of the Supreme Federal Court, Supreme Electoral Court




2) Temporary closure of the National Congress




3) Declared Martial Law and the transfer of power to the Join Chiefs of Staffs of the Armed Forces
The post contained an image of what appeared to be a screenshot of an official document dated November 2, 2022.
Here is what it looked like at the time of this fact check's writing: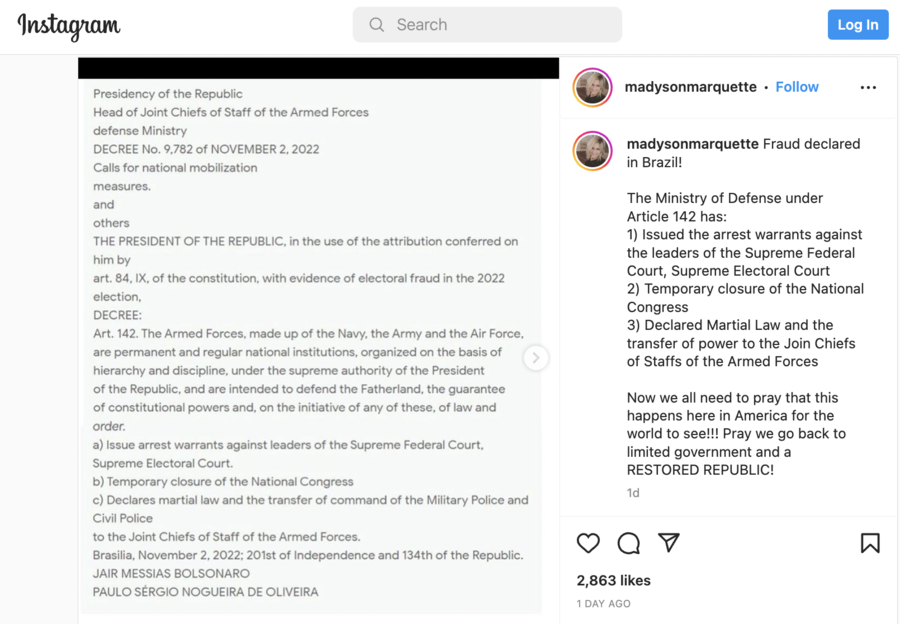 (Source: Instagram screenshot taken on Sat Nov 5 15:18:55 2022 UTC)
The posted document, however, contains two key inconsistencies.

According to the Constitution of Brazil, the country's official language is Portuguese. Thus, any official documents addressing domestic audiences would first be issued in Portuguese, not English. Yet there is no evidence on the sites of the president, government, Chamber of Deputies and Senate that any official organ of power every published a Portuguese-language version of this document.
The number of the fake decree -- 9,782 -- also signals a fallacy. Bolsonaro could not sign such a document in 2022 because he had already signed Decree No. 9,985 in 2019. That earlier document indeed authorized the use of armed forces, based on Article 142 of the constitution. However, its purpose was to combat fires in the forests of the Amazon, not to prevent Bolsonaro's opponent from taking office. Moreover, the 2019 decree expired in September of that year.
While right-wing Bolsonaro never admitted that he lost the popular vote in this year's presidential election, he retracted his claims about election fraud and agreed to a transfer of power.

In public remarks, his chief of staff, Ciro Nogueira, whose name also appeared on the alleged martial law decree, confirmed it. "President Bolsonaro has authorized me -- when requested, based on the law -- to start the transition process," Nogueira said after Bolsonaro addressed an October 30, 2022, press conference.
Some of Bolsonaro's supporters still demand that the military take control and ban major democratic institutions such as Supreme Court and Congress. However, no indication exists that these calls went any further than discussions on WhatsApp and Telegram groups, as reported by The New York Times.
Were the claim true, coup organizers would announce they were in charge before doing anything else. As of November 5, 2022, no credible reports had emerged about a military takeover in Brazil or Bolsonaro declaring martial law.

Instead, the most recent news reports said that he had already started the transition process on November 3, 2022, the day following the alleged decree, by meeting with the team of his left-wing opponent, Luiz Inácio Lula da Silva, who was president of Brazil from 2003 until 2011. President-Elect da Silva won the majority of votes in this extremely tight race.
Additional Lead Stories fact checks about the 2022 presidential election in Brazil can be found here and here.