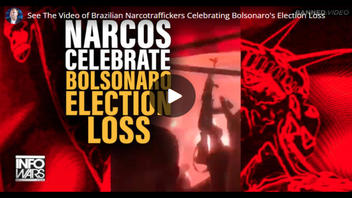 Does a social media video show narcotraffickers and Communists celebrating the election victory of Luiz Inácio Lula da Silva In Brazil's presidential election? No, that's not true: The video clip shows street celebrations in Brazil from August 2019 following a court order.
The claim appeared in an article and video (archived here) published by the InfoWars website on October 31, 2022, under the title "Watch: Brazilian Narcotraffickers Celebrate Bolsonaro's Election Loss." It opened:
Alex Jones breaks down viral clips coming out of Brazil depicting narcotraffickers and communists celebrating the electoral defeat of anti-globalist President Jair Bolsonaro:
This is what the InfoWars website looked like at the time of writing: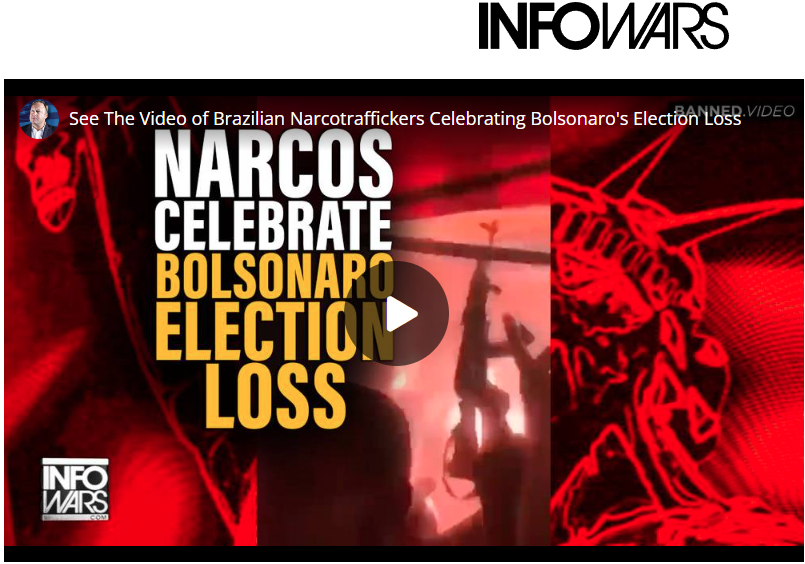 (Source: InfoWars screenshot taken on Wed Nov 2 20:30:44 2022 UTC)
Social media
The video clip circulated widely on social media in late October and early November 2022. In addition to the clip on InfoWars, Lead Stories found it in these posts, too (here, here and here). One of the posts is embedded below:
🇧🇷Asi celebran en la #fFavela los narcos la victoria de Lula🤦🏽‍♂️👇🏾 pic.twitter.com/E7lS5M7Tbo

-- Markito Shango  (@MarkitoShango) October 31, 2022
InfoWars host Alex Jones included the same clip about 45 seconds into the video from his show that was posted to his website. Here's what Jones said about it:
We'll continue to track and monitor the situation in Brazil but you noticed they're trying to arrest the populist political opposition to the globalist [Lula]. Let's roll with audio, some of the video of truckers blocking roads, protesting. The farmers protesting that [Brazilian President Jair] Bolsonaro's having the election stolen. Meanwhile, the drug cartels and criminals are celebrating. Let's jump ahead to the narcos celebrating.
Here's a still shot from the InfoWars video when Jones calls for the clip:
(Source: InfoWars video screenshot taken on Wed Nov 2 22:08:34 2022 UTC)
Old video
While Jones identifies the clip as being from post-election protests in late October 2022 in Brazil, the video is, instead, from August 2019, more than three years earlier. The second video in the tweet below is the clip that's being recycled and offered as proof of drug traffickers celebrating Bolsonaro's defeat:
COMEMORAÇÃO

COMEMORANDO a liminar da justiça que proíbe operações das polícias no complexo da maré RJ
https://t.co/2qJPaajBTm

Eles querem é isso, vagabundo bem a vontade na favela

Queria ver escreverem 1500 cartas para o TRÁFICO pedindo pra não confrontar a polícia 😂 pic.twitter.com/G3bv2uInB3

-- Chaves.Neto yeshua hamashia (@ChavesNeto3) August 17, 2019
Another Lead Stories fact check related to the Brazilian election can be found here.