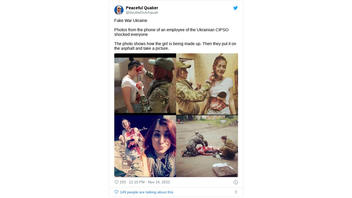 Are these staged photos taken from the phone of an employee of the Ukrainian CIPSO (Center for Information and Psychological Operations) showing fake victims, proving the war in Ukraine is staged? No, that's not true: The photos were taken in 2016 during a first-aid training exercise for the Ukrainian organization TacCat First Aid. Russia invaded Ukraine in February 2022, several years after these photos were taken.
The claim appeared as a tweet (archived here) where it was published on Twitter on November 24, 2022. The tweet said:
Fake War Ukraine Photos from the phone of an employee of the Ukrainian CIPSO shocked everyone The photo shows how the girl is being made up. Then they put it on the asphalt and take a picture.
This is what the post looked like on Twitter at the time of writing:
(Source: Twitter screenshot taken on Tue Nov 29 20:26:30 2022 UTC)
Lead Stories performed reverse image searches of the photos, finding no copies of the images posted on other sites. But, Mythdetector.ge, a fellow International Fact-Checking Network-certified newsroom based in the Republic of Georgia, had debunked a Georgian-language Facebook post making similar claims with some of the same photos. That debunk reported the photos documented a 2016 exercise by the TacCat First Aid organization. Lead Stories reached out via WhatsApp and received a reply in Ukrainian on November 29, 2022. Translated through Google Translate into English TacCat wrote:
Yes, this is one of the exercises around June 2016.
Several supplementary posts were also attached in the WhatsApp reply from TacCat, including two Instagram posts that show this photo of simulated injuries on participants in a training exercise: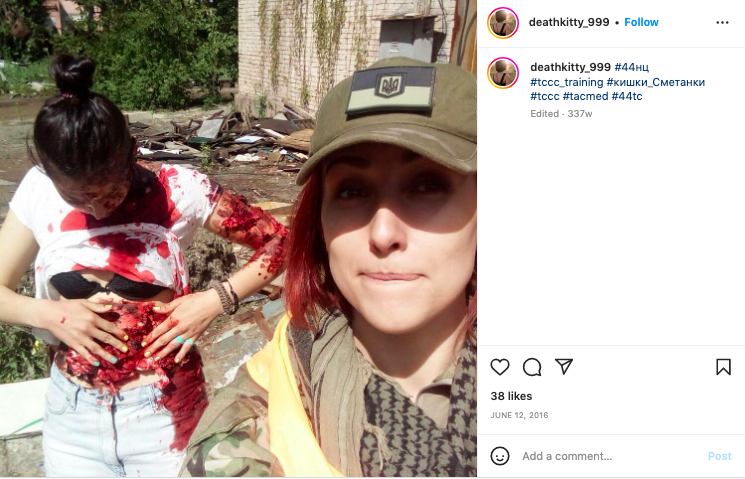 (Source: Instagram screenshot taken on Tue Nov 29 20:57:20 2022 UTC)
and this photo :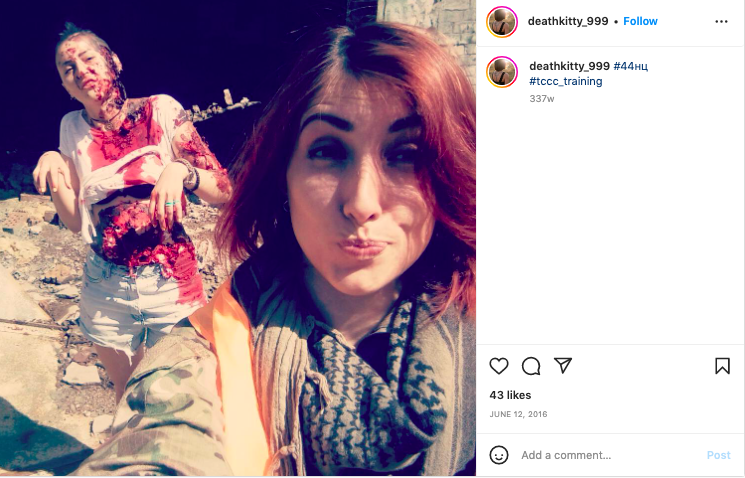 (Source: Instagram screenshot taken on Tue Nov 29 20:59:28 2022 UTC)
They were both posted on Instagram on June 12, 2016, more than five years before the 2022 invasion of Ukraine by Russia.
In addition to these Instagram posts, a link to this Facebook post was also included in the reply. It shows the 44 Training Center (translated from Ukrainian into English via Google Translate) with more photos of the first aid training simulations that were uploaded on June 5, 2016.
Simulated injuries are a staple of first aid training programs and research shows the gory makeup helps first aiders to retain the techniques they are taught.
Other Lead Stories fact checks about the ongoing conflict in Ukraine can be found here.