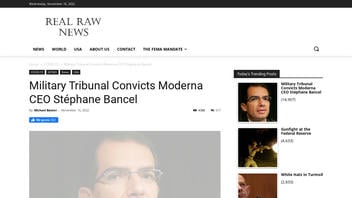 Did the U.S. Navy Judge Advocate General's [JAG] Corps and the Office of Military Commissions find Moderna CEO Stéphane Bancel guilty of crimes against humanity because the Moderna COVID-19 vaccine killed 32 service members? No, that's not true: A spokesperson for the U.S. Navy categorically rejected the claim. The allegation comes from a website that identifies itself as a satirical website and routinely publishes false claims. The claim about Bancel's alleged trial is the continuation of another false claim about Bancel, made by the same website, that Lead Stories debunked on November 9, 2022.
The claim about a military tribunal trying the Moderna CEO appeared in an article published by Real Raw News on November 15, 2022, titled "Military Tribunal Convicts Moderna CEO Stéphane Bancel" (archived here). It opened:
The U.S. Navy Judge Advocate General's Corps and Office of Military Commissions had difficulty finding three impartial panelists to hear evidence against Moderna CEO Stéphane Bancel, for every interviewee knew someone whose life the vaccine had shattered--or killed.
This is what the article looked like online at the time of this fact check's writing: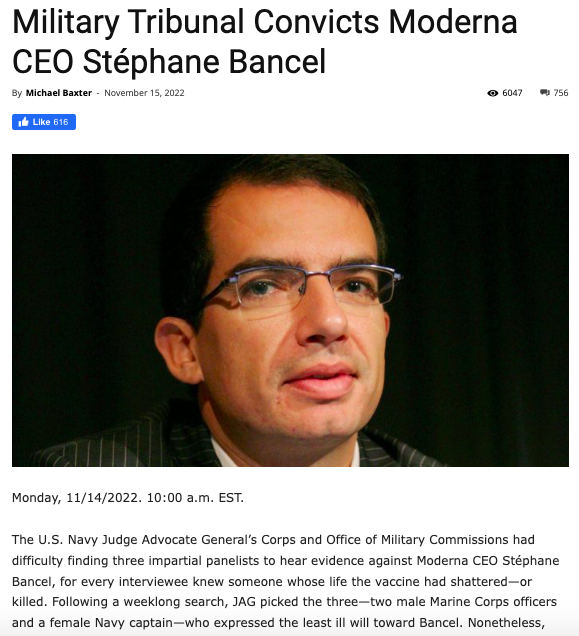 (Source: Screenshot of Real Raw News taken on Fri Nov 18 at 16:40:44 2022 UTC)
The claim also says that "Bancel is scheduled to hang on November 18, at GITMO," a reference to the military prison located within the Naval Station Guantanamo Bay at the southeastern end of Cuba.
In a phone call with Lead Stories on November 17, 2022, a U.S. Navy spokesperson told Lead Stories that:
The statements are false. They are untrue
Lead Stories emailed Moderna for comment about this story's claim. We will update this post accordingly if we receive a response.
Real Raw News has a long history of publishing false claims in mock news stories, many of them about convictions and executions of various public figures at Naval Station Guantanamo Bay in Cuba. For example, the site reported former Secretary of State Hillary Clinton was hanged (she wasn't); former White House Chief of Staff John Podesta was executed (he wasn't); and that "the military" convicted former Attorney General William Barr on charges of treason (it didn't).
The website for Real Raw News includes a disclaimer that warns readers not to take its content too seriously. Specifically, it says:
Information on this website is for informational and educational and entertainment purposes. This website contains humor, parody, and satire. We have included this disclaimer for our protection, on the advice on legal counsel.

(Source: RealRawNews.com screenshot taken Tue Aug 3 16:39:48 UTC 2021)
Lead Stories has covered claims published by Real Raw News in the past. Previous Lead Stories fact checks of Real Raw News items can be found here.