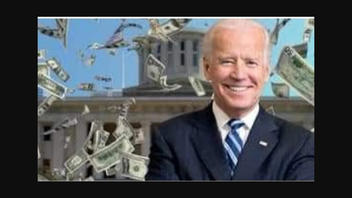 Will U.S. dollars printed before 2021 no longer be accepted as legal tender as of January 2023? No, that's not true: A senior spokesperson for the U.S. Treasury Department told Lead Stories that the claim is false. Under current U.S. monetary policy, he said, all bills in circulation since 1914 remain legal tender.
The claim appeared in a November 5, 2022, post on Instagram. It opened:
See how we exporters are smiling right now👏👏👏👏👏👏👏😁😁😁😄 God done catch them! Pls is this truee??? Best news ever🤣🤣🤣😄 God bless America 🇺🇸 🙏 These people almost finish us🤣 Anywhere they hid these funds, watch them release them right away😄 No peace for the wicked🥁 No wonder naira started appreciating in value☻️ We need appreciate them, when they do something good👏👏👏👏👏👏
Here's how the post appeared at the time of writing: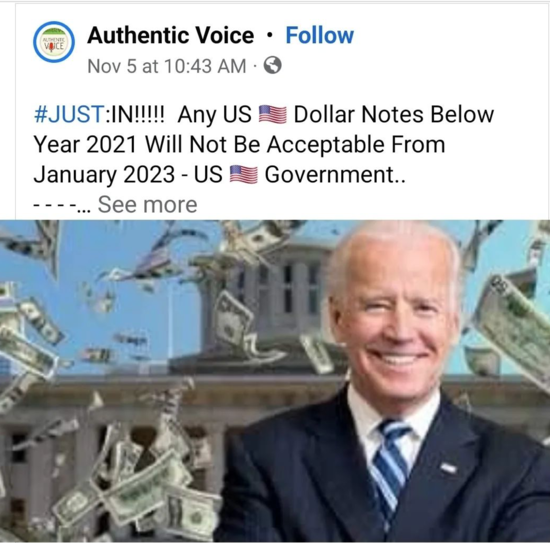 (Source: Instagram screenshot taken Tues Nov 15 at 16:28:41 2022 UTC)
"I can confirm the claim is false," U.S. Department of the Treasury senior spokesperson John Rizzo told Lead Stories in an email on November 16, 2022. He did not elaborate on any specific part of the post.
Lead Stories could find no credible evidence that U.S. agencies that make monetary policy or produce U.S. currencies have announced a demonetization plan to strip older dollars of their status as legal tender.
Although U.S. currencies are sometimes updated, all Federal Reserve notes -- in other words, U.S. dollars -- dating back as far as 1914 "remain legal tender, or legally valid for payments," according to the U.S. Currency Education Program, which is run by the Federal Reserve Board, in cooperation with the U.S. Secret Service and the U.S. Treasury Department's Bureau of Engraving and Printing.
Here's how the U.S. Currency Education Program explains this policy on its website:

(Source: U.S. Currency Education Program website screenshot taken Tues Nov 15 at 18:18:47 2022 UTC)
Dollar bills, however, do have a "life expectancy." Each year, notes that are damaged or no longer meet the Treasury's standards can be taken out of circulation and destroyed. Individual bills with higher denominations -- for example, a $100 bill -- typically are used less frequently and stay in circulation longer than smaller denominations, like $5 and $1 bills, a Federal Reserve chart shows.
Countries have opted in the past to demonetize their currencies for many reasons, including to stabilize its value, form currency unions, facilitate trade or address inflation. The Coinage Act of 1873, for example, demonetized silver as the legal tender of the United States after the discovery of large silver deposits in the West. The U.S. eventually adopted the gold standard as a means of thwarting inflation. More recently, in 2000, the French franc, German mark and currencies of other European Union member-states were demonetized to facilitate trade when the European Union adopted the euro.
However, demonetization of any currency to remove its legal tender status can disrupt a country's economy because it impacts the medium of exchange used in all economic transactions.
The widely shared claim that the U.S., together with non-U.S. actors, plans to demonetize pre-2021 U.S. dollars appears to stem from a story published on November 5, 2022, by the Nigerian news outlet, Observer Times.
According to the story, a decision to demonetize older dollars was reached during a November 2, 2022, meeting between the Federal Reserve, Office of the Comptroller of Currency, the World Bank, International Monetary Fund (IMF) and the governors of African central banks. Without proof, the story further claims that these institutions aim to stop the warehousing of "billions of illegal monies in dollar bills" stemming from "the illegal drug trade, terrorism, kidnapping and other crimes."

Reporting by Lead Stories found no evidence that the reported meeting between the Federal Reserve, Comptroller of Currency, World Bank, IMF and African central bank governors took place. A calendar entry for the Federal Reserve shows that on the date in question, November 2, 2022, it began a two-day quarterly meeting with its Federal Open Market Committee. No meetings with international or African financial institutions appear on the calendar.
However, the World Bank, IMF and African central bank governors play no role in determining which U.S. bank notes should be withdrawn from circulation. In 1969, for instance, when four denominations of U.S. dollar bills were withdrawn from circulation, the Federal Reserve and Treasury Department made the announcement, according to the Treasury Department's Bureau of Engraving and Printing.
A review of 2022 press releases from both the Federal Reserve and the Treasury Department shows that neither has issued any statement about the demonetization of pre-2021 dollar bills, as Observer Times reported.

Lead Stories is not the only fact checking organization to scrutinize the Observer Times' claims. Media outlets and organizations in Africa and elsewhere have reviewed the claims and found them to be false, including here, here and here:
Additional Lead Stories fact checks related to U.S. dollar bills can be found here.