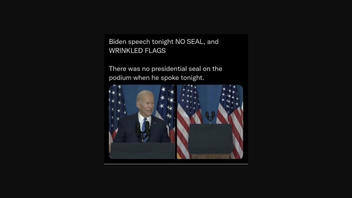 Does the lack of the presidential seal on a podium from which Joe Biden spoke mean he's not really president? No, that's not true: Biden is the president of the United States. There is no requirement that presidents speak with the seal and it is not uncommon for them to appear without it when they are speaking in a "100% political capacity," according to Jordan Libowitz, communications director for Citizens for Responsibility and Ethics in Washington (CREW), a nonpartisan watchdog group.
The claim appeared in a post on Instagram published on November 3, 2022. The post includes photos and text that reads: "Biden speech tonight NO SEAL, and WRINKLED FLAGS." An accompanying caption asks:
Where is the presidential seal? Why are the flags wrinkled and missing the gold fringe representing the commander in chief?





Are we sure he is who we are told he is?
This is what the post looked like on Instagram at the time of this fact check's publication:
The post's photos are from Biden's November 2, 2022, appearance at a Democratic National Committee (DNC) event in Washington, D.C. The accompanying text implies that the lack of the U.S. presidential seal on Biden's podium and the presence of two wrinkled American flags not bearing gold fringe mean Biden isn't really the president -- a false claim that has persisted since the 2020 presidential election.

None of these allegations is true.

The podium's lack of a presidential seal has no bearing on Biden's status as president. Presidents are not required to speak with the seal, and it is not uncommon for them to appear without it when speaking in a "100% political capacity," according to CREW's communications director, Libowitz. CREW has filed complaints with the Department of Justice, asking it to investigate improper displays of the presidential seal.
In a November 4, 2022, email to Lead Stories, Libowitz commented about the post:
Just as with a previous rumor that having the seal blurred in a social media video means that Biden isn't really president, this is untrue. There are limitations with how the seal can be used for non-official purposes. Generally speaking, most presidents try to stay way on the right side of the line, so when speaking in a 100% political capacity, it's not out of the ordinary for them to speak without the seal. There's also no requirement that the president has to speak with the seal. It's a thing they do, but not always.
(The
Associated Press
,
Reuters
,
USA Today
, and other outlets debunked the earlier rumor about a blurry presidential seal.)
When Biden spoke at the DNC's winter meeting in March 2022, he spoke at a podium with the presidential seal, as can be seen in photos here and here. The White House also frequently shares images of Biden speaking from behind podiums with the presidential seal, as can be seen below:
Today, President Biden visited New Mexico to provide an update on the Administration's student debt relief plan.

While @POTUS is working to provide millions of borrowers with more breathing room, Republican elected officials are suing to stop this relief and raise your costs. pic.twitter.com/sBd7zDh7si

-- The White House (@WhiteHouse) November 4, 2022
The post's flag argument is also unfounded. As can be seen in one of the photos in the post and in video footage of Biden's speech, the flags do have gold fringe, but, even if they did not, that does not signify anything about Biden's status.

As the American Legion, a veterans organization, explains, the U.S. flag's fringe is nothing more than an optional decoration or "honorable enrichment."

Lead Stories' previous fact checks of false gold-fringe theories can be read here.

Finally, the fact that the flags appear to be wrinkled suggests someone did not iron them -- nothing less, nothing more.
Lead Stories contacted both the White House and the DNC to ask about the post's claims. We will update this story, as appropriate, if we receive a response.
Additional Lead Stories fact checks related to President Joe Biden can be found
here
.