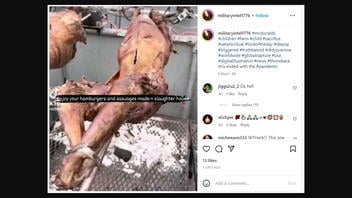 Does a viral image prove that McDonald's uses human flesh for making "hamburgers and sasuages" "worldwide"? No, that's not true: The video screenshot, accompanied by misleading and unrelated hashtags, only shows a lamb being prepared on a mechanical roasting spit.
The claim appeared in an Instagram post on November 17, 2022.
The text on the image said:
Enjoy your hamburgers and sasuages made n slaughter house
The caption contained hashtags indicating the claim is about a particular fast-food chain and that the image purportedly shows human flesh being cooked:
#mcdonalds
#children #farm #child #sacrifice
#satanicritual #lookoftheday #depop
#triggered #truthbetold
#didyouknow #worldwide
#globalcapture #usa
#digitalillustration #news
#throwback this ended with the #pandemic
Here is what the post looked like at the time of writing: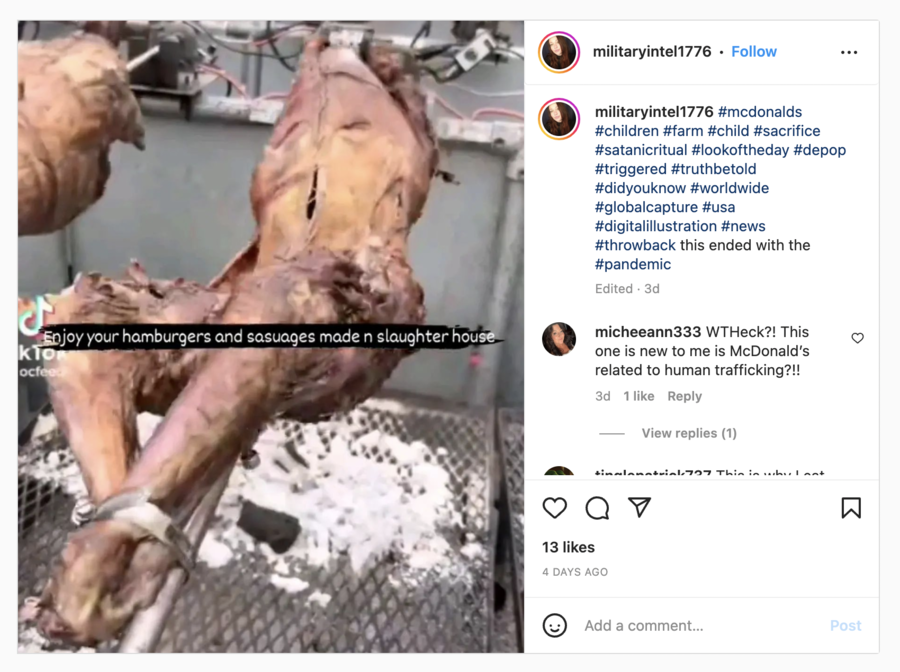 (Source: Instagram screenshot taken on Mon Nov 21 16:47:24 2022 UTC)
A reverse image search showed that the image of what might at first resemble a human body is a screenshot of a June 10, 2022, video, also shared on Instagram. A closer look at other frames reveals hooves, which are not known to be a part of human anatomy: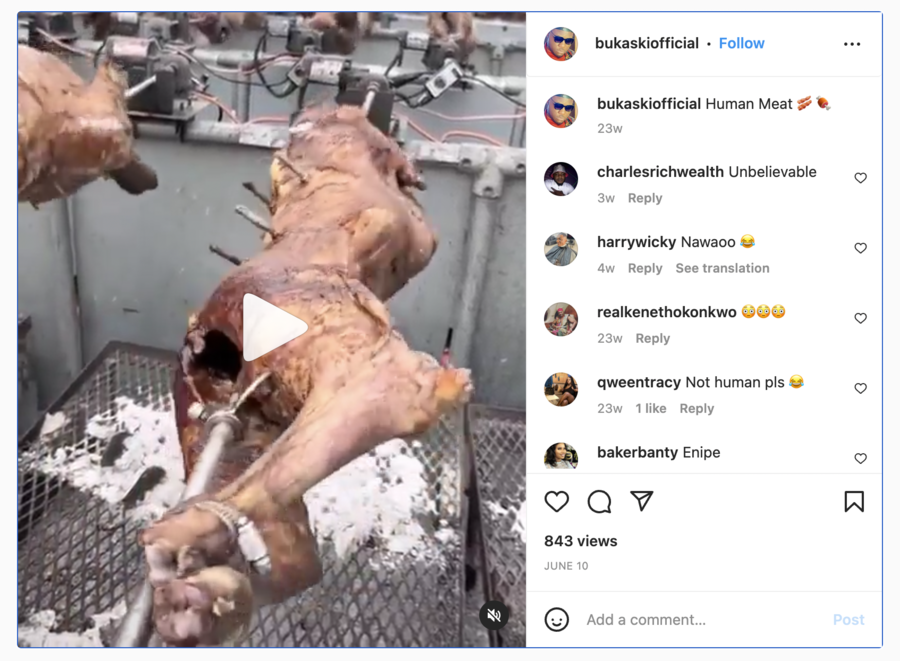 (Source: Instagram screenshot taken on Mon Nov 21 17:04:42 2022 UTC)
The claim goes back to 2014, when it originated in a satirical article with the headline "McDonalds Exposed for Using Human Meat" (archived here). It was on a website called Huzlers, a resource that described itself as "the most notorious fauxtire entertainment website in the world."
At the time, McDonald's addressed the rumor on the YourRightToKnow section of its website:
... no we do not have any human meat in our burgers. We would like to assure you that we only use 100% pure, Halal beef and chicken in our food. That's it!
On November 21, 2022, the Food Safety and Inspection Service website of the U.S. Department of Agriculture showed no results for the purported discovery of human meat in hamburgers, sausages or in any other foods:

(Source: fsis.usda.gov screenshot taken on Mon Nov 21 17:34:31 2022 UTC)
Over the years, different unrelated videos have been associated with the claim. The most recent example, in the Instagram post, showed a lamb being prepared on a slow-turning spit, as is traditional in many cultures, including those of the Caucasus, the region between the Black Sea and the Caspian Sea. One video published with English subtitles contained similar shots of the process: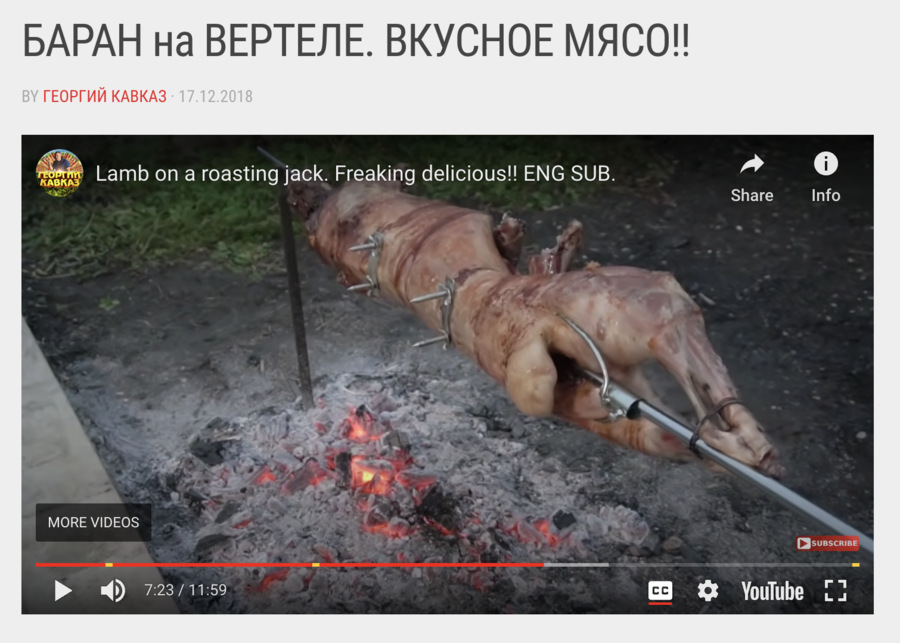 (Source: Georgi-kavkaz.ru screenshot taken on Mon Nov 21 14:32:03 2022 UTC)
While the original video of what became the post on Instagram appears to be deleted, a reverse image search led to a saved screenshot indicating that the current variation of the claim originated from TikTok and then was shared on Twitter as an automated translation said (bottom line):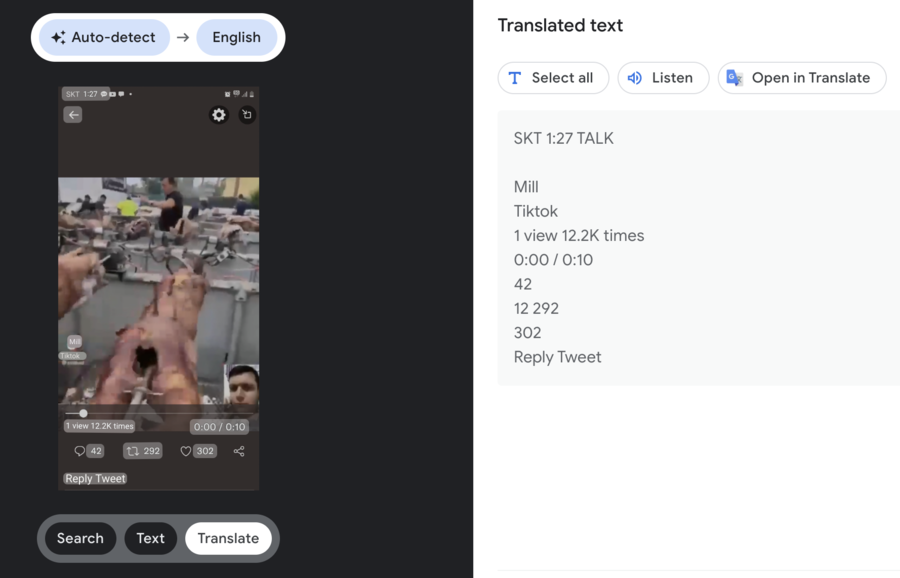 (Source: Google screenshot taken on Mon Nov 21 22:04:52 2022 UTC; the picture was automatically translated by Google Lens)
Had human flesh been discovered in the products sold by one of the global fast-food chains, that would trigger extensive media coverage of the issue. However, as of this writing, no major media company has published any such story, other than fact checks debunking different variations of the claim, including the one discovered and debunked by Lead Stories.