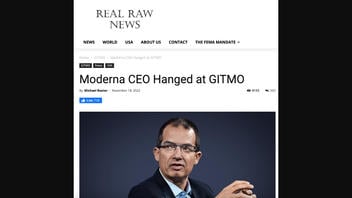 Did the U.S. Navy hang Moderna CEO Stéphane Bancel at Guantanamo Bay? No, that's not true: This claim comes from a website that identifies itself as a satirical source and regularly publishes fake news. No serious news sites have carried such a story. And U.S. federal law prohibits the military from enforcing the law against civilians.
The claim appeared in an article published by Real Raw News on November 18, 2022, titled "Moderna CEO Hanged at GITMO" (archived here.) It opened:
Moderna CEO and eugenicist Stéphane Bancel lost his life Friday afternoon after a hangman for the U.S. Navy Judge Advocate Generals Corp's put a noose around his neck and flipped a switch that opened a swinging door beneath the pharmaceutical mogul's feet.
This is what the article looked like at the time of writing: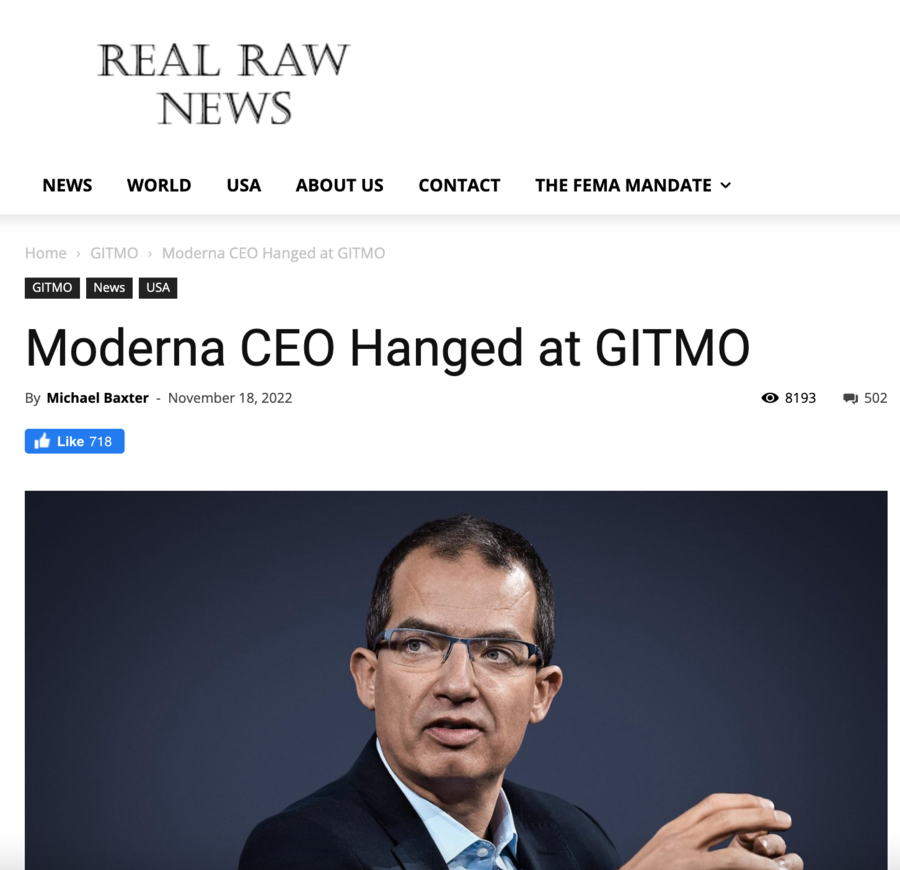 (Source: Screenshot of Real Raw News taken on Mon Nov 21 at 20:21:48 2022 UTC)
This story, claiming Bancel was hanged because his company's COVID-19 vaccine caused deadly blood clots, is the third in a series of articles about him that have appeared in Real Raw News. The first, published on November 7, 2022, claimed that U.S. Special Forces had arrested Bancel on charges of murder. The second, published on November 15, 2022, claimed that a U.S. military tribunal had convicted him. Lead Stories debunked those claims here and here.
A search of keywords from Real Raw News' latest article reveals that no genuine news site has published such a story, which would have made international headlines were it true.
The Posse Comitatus Act of 1878 forbids the military to enforce civilian law, unless expressly authorized by the Constitution or Congress.
Lead Stories has contacted Moderna's press office for comment regarding the Real Raw News story and will update this story if they reply.
Real Raw News has a long history of publishing false claims in mock news stories, many of them about convictions and executions of various public figures at Naval Station Guantanamo Bay in Cuba. For example, the site reported former Secretary of State Hillary Clinton was hanged (she wasn't); former White House Chief of Staff John Podesta was executed (he wasn't); and that "the military" convicted former Attorney General William Barr on charges of treason (it didn't).
The website for Real Raw News includes a disclaimer that warns readers not to take its content too seriously. Specifically, it says:
Information on this website is for informational and educational and entertainment purposes. This website contains humor, parody, and satire. We have included this disclaimer for our protection, on the advice on legal counsel.
(Source: RealRawNews.com screenshot taken Tue Aug 3 16:39:48 UTC 2021)
Lead Stories has covered claims published by Real Raw News in the past. Previous Lead Stories debunks of Real Raw News items is collected here.