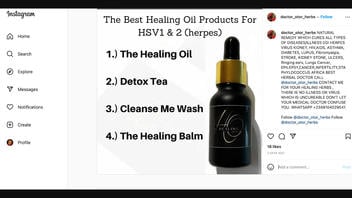 Does a natural "healing oil" from Nigeria advertised on social media cure HIV/AIDS? No, that's not true: While natural treatments are a mainstay of many non-Western medical systems, scientists have not yet discovered any medicine that can cure HIV. The man in Nigeria who made the claim was unable to produce anything but anecdotal evidence of his herbal treatment's efficacy when interviewed by Lead Stories.
The claim appeared in an Instagram post on November 20, 2022. The text accompanying the post read:
NATURAL REMEDY WHICH CURES ALL TYPES OF DISEASES/ILLNESS EG! HERPES VIRUS KIDNEY, HIV,AIDS, ASTHMA, DIABETES, LUPUS, Fibromyalgia, STROKE, KIDNEY STONE, ULCERS, Ringing ears, Lungs Cancer, EPILEPSY,CANCER,INFERTILITY,STAPHYLOCOCCUS AFRICA BEST HERBAL DOCTOR
Here is what the post looked like at the time of writing: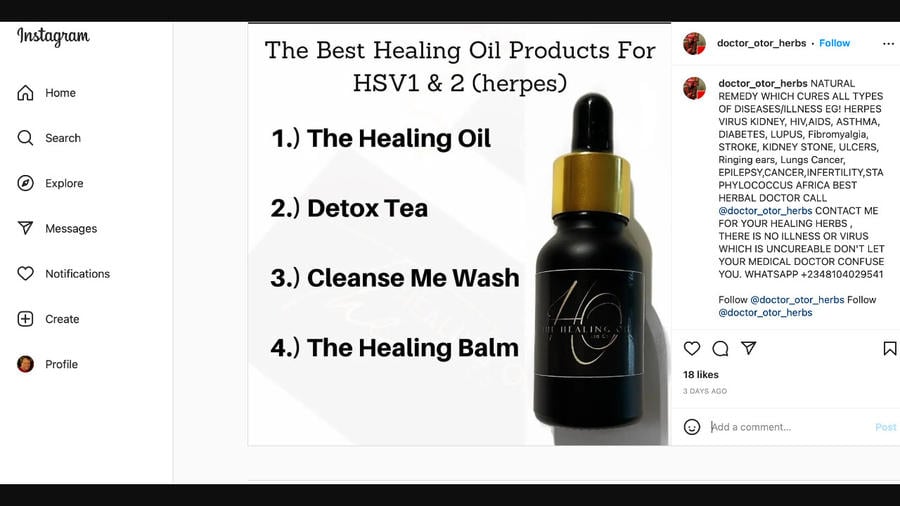 (Source: Instagram screenshot taken on Wed Nov 23 13:15:12 2022 UTC)
Medical science has found no cure for HIV, the immune system virus that causes AIDS, according to the U.S. Centers for Disease Control and Prevention (CDC).
Posts such as the one on Instagram can raise "interest and hopes" among the estimated 38.4 million people worldwide who are HIV positive, said Stephan Gampenrieder in a November 24, 2022, email to Lead Stories. He is head of THT Direct, a helpline operated by London-based AIDS charity the Terrence Higgins Trust. Gampenrieder said:
We do hear of such unestablished reports from various sources, however we can only rely on proven scientific and clinical research... unfortunately to-date, it has not been possible to develop a functioning cure for HIV. With this in mind we do not encourage people to believe messages on social media [about] natural remedies or treatment that will 'cure' HIV. Only by taking antiretroviral treatment can you control HIV to make it a manageable health condition.
Antiretroviral treatment is a daily regimen in which patients take a combination of HIV medicines in hopes of reducing their viral loads to undetectable levels, according to the U.S. National Institutes of Health's website. The therapy "cannot cure HIV, but HIV medicines help people with HIV live longer, healthier lives," the NIH says.
Medical investigators have so far come up with no solid evidence to support the efficacy of natural remedies in HIV treatment. A 2005 study headed by Jian-Ping Liu of the Beijing University of Chinese Medicine, which teaches acupuncture and medicinal herb preparation, examined whether eight Chinese herbal treatments could help HIV patients. The researchers concluded:
There is insufficient evidence to support the use of herbal medicines in HIV‐infected individuals and AIDS patients. Potential beneficial effects need to be confirmed in large, rigorous trials.
Nigerian herbal tradition
An estimated 1.9 million of Nigeria's 211.4 million people are HIV positive, making it the country with the fourth-largest HIV epidemic in the world, according to the CDC.
Natural treatments for HIV are available from Nigerian street vendors and village herbalists, according to the University of Liverpool's Joshua Gini, who studied natural medicine use among Nigerian HIV patients for a 2018 paper. Of the 742 HIV-positive people surveyed, 310 said they used plant-based treatments. Of these, 259 used them alongside antiretrovirals and 45 were taking herbs alone.
Lead Stories called the Nigerian telephone number listed on the Instagram post and spoke to a man who identified himself as Dr. Otor -- a self-described "herbalist spell doctor." He said the Western medical community does not want to acknowledge that his methods can cure HIV because it prefers to profit from chronically ill patients:
A cured patient is a lost customer. The system wants you to stay sick ... Here in Africa, nature is what we believe in. We do not believe in Western medicine or what the Western doctor is saying.