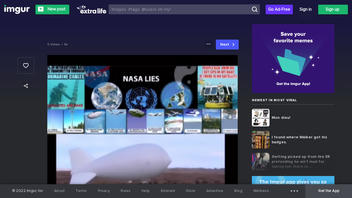 Are satellites a myth because there is no way they could survive high temperatures in space? No, that's not true: A NASA spokesperson called this claim about satellites "misleading." According to NASA, artificial satellites are built to survive high temperatures in space, but they orbit in a layer of the atmosphere, the thermosphere, where sufficient gas molecules do not exist to transfer intense heat to the satellites.
The claim appeared in a video on Instagram on October 16, 2022. The video opens:
Lighter-Than-Air vehicles, High-Altitude Airships and High-Altitude Platforms are often misperceived as satellites by the public. So, at night time, when you see one of those moving dots in the sky and believe it to be a satellite, it's actually one of these illuminated balloons.
This is what the post looked like on Instagram at the time of writing: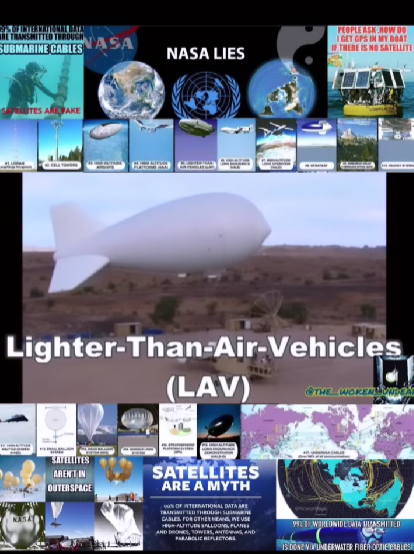 (Source: Instagram screenshot taken on Tue Oct 18 17:49:22 2022 UTC)
The video has a text overlay saying "NASA LIES" and "SATELLITES ARE A MYTH." A voiceover claims there are multiple reasons why satellites are not real, but offers no concrete proof that satellites do not exist.
The voice on the video claims:
If we are to believe NASA's stories then here's a question: How do satellites survive the 4,000°F temperature in space? There are only seven elements on the periodic table that could withstand this heat and none of them have been used for satellites.
The caption on the Instagram post claims, in part, "Never have we seen any satellites melting and or falling apart due to the temperatures at that altitude. Nor do they ever crash into one another or need repairs."
NASA spokesperson Daniel Hout told Lead Stories via email on October 18, 2022, that the video's claims are spurious. When asked if satellites melt and/or fall apart from the high temperature in space, Hout replied:
This is misleading and misunderstands the temperatures experienced in outer space. The only time spacecraft/satellites/anything human-made launched into space sees temperatures at these extremes are when they are reentering Earth's atmosphere at high velocities. A satellite's orbit will decay over time (small amounts of atmospheric drag can gradually lower a satellite's altitude until it gets so low that it reenters the atmosphere and burns up.) When it gets low enough, the drag becomes sufficient to bring the satellite into the upper parts of Earth's atmosphere and the resulting friction between an object moving thousands of miles an hour and the surrounding air particles generates tremendous heat.
The Smithsonian's National Air and Space Museum addresses how one satellite, the International Space Station, withstands high temperatures in space. "While the temperature of the thermosphere can reach almost 2,000 degrees Celcius (3,632 degrees Farenheit), there are not enough gas molecules to transfer the heat to materials, which is why astronauts and the Space Station do not melt," the museum's explanation states.
(Source: National Air and Space Museum screenshot taken on Tue Oct 18 17:32:56 2022 UTC)
Under a heading that reads "The heat that won't keep you warm," NASA's website also states that a lack of gas molecules is why objects won't melt in the thermosphere, a layer of the atmosphere where temperatures can soar to 4,500 degrees Fahrenheit: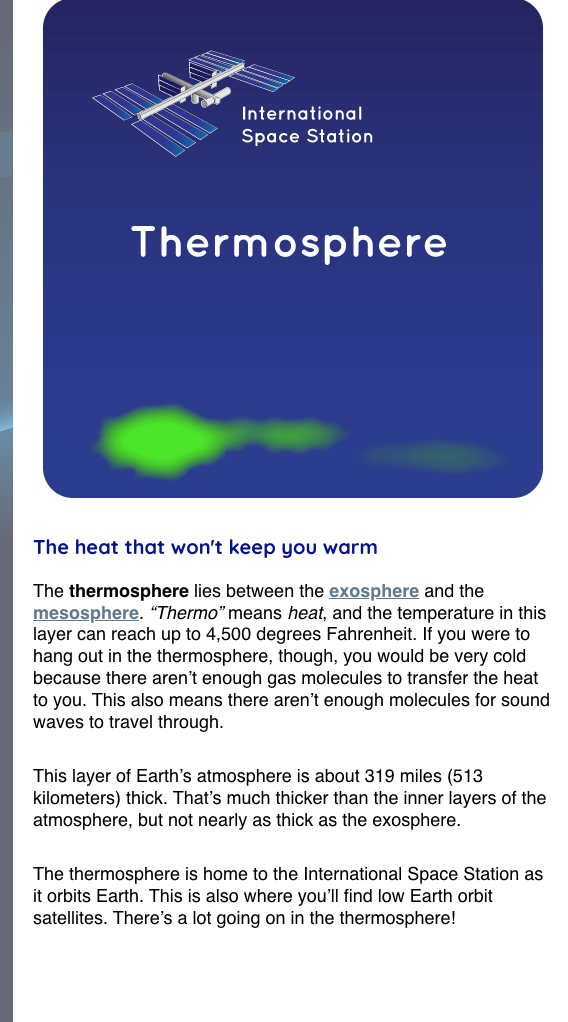 (Source: NASA screenshot taken on Tue Oct 18 16:32:45 2022 UTC)
Another claim in the post on Instagram asserts that "When looking up at the sky whether in the daytime or nighttime, you can never see a supposed satellite glimmering, reflecting off the sunlight or flying in front of the moon."
NASA's Hout also rejected that claim:
You can see satellites from Earth. Most are too small and don't reflect enough light to be seen with the naked eye but there are exceptions. The International Space Station is easily viewed with no assistance from the ground but it is exponentially larger than a normal communications satellite and has enormous reflective solar arrays. Since the launching of SpaceX's Starlink satellites, it's common to see images from ground based observers of them reflecting light in a line shortly after arriving on orbit before they reposition.

Canada's Glacier Media Vancouver reported on August 22, 2022 about locals in British Columbia spotting such a "Starlink satellite train."
The post on Instagram further alleges that "all that space junk should be randomly falling back to earth," given its supposed speed of travel and collisions with other pieces of space junk. Hout explained that debris, in fact, has fallen back to Earth:
Particularly large or hardened materials from defunct spacecraft, rocket stages or even space stations have survived the destructive reentry through the Earth's atmosphere and impacted the Earth. A famous one involving NASA was when Skylab reentered and some pieces landed in Western Australia.
While the video's narrator asserts that it is "not possible" for satellites to be in space, he claims that "these technologies are in-flight underneath our dome." He asserts that the inscription on the tombstone of Wernher von Braun, a NASA pioneer and rocket engineer, refers to "our dome, our firmament." That inscription is taken from the Bible's Psalm 19:1 -- "The heavens declare the glory of God and the firmament showeth his handiwork."
The "dome," also known as the "firmament," is part of the Flat Earth Society's inaccurate contention that the Earth is flat and that a dome covers the planet.

These NASA images of the Earth from space, however, show that it is not flat and not covered by a dome:

(Source: NASA screenshot taken on Tue Oct 18 20:01:15 2022 UTC)
The Flat Earth Society also contends that, by the time of his death in 1977, von Braun, a former Nazi engineer who worked for the U.S. space program after World War II, had renounced his belief in space travel and in a spherical Earth. The Society interprets Psalm 19:1 as a sign that von Braun believed that a roof exists above the Earth.
The Merriam-Webster Dictionary, however, defines "firmament" as "the vault or arch of the sky;" a synonym for "heavens," not for "dome." The biblical reference site BibleGateway shows that not all English translations of the Bible use "firmament" in Psalm 19:1.
Additional Lead Stories fact checks related to space can be found here.