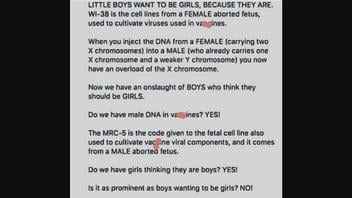 Do vaccines make people identify with a gender other than their gender assigned at birth by changing the composition of that person's DNA? No, that's not true: Vaccines do not change a person's DNA -- they provide immunity against diseases, an expert in genetics told Lead Stories.
The claim appeared in an Instagram post on November 26, 2022. The post's text said, in part:
LITTLE BOYS WANT TO BE GIRLS, BECAUSE THEY ARE. WI-38 is the cell lines from a FEMALE aborted fetus used to cultivate viruses used in va..ines.

When you inject the DNA from a FEMALE (carrying two X chromosomes) into a MALE (who already carries one X chromosome and a weaker Y chromosome) you now have an overload of the X chromosome.

Now we have an onslaught of BOYS who think they should be GIRLS.

Do we have male DNA in va..ines? YES!

The MRC-5 is the code given to the fetal cell line also used to cultivate vac..ne viral components, and it comes from a MALE aborted fetus.

Do we have girls thinking they are boys? YES!
Here is what it looked like at the time of writing: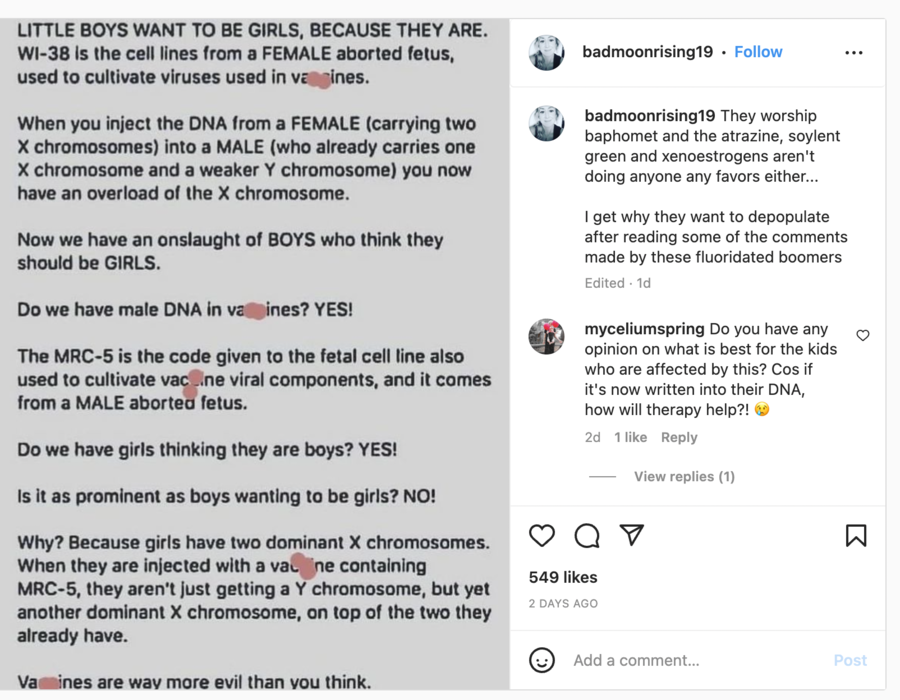 (Source: Instagram screenshot taken on Mon Nov 28 22:23:01 2022 UTC)
Neither WI-38 nor MRC-5 is a fetus -- they are cell lines developed after two women had undergone abortion in Sweden and England in the 1960s. As a BBC article explains, both tissues became almost an unlimited source of cells that were used to study viruses and create preventatives against them.
The Instagram post misrepresents how vaccines work.
Ricky Lewis, an educator with a doctorate in genetics who has written several books on the subject, told Lead Stories via email on November 28, 2022:
Vaccines do not change a person's DNA. They stimulate the immune system to produce antibodies that have parts that bind to parts of proteins from the pathogenic virus. The COVID vaccines, for example, make our cells manufacture viral spike proteins, which alerts the immune system. A human body doesn't normally make spikes, so when they show up, the immune system attacks.

X and Y chromosomes have nothing to do with this. WI-38 is a cell line used to nurture the viruses or viral parts that are used as vaccines.
Since the cell lines are only used to grow viruses, the cells are not a part of vaccines, meaning that X and Y chromosomes don't go into a shot. This makes the sex of the original fetus from whose tissues those cells were initially derived decades ago irrelevant.
The Centers for Disease Control and Prevention website does not list fetal tissues among the components of vaccines. The government agency additionally emphasizes that COVID-19 shots do not contain "tissues (like aborted fetal cells)."
Other Lead Stories fact checks about vaccines can be found here.