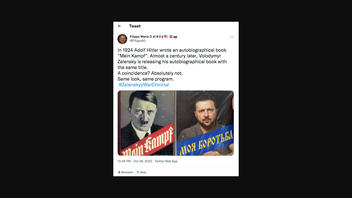 Has Ukrainian President Volodymyr Zelenskyy written a book with the same title as Adolf Hitler's "Mein Kampf," the anti-Semitic manifesto for Nazism, and did Zelenskyy present the book to an Israeli embassy? No, that's not true. Social media posts showing the cover of the purported book, entitled "Моя боротьба" ("My Struggle" in English and "Mein Kampf" in German), used altered photos originally taken in 2021 or imagined covers with designs that varied from post to post.
One such claim about Zelenskyy appeared in a tweet (archived here) on October 26, 2022. It said:
In 1924 Adolf Hitler wrote an autobiographical book "Mein Kampf". Almost a century later, Volodymyr Zelensky is releasing his autobiographical book with the same title. A coincidence? Absolutely not. Same look, same program.

#ZelenskyyWarCriminal
Here is what the tweet looked like at the time of writing: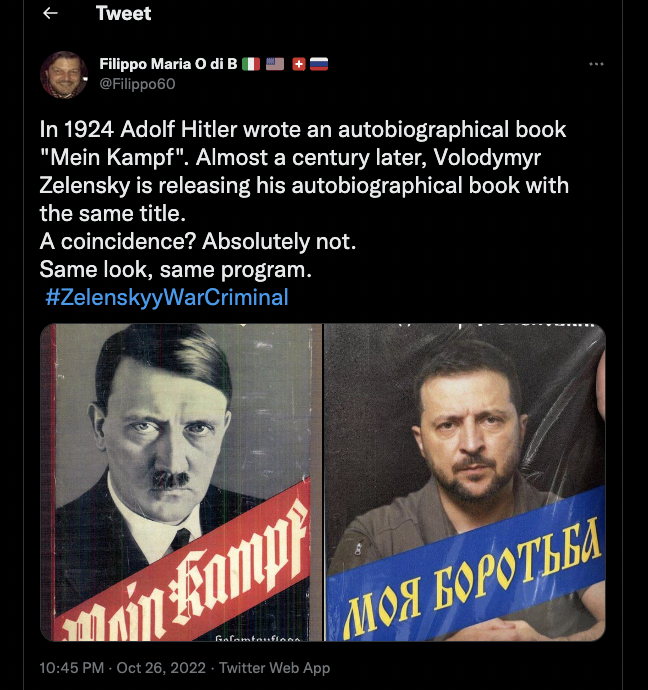 (Source: Twitter screenshot taken on Tue Nov 1 16:48:58 2022 UTC)
The book covers of "Mein Kampf" and "Моя боротьба" have visually similar designs.
However, no official announcement confirms that Zelenskyy has ever published a book called "My Struggle" or intends to do so. Searches for the supposed title on the Ukrainian president's official website and Instagram account yielded no results for the supposed title.
Online speculation about the alleged book followed an October 17, 2022 announcement by the publishing company Penguin Books that it would publish on November 24, 2022 a book that tells "the story of Ukraine through the words of its own President." Zelenskyy's name appears on the cover, but the title, "A Message From Ukraine," is not "My Struggle," as online commentators suggested: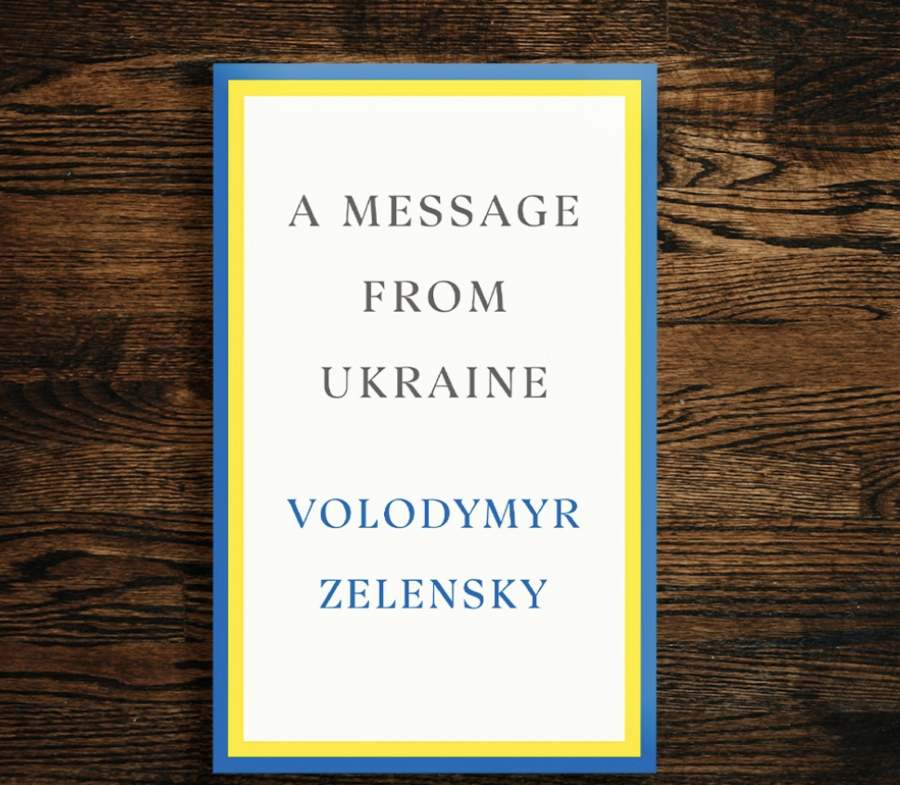 (Source: Facebook screenshot taken on Tue Nov 1 15:35:29 2022 UTC)
The pre-order section on Amazon.com contains the same image: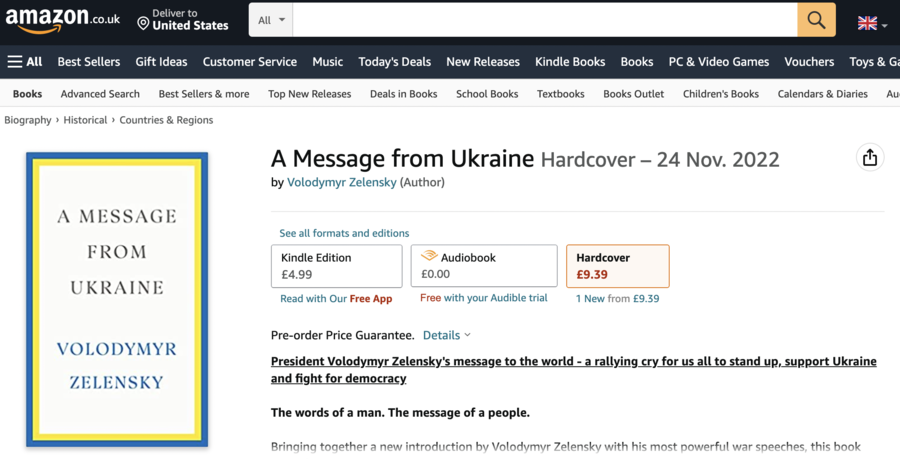 (Source: Amazon screenshot taken on Tue Nov 1 17:18:56 2022 UTC)
Penguin Books stated that the book includes "Zelensky's most significant speeches, alongside a brand new introduction." No mention is made of Adolf Hitler, Nazism or "Mein Kampf."

All sales revenue will go to United 24, a campaign launched by the Ukrainian president "as the main venue for collecting charitable donations in support of Ukraine."
The claim falsely conflating "Mein Kampf" with "A Message from Ukraine" has spread across platforms (for example, on Facebook here and here) and languages. One of the earliest examples can found on Telegram in a French-language post from October 19, 2022: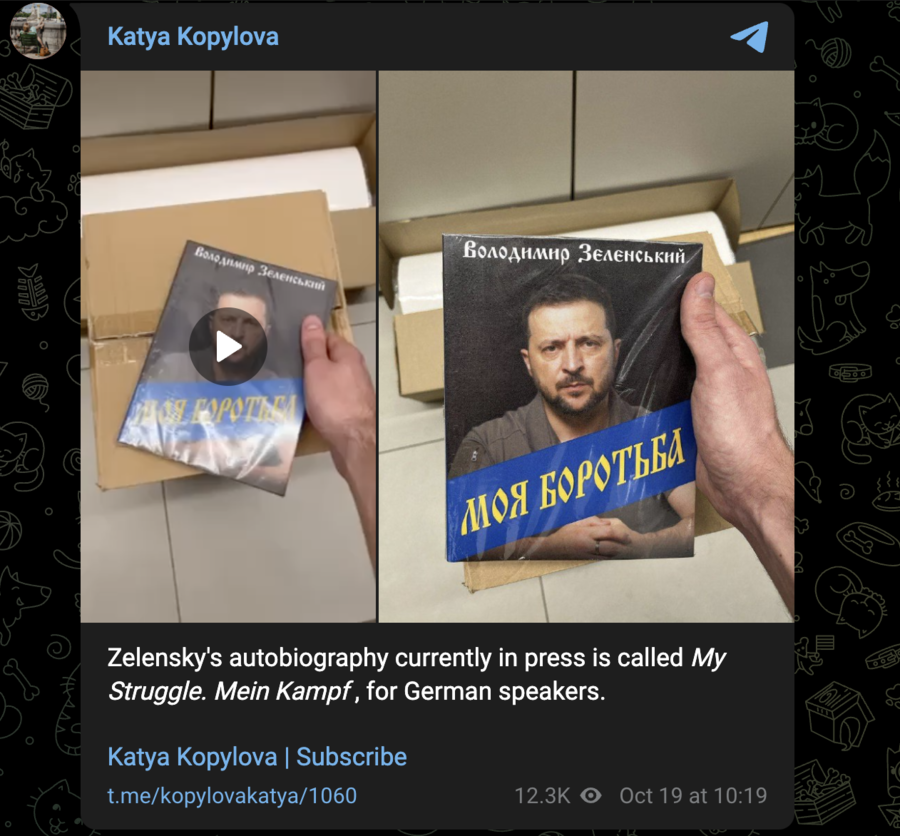 (Source: Telegram screenshot taken on Tue Nov 1 17:24:57 2022 UTC; the post was automatically translated to English)
Some variations of the claim include not only images of the purported cover, but also a photo from a supposed official event at an Israeli embassy, where Zelenskyy allegedly signed a copy for Israeli Alternate Prime Minister Naftali Bennett. (These posts erroneously introduce Bennett as the prime minister of Israel, rather than "alternate prime minister.")

A Russian-language post published on Telegram on October 21, 2022 is one example of this inaccurate claim about the event: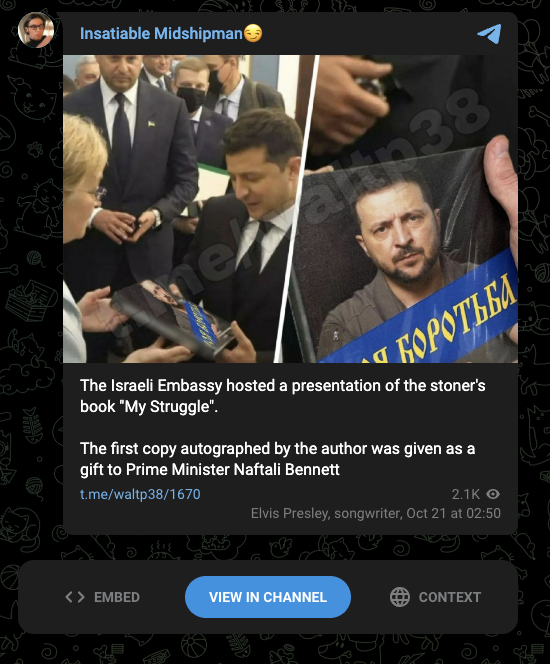 (Source: Telegram screenshot taken on Tue Nov 1 15:20:29 2022 UTC; the post was automatically translated to English)
The two images shown above are not identical and display signs of manipulation: The image on the left, supposedly from the "presentation," displays an unnaturally cropped image of Zelenskyy's head on the "book cover." But the close-up of this supposed cover contains dead space above the president's face.

Moreover, unlike in the French-language post, Zelenskyy's name does not appear at the top of the cover. Instead, remnants of a watermark can be seen.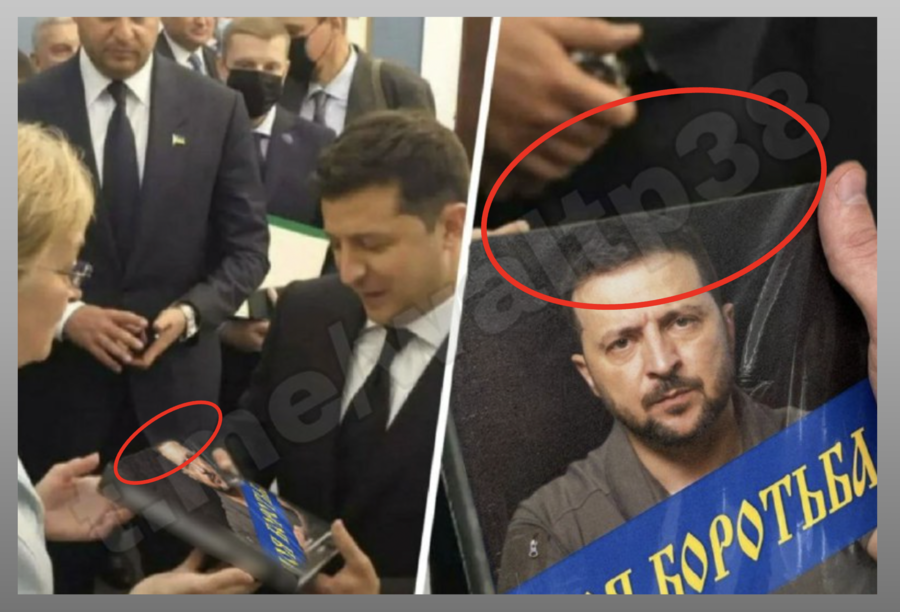 (Sources: Telegram screenshot taken on Tue Nov 1 16:23:15 2022 UTC; compilation and graphical emphasis by Lead Stories)
Minus the book cover, the photo on the left comes from footage of Zelenskyy's September 2021 visit to Washington, D.C. An example from the Ukrainian TV news program TSN can be seen below: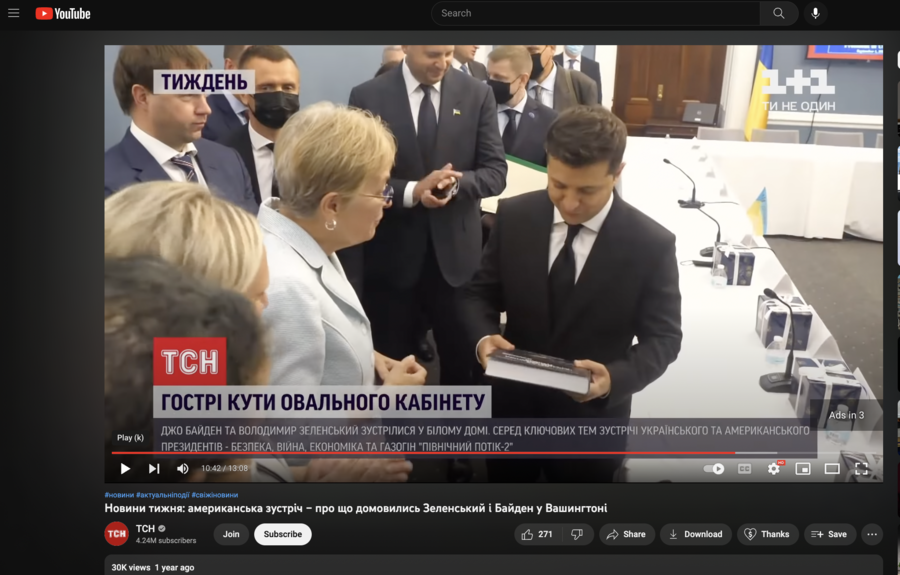 (Source: YouTube screenshot taken on Tue Nov 1 16:55:58 2022 UTC)
In September 2021, Russian Foreign Affairs Ministry spokesperson Maria Zakharova's verified Telegram account posted two images nearly identical to those used in allegations about the "presentation" at the Israeli embassy. The images showed a completely different book given to the Ukrainian leader during his trip to Washington: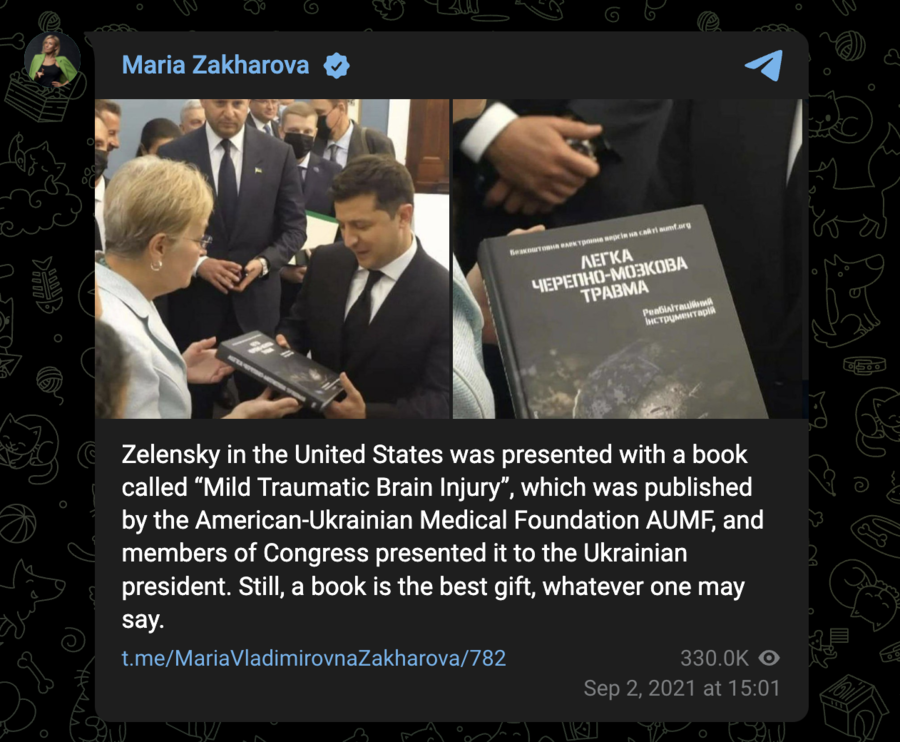 (Source: Telegram screenshot taken on Tue Nov 1 16:38:20 2022 UTC)

Other Lead Stories fact checks about the ongoing conflict in Ukraine can be found here.