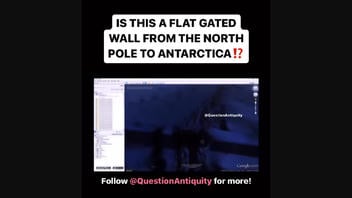 Does a video of satellite imagery showing what a post describes as a "massive underwater wall" stretching from "pole to pole" prove that the Earth is flat? No, that's not true: A video of Google Earth seafloor mapping data depicted in the post shows what's known to mapping analysts as a "digital seam," or a location of the ocean floor where mapping data didn't align exactly, a seafloor data analyst told Lead Stories. This seam is a normal part of data processing and as of December 2022 the anomaly had been corrected.
The claim, which originated on Instagram on November 21, 2022, showed video imagery of Google Earth satellite data said to depict an underwater wall. Narration that accompanied the video explained that:
... this appears to be a blockade or bridge or wall from the North Pole all the way to Antarctica in a completely straight line seeming to be 6 kilometers in height at every point with a break, which seems to be like a gate of some sort, with pathways up to it ... and it goes straight from the North Pole to Antarctica. Never differentiating in height, with little entrances and pathways seems to be massive every so often throughout the whole trip.

Could this be proof of flat Earth? Could this be proof of the world flood and the Bible?
Text with the Instagram post read:
MASSIVE UNDERWATER WALL FROM POLE TO POLE⁉️

What do you think⁉️
Let me know in the comments‼️
Follow @QuestionAntiquity for more,
And Question Antiquity on FB & TikTok‼️
Here is how the post appeared at the time of writing: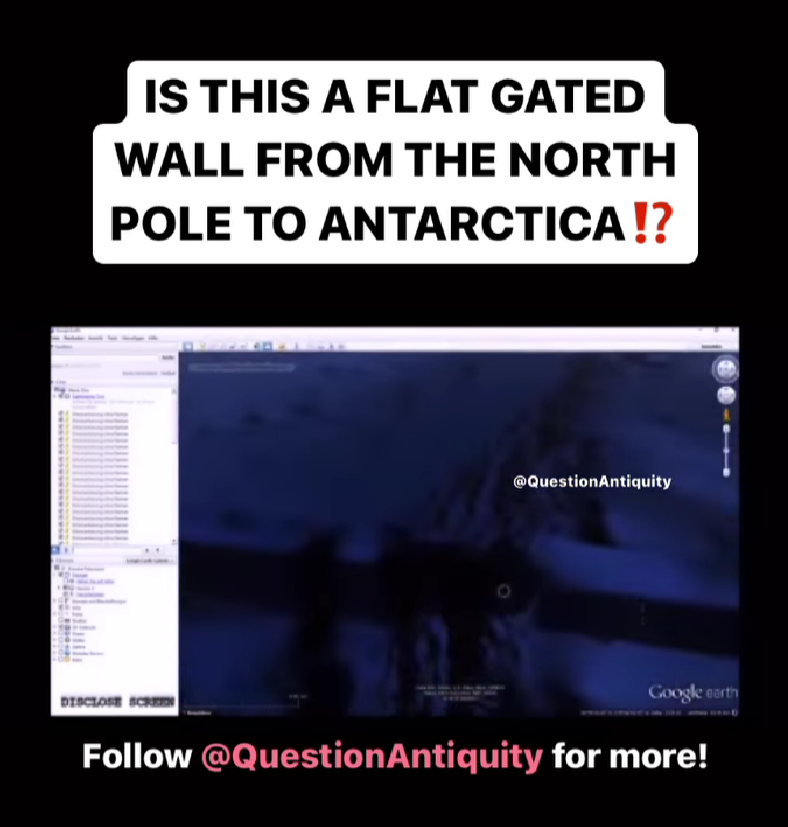 (Source: Instagram screenshot taken Wed Dec 21 11:20:32 2022 UTC)
"What you are looking at is an accidentally introduced seam in a grid, or a map, of the ocean floor," Hayley Drennon, a senior research assistant at Columbia University's Lamont-Doherty Earth Observatory, told Lead Stories in an email on December 21, 2022. "Seafloor mappers often 'clip' data so that we may more accurately overlay mapping information on systems like Google Earth."
The "wall" in the video actually shows the international date line, also known as the "line of demarcation" between two consecutive calendar dates, the National Ocean Service writes. Established in 1884, the international date line passes through the mid-Pacific Ocean and follows a north-to-south longitude of 180 linearly across the planet. A person who crosses this line time-travels, of sorts, moving from one day to the next.
The coordinate systems of seafloor mapping data produce these "seams" due to the way in which datasets are integrated and processed. This integration can sometimes create what is known as a "projection," the transfer of a three-dimensional object like Earth's spherical shape to a two-dimensional map, according to the website of the mapping software ArcGIS.
This seam in the seafloor map proves that Earth is not flat.
"Imagine you are wrapping a present and you didn't cut enough to overlap, so you have that frustrating gap. This is essentially what happened in this Google Earth imagery -- overlap was not accounted for and a pixel of data was left out," Drennan explained. "'Wrapping' data around the international date line can be complicated and change according to projection because we are wrapping a two-dimensional map onto a three-dimensional surface."
In this image below of the seam, the offset between mapped and unmapped data can be seen, Drennan wrote.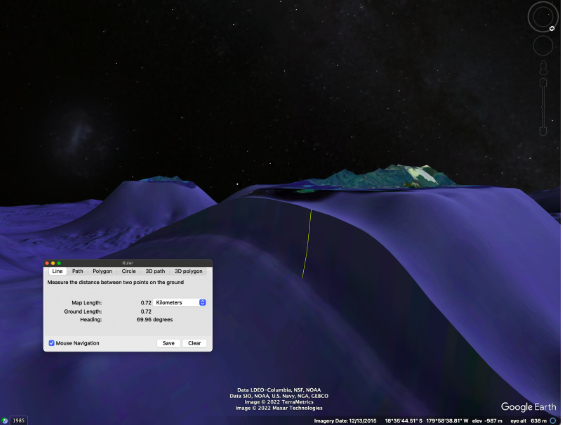 (Image courtesy of Hayley Drennan/Google Earth)
Direct measurements of the seafloor are captured using a sonar mounted to the hull of a ship, which directs acoustic pings from the ship to the seafloor and calibrates the ocean depth based on the amount of time it takes for that sound to return to the vessel. These differences in time allow mappers to create topographical measurements of the seafloor, notes the marine research nonprofit Ocean Exploration Trust.
"Like bats echolocate the world around them, we use sound to detect the seafloor and these soundings can tell us the shape and detail of our underwater world," Drennon wrote.
Hull-mounted sonars result in much higher-resolution mapping images of the seafloor than those produced using satellite images. Even so, satellite images of land like those used in Google Maps are capable of creating much higher-resolution maps than even hull-mounted sonars can produce of the seafloor.
High-resolution seafloor mapping captured from the sonar mounted to the hull of Exploration Vessel Nautilus revealed "unusual pancake-like features of a seamount" shown in the rainbow colors, the Ocean Exploration Trust website says. The darker blue areas depict less detailed images taken likely taken from satellite data.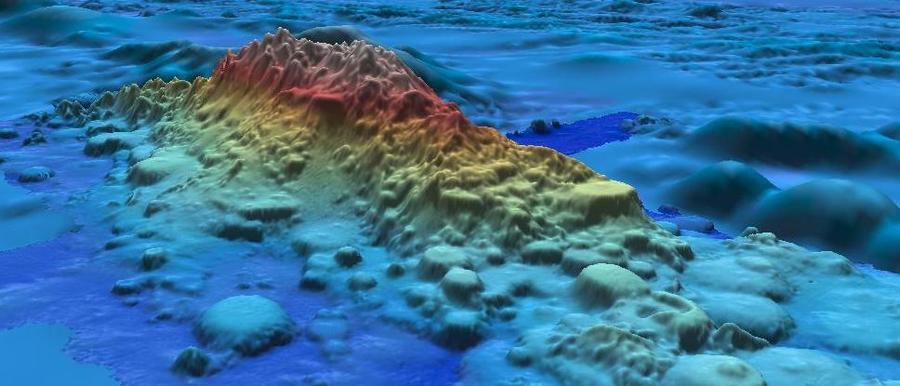 (Image courtesy of Ocean Exploration Trust/QPS Qimera; website downloaded on Wed Dec 21 11:17:00 2022 UTC.)
"While satellite imagery, LiDAR, or other optical light sensing instruments can map to the centimeter on land and on Mars, in the ocean these instruments can only 'see' down to a max depth of 30 meters in the best of conditions," explained Drennon. "Satellite imagery is great for informing us on the shape of the sea floor and the potential for features, but it can not give us detailed information like it can for land. Most of what you are seeing in this video is satellite imagery which is why the seafloor is smooth and fairly undetailed."
Other Lead Stories articles about flat Earth claims can be found here.