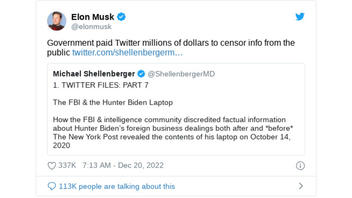 Were the FBI payments to Twitter, documented in what's known as Part 7 of the "Twitter Files", compensation for censoring? No, that's not true: The evidence provided shows the payments were reimbursement for costs associated with the company's work responding to information requests from the FBI. Claims that the FBI was paying for content moderation are false, according to a founder of a cybersecurity firm who is former chief security officer of Facebook.
The claim was implied in a tweet (archived here) posted by Elon Musk on December 20, 2022. Musk, the CEO of Twitter, wrote:
Government paid Twitter millions of dollars to censor info from the public
This is what the post looked like on Twitter at the time of writing:
(Source: Twitter screenshot taken on Wed Dec 21 20:13:57 2022 UTC)
The tweet included a link to a thread of tweets from Michael Shellenberger, one of just a few writers Musk tapped to report on the "Twitter Files," a collection of internal company documents. Musk appeared to be referring to this tweet from Shellenberger:
46. The FBI's influence campaign may have been helped by the fact that it was paying Twitter millions of dollars for its staff time.

'I am happy to report we have collected $3,415,323 since October 2019!' reports an associate of Jim Baker in early 2021. pic.twitter.com/SmNse97QxK

-- Michael Shellenberger (@ShellenbergerMD) December 19, 2022
Shellenberger's tweet includes a redacted February 10, 2021, email to Jim Baker, Twitter's former deputy general counsel. The email reads:
Jim, FYI, in 2019 SCALE instituted a reimbursement program for our legal process response from the FBI. Prior to the start of the program, Twitter chose not to collect under this statutory right of reimbursement for the time spent processing requests from the FBI.

I am happy to report we have collected $3,415,323 since October 2019! This money is used by LP for things like the TTR and other LE-related projects (LE training, tooling, etc.).
As can be read in the email, the FBI's payments to Twitter were not for censorship. They were reimbursements to the company for processing the bureau's legal requests. The money, in other words, was paid to Twitter to give information to the FBI, not to "censor info from the public."
Alex Stamos, a founding partner at the Krebs Stamos Group, a cybersecurity consultancy, explained Musk's claim and the reimbursement process as follows:
The federal law authorizing cost reimbursement is under Section 2703. And Twitter's own guidelines for law enforcement state that the company "may seek reimbursement for costs associated with information produced pursuant to legal process and as permitted by law (e.g., under 18 U.S.C. §2706)."
To be clear, this fact check does not encompass the claim that the FBI has never paid Twitter to censor information. Musk, as CEO, may be uniquely positioned to know whether or not that's true. As evidence for his claim, however, Musk linked to Part 7 of the Twitter Files, which stops far short of proving that the government paid Twitter to censor information from the public. In that report, several documents make it clear Twitter was reimbursed for time spent responding to FBI requests for information.
Lead Stories reached out to the FBI for comment on Musk's claim. We will update this story if we receive a response.