Did an American doctor admit on video that he created the HIV and AIDS viruses in a U.S. military medical laboratory, Fort Detrick, so that they could be used as biological weapons for depopulating the world? No, that's not true: Dr. Robert Gallo, the doctor featured in the video, makes no such admission in the footage, and told Lead Stories that his scientific work was not part of any plan to weaponize HIV/AIDS. Historical records show that the claim is a well-documented hoax that dates to a Soviet disinformation campaign from the 1980s.
The claim appeared in a December 3, 2022, post on Facebook under the headline, "This doctor says he deliberately created AIDS to depopulate humanity at Ft. Dietrich Maryland." It opened:
Historic records prove the secret intensification of the of the biological weapons race in America make the Soviet efforts pale by comparison. Here to prove it are three of the most stunning and condemning documents in biological warfare history. First is a never-declassified Congressional Record of 1969, showing the Department of Defense requested $10 million to develop quote, "synthetic biological agents for germ warfare," end quote, through the National Academy of Sciences, National Research Council, that is the NASNRC. That's nearly half of the amount of money given to all of biological weaponry that year. These new laboratory creations were descriptively and functionally identical to HIV AIDS.
Here's how the post appeared on the day of the writing of this fact check: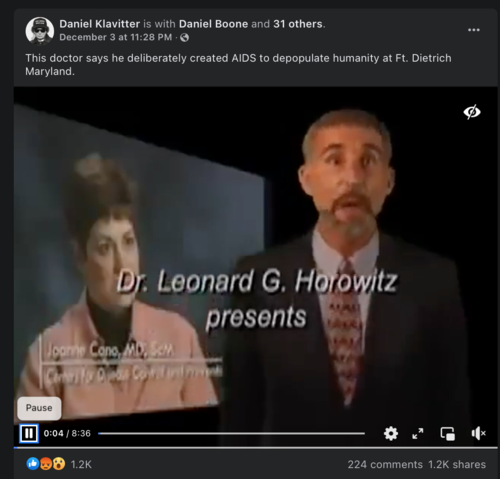 (Source: Facebook screenshot taken Wed Dec 14 at 20:45:00 2022 UTC)
The post's video footage is a collection of clips excepted from a 2007 movie -- "In Lies We Trust: the CIA, Hollywood and Bioterrorism" -- which was produced, written and narrated by Dr. Leonard G. Horowitz, a former dentist and known AIDS and vaccine conspiracy theorist, who runs a nonprofit for "natural healthcare defense" and a "natural consumer products" company.
The claims expressed by Horowitz in the video posted on Facebook begin at the 50-minute mark of the 2:30-hour movie. The interviews and documents featured in the used in the 8:26 video appear to duplicate those from the film, although some on-screen graphics differ: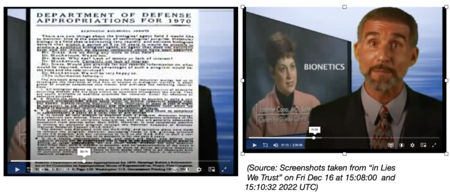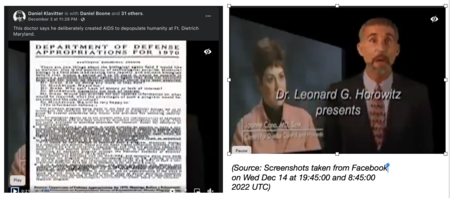 A prime target of Horowitz's video is Dr. Robert Gallo, one of two scientists credited with discovering in the mid-1980s that HIV causes AIDS. Gallo, who co-founded the University of Maryland's Institute of Human Virology, was also the first researcher to develop a diagnostic blood test for the disease.

In the video, Horowitz is heard questioning Gallo about whether his pre-1980 research may have triggered the emergence of HIV and AIDS. Horowitz claims the exchange occured during the 11th International Conference on AIDS in Vancouver, B.C., which took place July 7-12, 1996.
Lead Stories used abstracts of online copies of conference presentations and outcome summaries, (here and here) to confirm the conference dates. An additional search of a copy of the conferrence program archived in the Jon Coen AIDS Research Collection at the University of Michigan Library, confirms Gallo was in attendance.
"It's absurd," Gallo said, recalling his exchange with Horowitz in a telephone interview with Lead Stories on December 19, 2022. "That's when I started to laugh my head off. I said, 'The guy is crazy and, if he's not crazy, he's a total fraud.'"
According to Gallo, Horowitz's claims that HIV was made in a lab are wrong. HIV wasn't a new virus in the 1980s; researchers have found it was present as far back as the 1800s.
"HIV existed -- we can prove it by [the] molecular clock, looking at its genome and rate of change -- approximately dating back a hundred and twenty years in man," said Gallo, whose previous research with human retroviruses led to significant advancements in understanding of T-Cells and the isolation of the first leukemia T-Cell virus.
Additionally, the gene cloning technology (also known as recombinant DNA technology) which was critical to advancing scientific understanding and discovery related to HIV/AIDS, was not available until 1980.
"You can't do any such experiments before the 1980s," Gallo said.
The physician stressed that not once in his 30 years at the National Institutes of Health, where he headed the National Cancer Institute's Laboratory of Tumor Cell Biology, nor at any time during his medical education, was he asked to participate in a government plan to develop HIV/AIDS as some sort of biological weapon.
"I never heard such a tale, ever," he said.
HIV, or human immunodeficiency virus, attacks the human immune system and, if left untreated, can lead to acquired immunodeficiency syndrome, or AIDS, according to information from the Centers for Disease Control and Prevention. Scientists agree that HIV was not created in a laboratory, but is instead related to the simian immunodeficiency virus, which was first documented in the blood of chimpanzees in west Central Africa in the 1950s and may have jumped to humans as early as the 1800s.

The virus was first seen in human blood in the 1970s, years before AIDS was diagnosed as a disease in 1981 and developed into an epidemic primarily affecting gay men.

During the 1980s, AIDS research was conducted at Fort Detrick, a military medical research facility in Fredericksburg, Maryland. From 1943 until 1969, when President Richard Nixon ended the country's biological weapons program, Fort Detrick had been used for bioweapons research. Nixon turned the facility's focus toward cancer research.

Scientists at Fort Detrick were producing the HIV virus in order to provide blood tests for the disease as quickly as possible so that lives could be saved, Gallo said. "The government was using our viruses to help scale up and make the blood tests" Gallo told Lead Stories, adding that neither he, nor his team ever worked in the lab at Fort Detrick.
Multiple media reports (here and here) from the time confirm the work of Fort Detrick scientists, but also describe early efforts to combat the Russian disinformation campaign. In a 1987 AP story, Fort Detrick officials called a Soviet state media report about the manufacture of AIDS for use as a biological weapon "absolutely ridiculous."
According to the U.S. Department of State, the Soviet Union launched a coordinated, worldwide disinformation campaign in 1985 that spread the rumor that U.S. Army medical researchers had manufactured the AIDS virus for use as a biologial weapon. Historians, medical researchers, journalists and academics have documented this campaign.
Part of the disinformation initiative included promoting the theories of a retired East German biology professor, Jakob Segal and his wife, Lilli, who published a paper claiming that Fort Detrick sources had said the Central Intelligence Agency had developed AIDS. The couple continued to press the theory into the 1990s.
Lead Stories has fact checked other false claims about HIV/AIDS, (here and here), including a claim about Gallo and other scienitsts being forced to develop HIV to wipe out ethnic Africans.