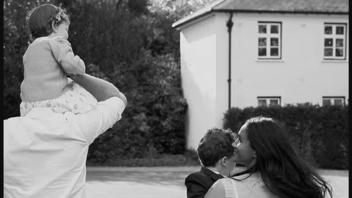 Did the Duke and Duchess of Sussex, commonly known as Harry and Meghan, accidentally release a professional photo that was so badly edited that it revealed that their "invisible" daughter Lilibet is not a real child? No, that's not true: This clickbait headline plays off a conspiracy trope that Meghan's pregnancies and children are not real. There is no indication that the child pictured on Harry's shoulders is digitally manipulated or is anyone other than the couple's year-old daughter, Lilibet. The Sussexes have guarded their children's privacy, and photos of Lilibet and her older brother, Archie, are few and far between, but that does not bring into question the children's existence.
A video with this narrative was first posted on December 13, 2022, by the YouTube channel "Kate Middleton & The Queen." On December 14, 2022, an account called "Quentin Calderon" uploaded the video to its Facebook page. Both videos, titles and transcripts are nearly identical with only small differences.

The largest difference comes down to narration: A seemingly robotic voice narrates the video on Facebook, though it follows the same script as the YouTube version.

The title of the videos on both Facebook and YouTube use incorrect English grammar. The title on Facebook read:
Meghan's ACCIDENTALLY Disclosure Of A FATAL Flaw Let Us Realize That Lilibet Is Fake
(Source: Facebook screenshot taken on Fri Dec 16 19:01:13 2022 UTC)
A comparison of the titles of the YouTube and Facebook videos indicates that an automated program called an article spinner may have been used to substitute key words. Lead Stories has written about
article spinning
in the past.
[Title on YouTube:] Meghan ACCIDENTALLY revealed A FATAL FLAW made us UNDERSTAND that LILIBET IS FAKE

[Title on Facebook:] Meghan's ACCIDENTALLY Disclosure Of A FATAL Flaw Let Us Realize That Lilibet Is Fake
In the video posted on YouTube and Facebook, the narrator targets a photo seen at
the 52-second mark of the trailer
for the recently released Netflix documentary series
"Harry & Meghan."
The narrator claims (excerpts below) that the child pictured on Harry's shoulders is a cut-and-paste image of a child originally sitting on the grass; that a 1-year-old child could not sit unsupported on a person's shoulders; that the position of Harry's shirt collar reveals that the child's image has been manipulated, and that the child shown on the prince's shoulders is older than a year, the age of his daughter, Lilibet.
Meghan accidentally revealed a fatal flaw on Harry's shoulder that made us understand that Lil

i

bet is fake. ... I don't think Meghan Markle is very happy right now. She really messed up. She released heavily photoshopped photos of her and Harry with their two invisible children. And it has been pointed out to her that the person who pasted Lilibet sitting on Harry's shoulders did a really bad job and people are talking -- Harry's shirt collar is clearly visible. See, if a child were actually sitting on his shoulders the shirt collar would be hidden ...

It's supposed to be a photo of a 1-year-old Lilibet riding on Harry's shoulders, but it's complete BS. A child that age needs a lot of support around her back. If she could be securely held in that position it doesn't make any sense, and also the child in this photo is a lot older than 12 months old. ...

Only the most naive and gullible people out there would fall for such a ridiculous photo. Clearly it's a child who's sitting on the ground and she's been photoshopped onto somebody's shoulders ...
Lead Stories was unable to find the original copy of this photo, which appears in the Netflix trailer.

Lead Stories has not identified any questionable elements in this photo that would indicate the image has been manipulated. However, since the video features low-resolution screenshots taken from the trailer, presumably saved and resaved in various formats, typical photo forensics tools are not very useful to detect anomalies that may have been left behind from photo editing.

That, however, does not change the fact that Lilibet Diana Mountbatten-Windsor, born on June 4, 2021, is a real child. On December 23, 2021, the press, including Buzzfeed.com wrote about the first photo of 6-month-old Lilibet (seen below) to be made public. That same day, the photographer Alexi Lubomirski posted the photo on Instagram (pictured below).

The following summer, on June 6, 2022, People.com was one of the media outlets that shared a photo of Lilibet after her first birthday that was released by the Duke and Duchess of Sussex.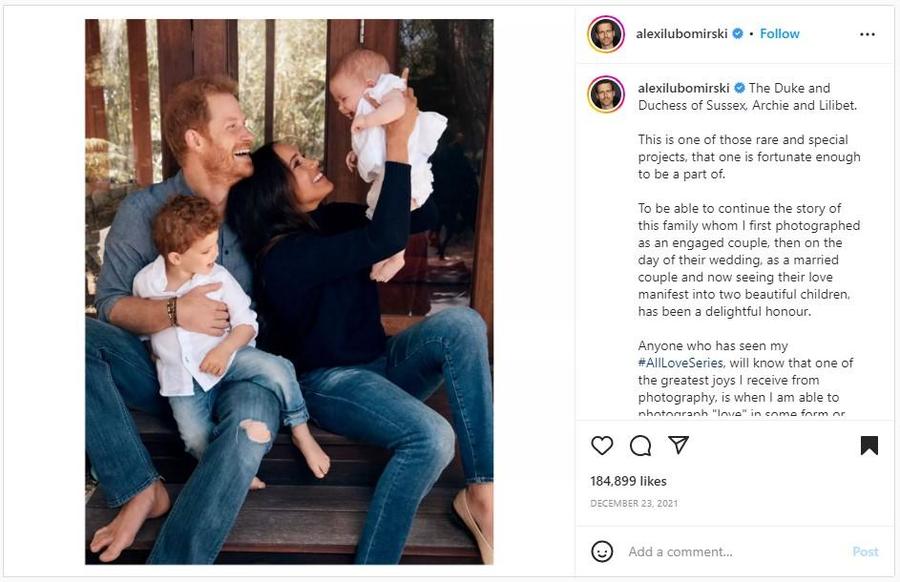 (Source: Instagram screenshot taken on Fri Dec 16 21:38:38 2022 UTC)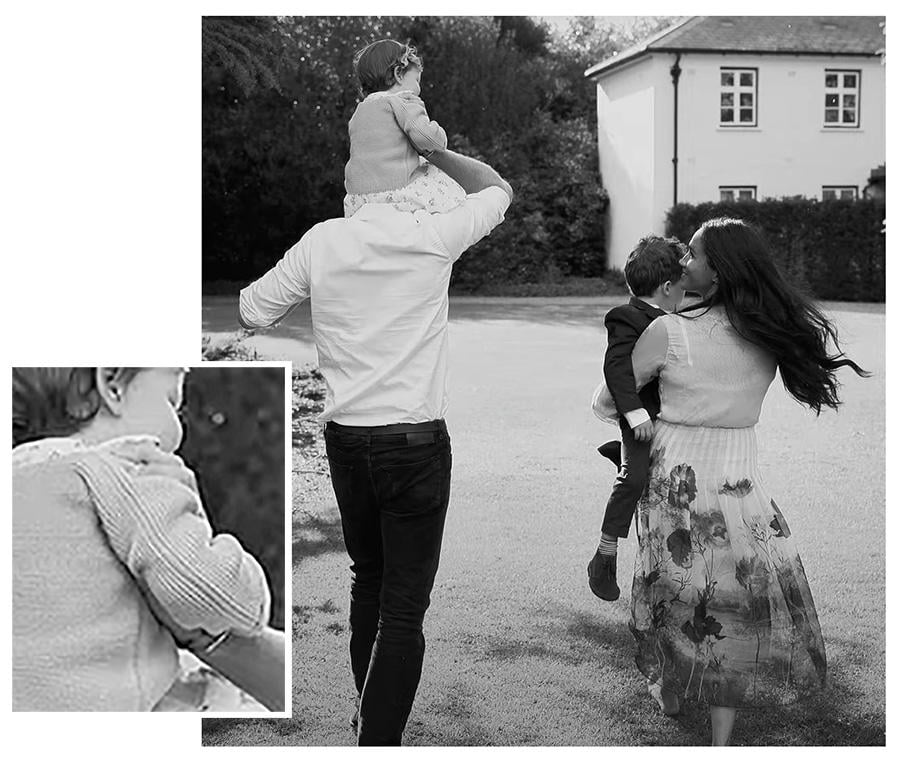 (Source: Lead Stories composite with Netflix trailer screenshot taken on Fri Dec 16 19:50:25 2022 UTC)
Throughout the video, the narrator calls the children "invisible" but clearly they are not invisible. They only are not frequently seen in public.
The narrator asserts that a child of the age featured in the photo could not sit unsupported on Harry's shoulders. But the child in the photo, Lilibet, is not unsupported. Harry is firmly holding her with his right hand (inset above); his thumb is mostly hidden in the fold of her sweater under her arm, and his fingers are visible coming over her shoulder.
A
slideshow of 18 photos
on the website popsugar.com titled, "We're Not Sure What It Is About These Dads With Kids on Their Shoulders, but We're in Love" shows fathers carrying children of approximately Lilibet's age on their shoulders. They are pictured below.

(Source: Popsugar.com slideshow screenshots taken on Fri Dec 16 21:20:55 2022 UTC)
The position of Harry's shirt collar also does not indicate photo manipulation. If he ducked his head while lifting the baby to his shoulders, his shirt's collar could easily be pushed back. Another photo, seen at the
38-second mark
in the Netflix trailer (below), shows that the shirt -- apparently the same as that featured in the outdoors shot -- had a crisp collar that could be bent under pressure.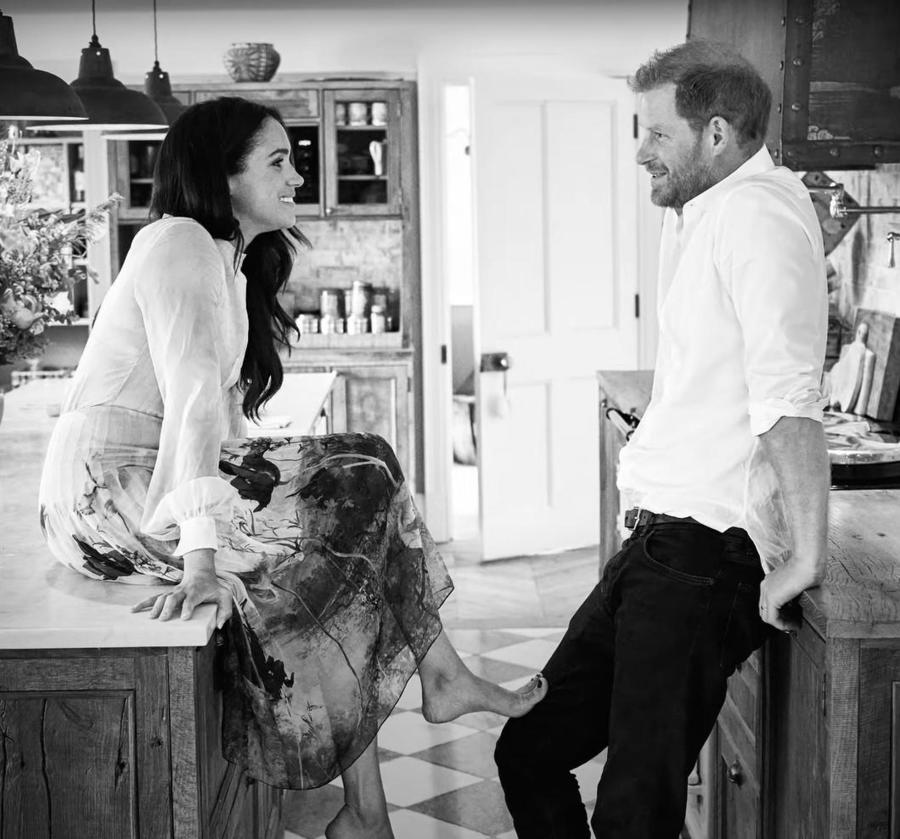 (Source: Netflix trailer screenshot taken on Fri Dec 16 19:50:25 2022 UTC)

Additional Lead Stories fact checks of claims about Harry and Meghan can be found
here.