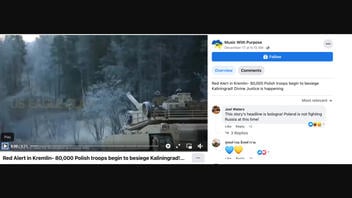 Did 80,000 Polish troops besiege Kaliningrad, Russia? No, that's not true: The video making this claim in its headline does not mention 80,000 Polish troops besieging Kaliningrad, Russia, in its recorded content. There have also been no news reports of this purported event.
The claim appeared on Facebook on December 17, 2022. The caption read:
Red Alert in Kremlin- 80,000 Polish troops begin to besiege Kaliningrad! Divine Justice is happening
This is what the post looked like on Facebook at the time of writing: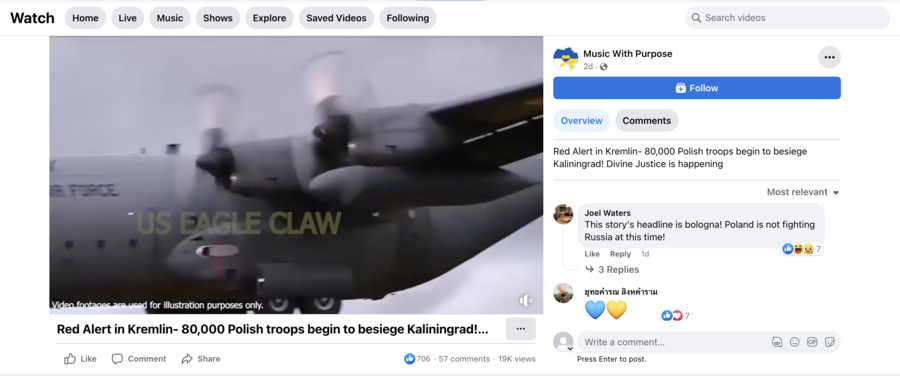 (Source: Facebook screenshot taken on Mon Dec 19 15:40:39 2022 UTC)
While the video's caption and headline claim that 80,000 Polish troops have besieged Kaliningrad, the words "besiege" or "siege" are not mentioned in this video once.
The Facebook account that created the video, Music With Purpose, classifies itself as a gaming video creator. Its intro says in Spanish that it "is in charge of bringing the Gospel to all people through music."
No Google News results appeared when Lead Stories searched the term "80,000 Polish troops besiege Kaliningrad, Russia."
More political clickbait video debunks from Lead Stories can be found here, here and here.
Lead Stories has fact-checked numerous false claims about the Ukrainian-Russian war, those articles can be found here.