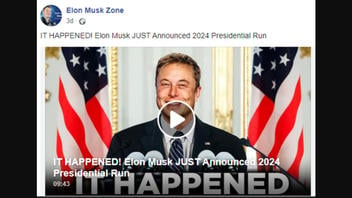 Did Elon Musk announce, as of December 24, 2022, that he is running for president? No, that's not true: As one of the most-reported-on persons of 2022, any such announcement would have been a top story for dozens of credible professional news organizations. No such reporting existed as of December 27, 2022. Nor had Musk, who owns Twitter and uses it for major announcements about Tesla, SpaceX and other companies he owns, posted a Tweet making the purported announcement. The claim of his candidacy was posted without any evidence and appears on a Facebook page operated by a self-described gaming video creator who frequently posts false news about Musk, in an apparent bid to build traffic to their page. Musk, by virtue of his birth in South Africa, is not eligible to be president of the United States.
The claim appeared in a December 24, 2022 Facebook post on the Elon Musk Zone Facebook page, entitled "IT HAPPENED!" It opened:
Elon Musk JUST Announced 2024 Presidential Run
This is what the post looked like on Facebook at the time of writing: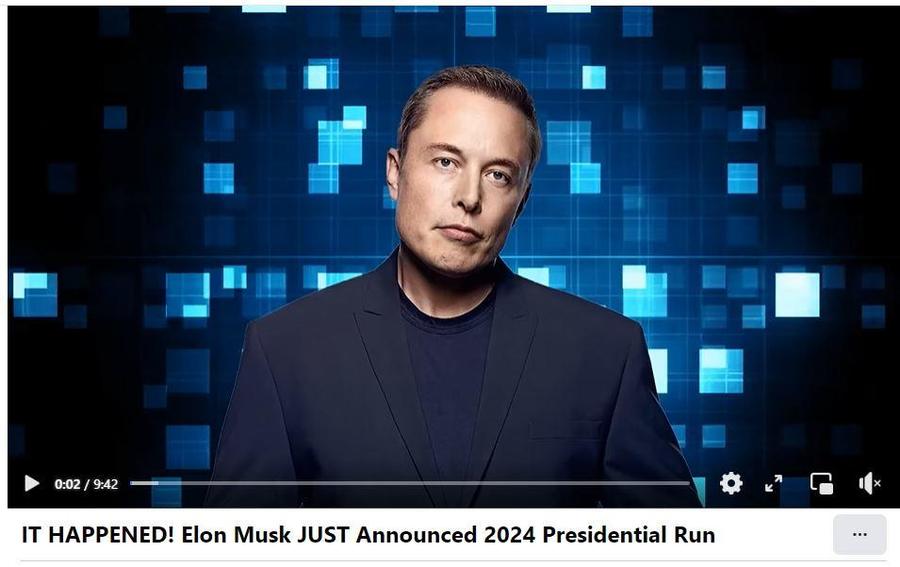 (Source: Facebook screenshot taken on Tue Dec 27 22:55:19 2022 UTC)
The video features a narrator talking over news video and images of Musk and a variety of political figures. The narrator opens the nine-minute, 42-second video like this:
Elon Musk has just surprised many by announcing his presidential run in the 2024 American elections.
But the narrator does not go on to describe the time, place or mode of the announcement, with the video most notably lacking video of Musk himself saying it.
There is no such announcement on Musk's Twitter account, which has 123.4 million followers, making it one of the most-followed accounts on Twitter.
He posted four tweets in a thread on December 24, 2002, the day he purportedly announced his presidential bid, and retweeted one other user's post: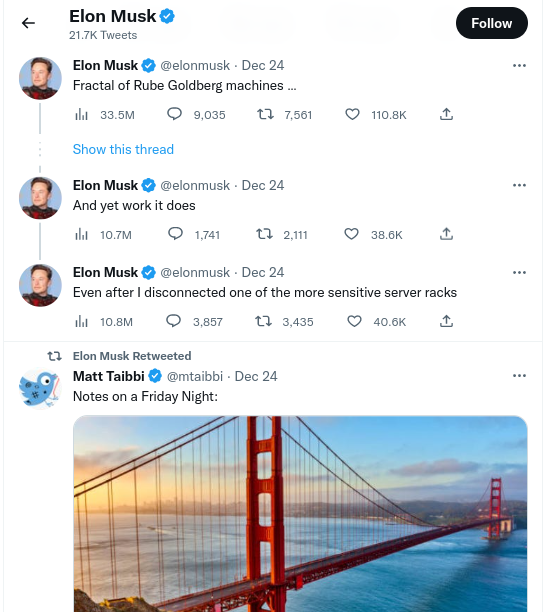 (Source: Twitter.com screenshot taken Wed Dec 28 0:47:06 2022 UTC)
Google News, which scrapes news content from more than 20,000 publishers worldwide, delivered no credible reports of a Musk candidacy in response to a query for all reports in December 2022 containing "Musk, president, announce."

No credible news reports were unearthed by similar searches on Duck,Duck, Go and on Bing.
Reports of a Musk candidacy announcement appeared on neither Fox News nor CNN.
Article II, Section 1, Clause 5 of the U.S. Constitution sets the eligibility rule that would disqualify Musk from being president:
No Person except a natural born Citizen, or a Citizen of the United States, at the time of the Adoption of this Constitution, shall be eligible to the Office of President; neither shall any Person be eligible to that Office who shall not have attained to the Age of thirty five Years, and been fourteen Years a Resident within the United States.
Encyclopedia Britannica lists his birthplace as Pretoria, South Africa, and he has talked about his early life there in multiple interviews.