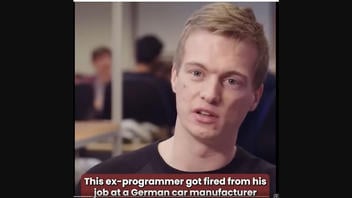 Did a young engineer named Christian discover a way to make cars more fuel efficient, but get fired from his job after telling his managers? Did he then develop a chip that will calibrate a car's fuel usage? No, that's not true: Much of this video footage was lifted from a YouTube video promoting the University of Huddersfield. The young man in the video is not named Christian, he's Ryan Day. He was not an employee at a German car manufacturer but was a student of mechanical and automotive engineering. In the past, Lead Stories debunked a similar ad making the same claims about a virtually identical device, but it had a different name, Effuel.
The video advertisement was posted on Facebook on December 26, 2022, by the page Don't Miss This Out. It was captioned:
Smart Fuel Saving Device🚗

This Smart New Device Helps Get cheaper fuel instantly!

Simply plug it in and start saving

Best money-saving hack

Check it out!
This is how the post appeared at the time of writing: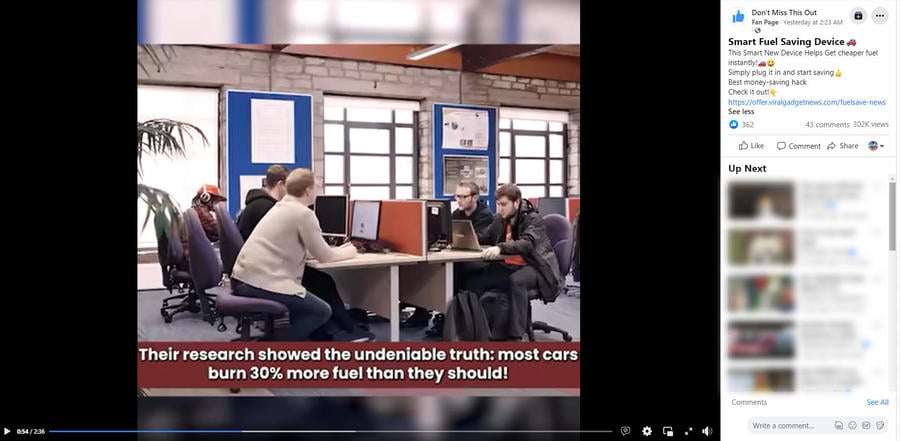 (Image source: Facebook screenshot taken on Tue Dec 27 23:53:05 2022 UTC)
The captioning in the video begins with this narrative about a young programmer named Christian:
This trick to get gas for a penny is going to get banned in the US. This ex-programmer got fired from his job at a German car manufacturer after exposing a software bug in the fuel management system of all cars built after 1996. Christian worked in the 'ecology department' where his job was to make cars more environmentally friendly. But while working on ways to improve gas mileage, he discovered most cars were configured in a way that causes the engine to consume more fuel than it really needs. When Christian shared his findings with his manager, he was expecting a big promotion. But instead of getting a raise he got kicked out of the car company 3 days later.
The video footage illustrating the narrative about the programmer Christian matches scenes originating from the video embedded below. It is an advertisement for the University of Huddersfield which was posted on January 28, 2016. It features an interview with Ryan Day, a student of mechanical and automotive engineering. For example, the scene pictured above appears at 0:13 seconds into the YouTube video below. The footage from this school's promotion of automotive courses was used to produce a fictional narrative about the origins of the FuelSave Pro.
The web link included in the caption of the Facebook post goes to this page. This website claims that the business has an A+ rating as a Better Business Bureau (BBB) accredited business, but there is no accredited business by the name FuelSave Pro (archived here) in the BBB listings. The one business named Fuel Save Pro is not accredited and has no reviews.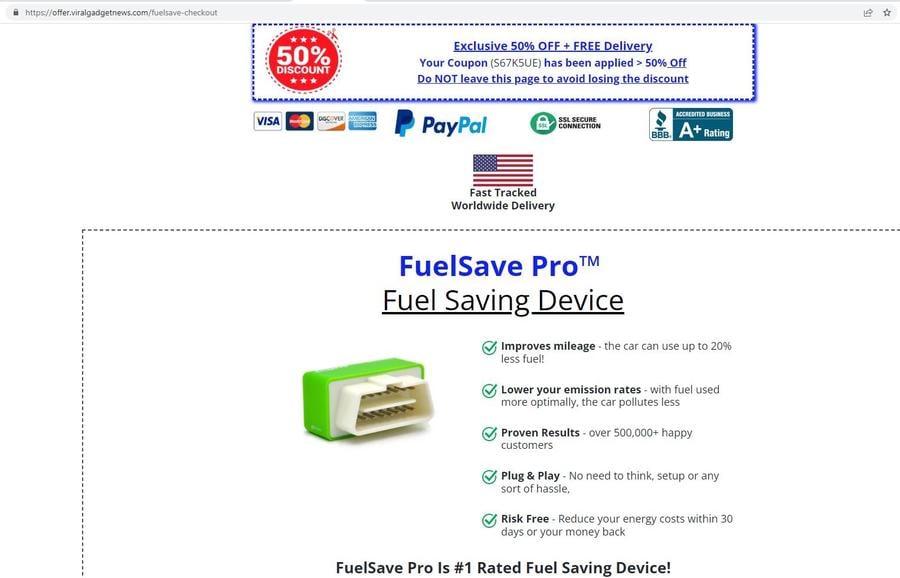 (Image source: offer.viralgadgetnews.com screenshot taken on Tue Dec 27 23:53:05 2022 UTC)
Lead Stories debunked another advertisement for a virtually identical gadget with a bright green plastic cap and a different false origin story. The tech company was going by the name Effuel.