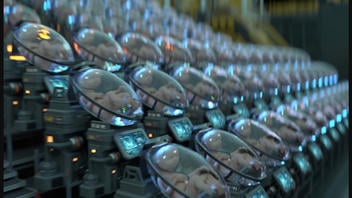 Is there a facility that can produce 30,000 lab-grown human babies per year from embryos incubated in artificial wombs? No, that's not true: A video that depicts "the world's first Artificial Womb Facility" is a promotional advertisement for a "concept" by Hashem Al-Ghaili, who describes himself as "a producer, filmmaker and science communicator" and a "molecular biologist by trade." Though the video, clearly marked near the end as a "concept," presents the "Artificial Womb Facility" as if it were already reality, this technology does not yet exist.
The video, titled "EctoLife: The World's First Artificial Womb Facility," was posted on YouTube, while another copy, titled, "Artificial Womb Facility Can Incubate 30,000 Babies a Year," was posted on Al-Ghaili's verified Facebook account on December 9, 2022. The Facebook post was captioned:
Introducing EctoLife, the world's first Artificial Womb Facility.
This is how the post appeared at the time of writing: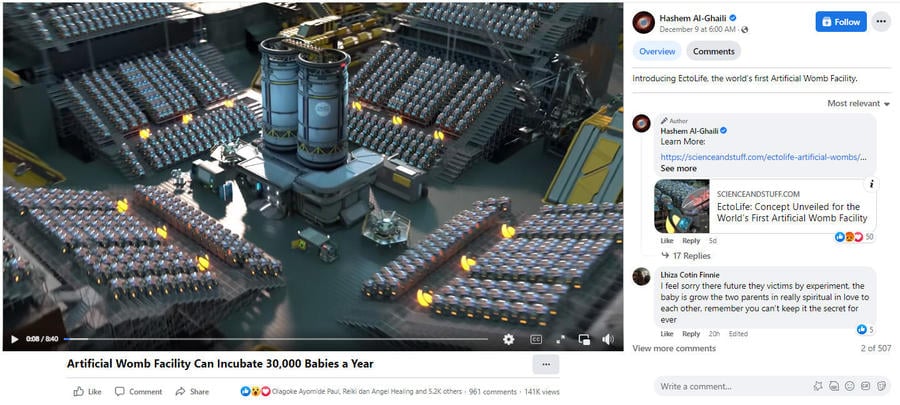 (Source: Facebook screenshot of Hashem Al-Ghaili video taken on Wed Dec 14 16:36:08 2022 UTC)
The first comment on this post, by Al-Ghaili, states "Learn More:" followed by three links:
At the first link, scienceandstuff.com/ectolife-artificial-wombs, is a December 9, 2022, article titled, "Exclusive: Concept Unveiled for the World's First Artificial Womb Facility." Scienceandstuff.com is a website, co-founded by Al-Ghaili, that has the stated mission to "explain the science of everything" and to "help readers demystify the world around them."



The next link, to

drive.google.com/drive

..., connects users to several files, including the EctoLife logo, images, videos and a three-page PDF press release. The press release is the verbatim transcript of the EctoLife video, followed by a brief bio of Al-Ghaili and terms of use for the press release.

The third link,

muse.io/hashemalghaili

, directs to a page topped with the EctoLife YouTube video and also contains links to Al-Ghaili's social media accounts.
The bio in the press release for the "creator of the EctoLife artificial womb concept" reads:
Hashem Al-Ghaili is a producer, filmmaker and a science communicator based in Berlin, Germany. A molecular biologist by trade, Hashem uses his knowledge and passion for science to educate the public through social media and video content. His flagship page, Science Nature, has garnered over 33 million followers on Facebook, and his hundreds of original videos - renowned for their simple, yet powerful visual storytelling - have been viewed over 17 billion times, and have inspired hundreds of thousands of people across the globe. Hashem graduated from Jacobs University Bremen and obtained his master's degree in Molecular Biology.
An excerpt from the Science and Stuff article quotes Ghaili:
We're just a few short years away from creating a fully-functional EctoLife growth pod. As for other features like the haptic suit, VR live view, app connection to the pod, and AI-based monitoring system, these are standard technologies that already exist and are being used on a daily basis. So, yes. In many ways, perhaps, we're almost there. It's just about combining all this research work into a single invention, which is what my new concept does.
Near the end of the EctoLife video, at the 8:25 mark, the closing credits clearly indicate that this facility and technology are a concept.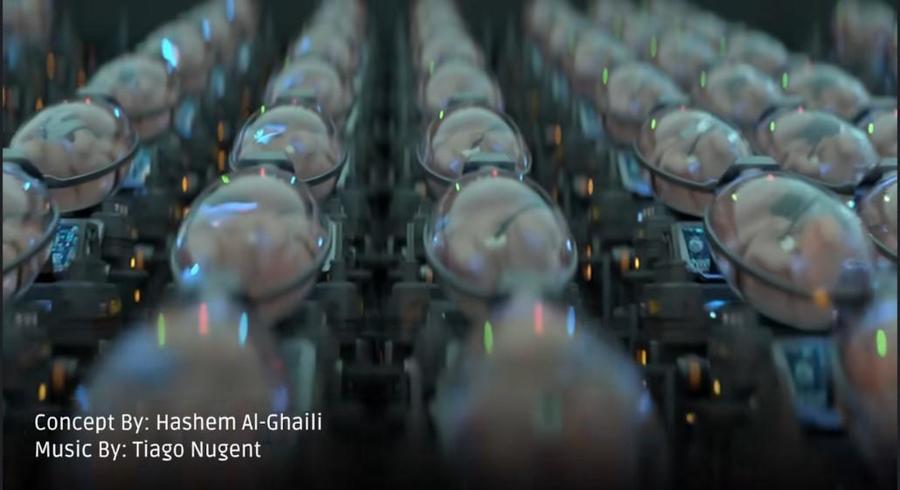 (Image source: Screenshot of Hashem Al-Ghaili YouTube video taken on Wed Dec 14 18:19:24 2022 UTC)
According to his LinkedIn account, al-Ghaili does not appear to have extensive work experience in molecular biology or other medical fields on which realization of his artificial womb facility would depend.

He formerly worked for just under a year and a half as a laboratory assistant at Yemen's The Yemen Standardization, Metrology and Quality Control Organization and for a few months as a teaching assistant at Jacobs University Bremen in Germany.
He does have a background in video content, however. Before becoming a freelance "science communicator" in 2017, his LinkedIn profile states, he was the vice president of Arabic-language content and, later, the director of content for Futurism, a Brooklyn-based multimedia outlet that focuses on scientific and technological breakthroughs.
To find out whether the technology portrayed in al-Ghaili's video could become a reality anytime soon, Lead Stories contacted Govind Rao, a professor of chemical, biochemical and environmental engineering and the director of the Center for Advanced Sensor Technology at the University of Maryland, Baltimore County. Rao was part of a team who developed a low-cost cardboard incubator for preterm infants.

Rao responded by email on December 15, 2022, including two links (an NPR "All Things Considered" segment and a review article published in the Journal of Pediatric Surgery about artificial womb studies currently being tested with fetal lambs.

Commenting on the EctoLife video, Rao said:
This is currently a Hollywood concept that is Science Fiction. It is certainly theoretically possible in the future. However, a number of technical and ethical issues will need to be sorted out before we can even contemplate attempting to work on this concept.

For now, the artificial womb concept only exists to help extremely premature babies survive and only animal trials have been done.
On December 13, 2022, Al-Ghaili shared a post on Instagram that featured a quote excerpted from an article published in the U.K. edition of the Huffington Post that same day. The article was titled, "That Artificial Womb Video Isn't Real, But Scientists Say It Could Be." The subtitle added, "The video looks like science fiction, but experts in the field tell us it's not such a leap after all." The text included in the Instagram post reads:
Prof. Andrew Shennan, Professor of Obstetrics, King's College London shares his thoughts on EctoLife Artificial Wombs:

From a theoretical standpoint it's possible. It's just a matter of providing a correct environment with fuel and oxygen and I do think the technologies are there to be able to achieve that. There are lots of examples where babies come out extremely early and are very well looked after in incubators, which is a very naive form of what you're talking about, and they're being fed by tubes down to their stomach. When we put people on things like heart bypasses or other organ bypasses, we are theoretically giving them what they need from a machine.
Source: HuffPost UK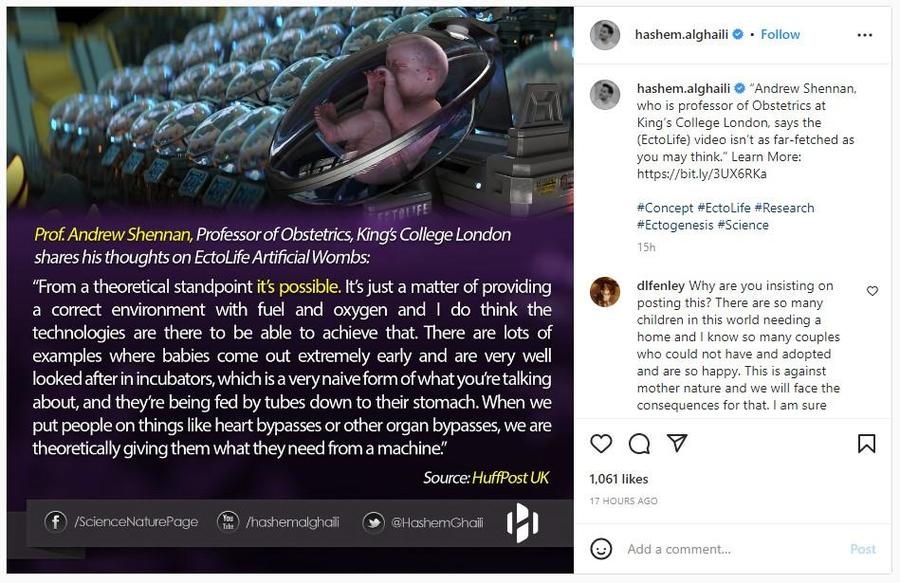 (Source: Screenshot of Hashem Al-Ghaili Instagram post taken on Wed Dec 14 18:19:24 2022 UTC)