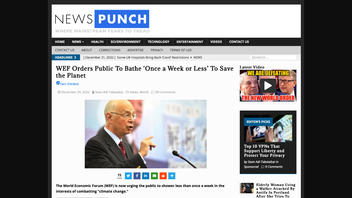 Did the World Economic Forum (WEF) issue an order directing the public to bathe once weekly or less as part of an effort to combat climate change and save the planet? No, that's not true: There is no credible evidence that WEF has issued such an order, nor does it have the authority to do so. The site that the claim appeared on is known for publishing fake stories and hoaxes.
The claim appeared in a December 29, 2022, article on the website NewsPunch under the title "WEF Orders Public To Bathe 'Once a Week or Less' To Save the Planet" (archived here). It opened:
The World Economic Forum (WEF) is now urging the public to shower less than once a week in the interests of combatting 'climate change.'
Here's how the NewsPunch story appeared on the day of writing: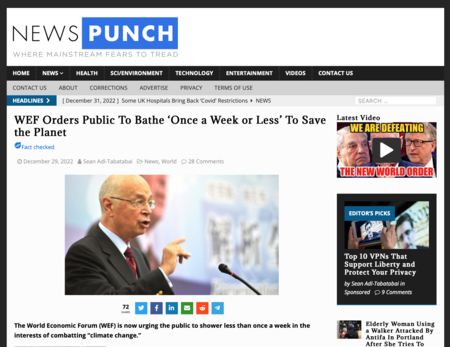 (Source: NewsPunch screenshot taken Sat Dec 31 at 18:10:33 2022 UTC)
The claim lacks any sourcing to official information, reports, statements or press releases from WEF or its leadership.
Reporting by Lead Stories could find no credible reporting on a WEF bathing order via Google search or a review of the WEF's official web page, including a search of its annual and topic area reports.

Lead Stories reporting also found no announcements or directives about weekly bathing on its WEF official Facebook or Twitter pages.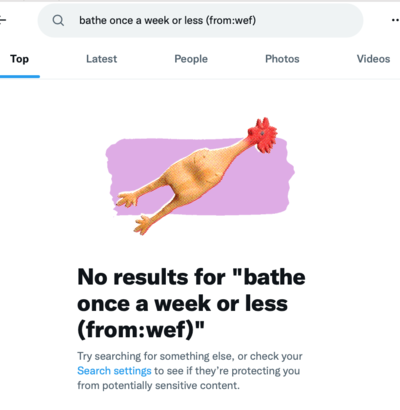 (Source: Twitter screenshot taken Sat Dec 31 at 19:43:09 2022 UTC)
The World Economic Forum is an international nonprofit foundation that works with global leaders in politics, business and industry to address a range of societal challenges, including global economics, climate change and health care. WEF study groups annually issue reports on their areas of focus, along with recommendation for action. However, WEF is a nongovernmental organization and doesn't have the authority to issue public orders, such a bathing directive.
The unsubstantiated story has been shared on social media and on other websites, including here, here and here.
NewsPunch (formerly YourNewsWire) has published hoaxes and fake news articles in the past so anything they write or publish should be taken with a large grain of salt. Their Facebook page, "The People's Voice" even lost its verification checkmark according to a 2018 report from Media Matters For America.
NewsPunch site's terms of use (archived here) also make it clear that the organization does not stand behind the accuracy of its reporting:
NEWSPUNCH, LLC AND/OR ITS SUPPLIERS MAKE NO REPRESENTATIONS ABOUT THE SUITABILITY, RELIABILITY, AVAILABILITY, TIMELINESS, AND ACCURACY OF THE INFORMATION, SOFTWARE, PRODUCTS, SERVICES AND RELATED GRAPHICS CONTAINED ON THE SITE FOR ANY PURPOSE.
Lead Stories' other debunks of claims made by NewsPunch can be found here.