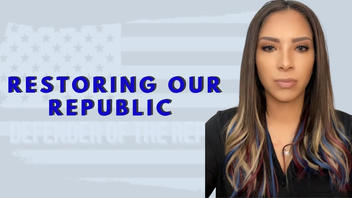 Did President Joe Biden just form a "union" with Mexico and Canada that ended U.S. sovereignty? No, that's not true: The claim misconstrues the Declaration of North America, a trilateral partnership aimed at addressing major regional issues like security, sustainability and inclusiveness. The declaration says nothing about sovereignty and does not "give away American interests."
The claim appeared in a YouTube video (archived here) posted on January 14, 2023. The video opened with a woman saying:
This will probably be one of the most important videos I've ever put out. Did you know that the United States of America, as you know it, no longer exists? And I don't mean this theoretically. I mean this as in on January 10, 2023, while no one was paying attention, Joe Biden signed away our sovereignty as a nation when he met with President of Mexico Manuel Lopez Obrador and Canadian Prime Minister Justin Trudeau in Mexico City to sign the Declaration of North America.
Click below to watch the video on YouTube:
The woman points her viewers to the White House website, which includes a release, dated January 10, 2023, on the Declaration of North America (DNA). The release is real, but she misconstrues what it says. She claims at the 0:58 mark:
They've completed what their plan has always been: the North American Union, a declaration separate and outside of the Constitution. Their intentions have been to further give away American interests to organizations like the World Health Organization. It is what some people call globalism -- a single market, a single regulator, a single currency, a one-world government.
Her claim echoes oft-repeated and unsubstantiated stories about U.S. sovereignty and the World Health Organization (WHO). Lead Stories, for example, has debunked the claim that Biden was "set to sell America's sovereignty to globalists" at the WHO. In that case, proposed U.S. amendments to WHO rules aimed at strengthening the organization's ability to prevent, detect and respond to public health emergencies were misconstrued to be something else. Similarly, in the YouTube video, the speaker takes something real -- the North American DNA -- and misconstrues it to say something that it doesn't.
In fact, the DNA is a trilateral agreement aimed at addressing major regional issues: diversity, equity and inclusion, climate change and the environment, competitiveness, migration and development, health, and security. It says nothing about sovereignty and does not "give away American interests." Nor does it mean, as the woman in the video claims at the 1:30 mark, that law enforcement personnel in the United States are "becoming mercenaries, working for a non-sovereign who is paying them to control us and stop us from securing our rights, freedoms and borders." The DNA is an aspirational commitment -- the kind that commonly comes out of meetings among world leaders.
Finally, it's important to note that countries can form partnerships, unions and even supranational cooperative organizations without giving up all their sovereignty. For example, although they have pooled sovereignty over certain policy areas, member states of the European Union remain independent, sovereign nations.