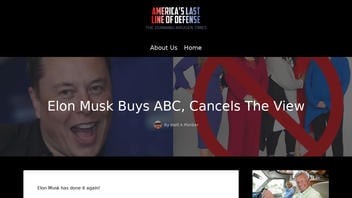 Did Elon Musk buy the ABC Network and cancel its daytime talk show "The View"? No, that's not true: This is a fabricated story that originated on a satire website run by Christopher Blair, who plainly discloses that "everything on this website is fiction." The story has been copied and reposted to another site without that disclaimer.
The article from the satire site Dunning-Krueger-Times.com, described as "a subsidiary of the 'America's Last Line of Defense' network of parody, satire, and tomfoolery," was published on December 31, 2022. Titled "Elon Musk Buys ABC, Cancels The View," the article (archived here) opened:
Elon Musk has done it again!

The new owner of Twitter doubled down on his recent media acquisitions by formally announcing a 37.5 billion dollar bid to buy ABC from its parent company, Walt Disney.
Users on social media only saw this title, description and thumbnail:
Musk: The View is an embarrassment and has to go.
Christopher Blair is a self-professed Maine-based liberal, who for years has run networks of websites that troll conservatives with made-up news items in order to get these conservatives to share his posts. Blair often goes by the nickname "Busta Troll." A 2018 BBC profile called Blair "the godfather of fake news" and "one of the world's most prolific writers of disinformation."
Blair's Dunning-Krueger-Times website is named for the so-called Dunning-Krueger effect, defined by Psychology Today as "a cognitive bias" in which individuals "wrongly overestimate" their competence in a given sphere. The satire site has a disclaimer on its About Us page that reads, in part:
Everything on this website is fiction. It is not a lie and it is not fake news because it is not real. If you believe that it is real, you should have your head examined. Any similarities between this site's pure fantasy and actual people, places, and events are purely coincidental and all images should be considered altered and satirical. See above if you're still having an issue with that satire thing.
"America's Last Line of Defense" stories often contain hints that they are not real, such as links to "sources" that instead go to funny or offensive images. Another telltale sign is the name "Art Tubolls" (anagram for "Busta Troll") for characters in these stories. In this case, the author of the article was given a joke pseudonym, "Watt A. Plonker" -- "plonker" means "idiot."
On January 4, 2023, the website SpaceX Kings, which has no satire disclaimers, published a nearly verbatim copy of the Musk article (archived here). The article appears to have been "spun" by an automated program or a person, substituting synonymous words or phrases, so that anti-plagiarism tools would not detect the duplicated article.
Lead Stories has published an in-depth analysis of how article spinning works. A spun article can contain perplexing, illegible or humorous errors that involve idioms. One term that is a clue to article spinning in the SpaceX Kings copy of Blair's article can be found in the following sentence, which uses "wake-up" in the place of the original term, "woke":
The company's recent financial woes can be traced to customer boycotts of its iconic theme parks in response to Disney's support of the LGBTQ community and wake-up culture at large.
Lead Stories has debunked multiple stories from Blair's websites over the years. These fact checks can be found here.