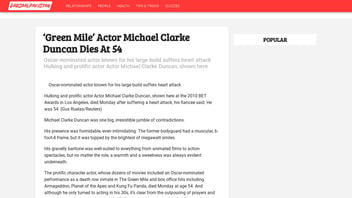 Did actor Michael Clarke Duncan, famous for his role in the 1999 movie "The Green Mile," die? Yes, that's true... but it happened in 2012. News of his death went viral again in 2023 after a clickbait website (likely from Pakistan) reposted an undated obituary for the actor that appears to have been stolen from a Canadian news website.
The article (archived here) was published by a website named "DarsaalPakistan" (using the deceptive domain name bbcnewsz.com) on January 25, 2023, under the title "'Green Mile' Actor Michael Clarke Duncan Dies At 54." It opened:
Hulking and prolific actor Actor Michael Clarke Duncan, shown here at the 2010 BET Awards in Los Angeles, died Monday after suffering a heart attack, his fiancee said. He was 54. (Gus Ruelas/Reuters)
That text appears exactly like that in a September 3, 2012, article on CBC.ca (archived here) from which the first half of the article seems to be copied and pasted: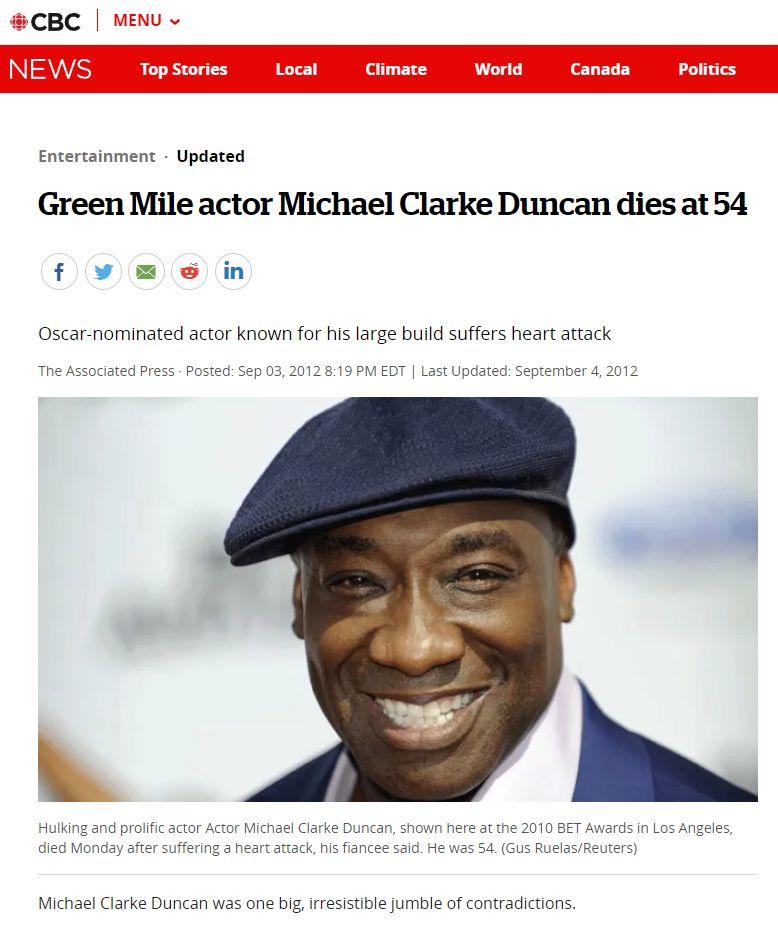 (Source: CBC.ca screenshot taken on Thu Jan 26 8:45:12 2023 UTC)
The second half of the article looks like a copy-paste job from this September 3, 2012, NPR obituary (archived here).
According to WHOIS data, the domain name for the website bbcnewz.com was registered anonymously on January 3, 2023:
Domain: bbcnewsz.com

Registrar: NameCheap, Inc.

Registered On: 2023-01-03
During its short existence the site has published at least
one other misleading story
about a celebrity facing mortal peril, falsely implying singer Toby Keith was on life support.