STORY UPDATED: check for updates below.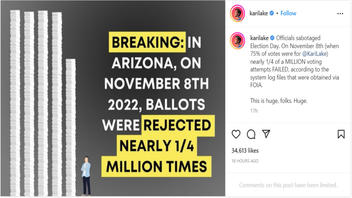 Did nearly a quarter of a million voting attempts fail in the November 8, 2022, election in Arizona and did that impact the vote count? No, that's not true: The communications director for the Maricopa County Elections Department called the allegation "textbook disinformation." While many ballots were scanned and rescanned multiple times, the votes were ultimately counted. Arizona Secretary of State Adrian Fontes called the assertion "a continued effort to mislead voters."
The claim appeared in a post on Instagram published by losing Arizona gubernatorial candidate Kari Lake on January 23, 2023, under the title "BREAKING: IN ARIZONA, ON NOVEMBER 8TH 2022, BALLOTS WERE REJECTED NEARLY 1/4 MILLION TIMES." The description says:
Officials sabotaged Election Day. On November 8th (when 75% of votes were for @KariLake) nearly 1/4 of a MILLION voting attempts FAILED, according to the system log files that were obtained via FOIA.

This is huge, folks. Huge.
This is what the post looked like on Instagram at the time of writing: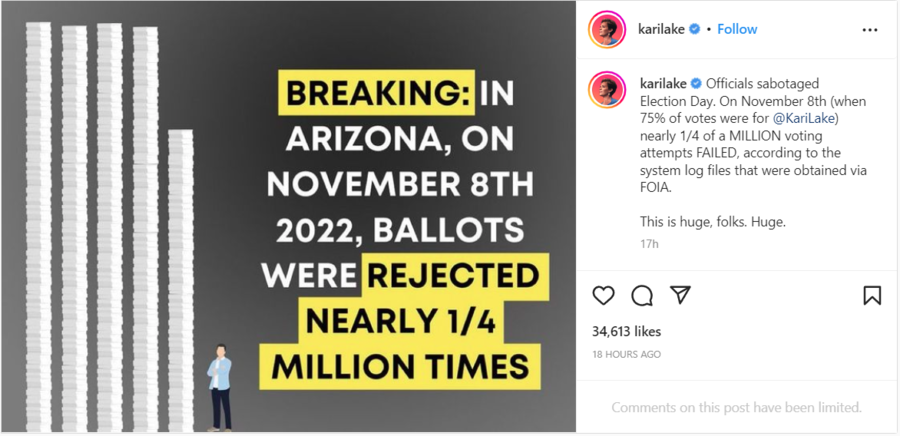 (Source: Instagram screenshot taken on Tue Jan 24 18:23:13 2023 UTC)
There's no evidence of sabotage in the November 2022 election in Arizona. Also, there's no evidence that any voting attempt ultimately failed as Lake claims. In December 2022, a judge threw out Lake's challenge of her defeat in the Arizona governor's race to Democrat Katie Hobbs. Maricopa County Superior Court Judge Peter Thompson rejected her claim that problems with ballot printers at some polling places on Election Day were the result of intentional misconduct.
Lake secured voting logs from the November 2022 elections through the Arizona Freedom of Information Act.
In a January 25, 2023, email to Lead Stories, Megan Gilbertson, communications director of the Maricopa County Elections Department, said:
The logs simply show the total number of times that ballots were run through tabulators in the November 2022 General Election. A ballot is secret, so this means that each insert into a tabulator is considered a unique ballot, even if it is the same voter attempting to insert their ballot multiple times.

It's not unusual for a tabulator to not accept a ballot on the first try. Sometimes it could be a voter inserting the ballot slightly askew. If this happens, the ballot is returned to the voter to try again. The security logs show each attempt to read a ballot. Having a number higher than the total number of ballots counted is expected and shows the detail maintained in the logs.
During the November election, faulty printers produced ballots that were too light to be read by on-site tabulators at some polling places in the county. The issue caused voting lines to back up in some areas and led to claims of fraud.
Gilbertson said the elections department outlined the details of what happened during a voting canvass presentation in November:
16,724 Election Day ballots were not able to be counted onsite at voting locations and were instead counted at the Elections Department. Poll workers reported that some voters chose to feed their ballot into the tabulator more than a dozen times before placing the ballot into a secure ballot box on site. Each of these attempts would have been reflected as a unique action in the log.
Arizona's election results were certified on December 5, 2022.
In a January 25, 2023, email to Lead Stories, Arizona Secretary of State Adrian Fontes refuted the "false claims made on social media and in the press." He added:
The 2022 election was unequivocally fair and accurate. As Secretary of State, I take my duty to inform the public about our election systems seriously, especially when false accusations are made. Maricopa County has provided in-depth responses in its Correcting the Record report, which speaks to the integrity of the current systems. ... Further claims about log inadequacies are erroneous. The logs show the total number of times that ballots were run through tabulators in the last General Election. There is no veracity to the claim that ballots were improperly counted. Once again, there remains no there, there.
Fontes was sworn into office on January 2, 2023.
The Maricopa County Board of Supervisors announced in early January 2023 that former Arizona Supreme Court Chief Justice Ruth McGregor will lead an independent investigation into how ballot printers at polling sites became defective. More than 60 percent of Arizona's voters live in Maricopa County.
Lead Stories fact checks of claims involving Lake can be found here. Additional stories related to Arizona election fraud can be found here.
2023-01-26T15:59:17Z

2023-01-26T15:59:17Z

Adds statement from Arizona Secretary of State Adrian Fontes.

2023-01-26T07:18:51Z

2023-01-26T07:18:51Z

Updated headline to clarify that even though there were log messages about failed voting attempts the votes ultimately did get counted.