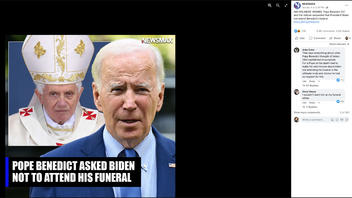 Did Pope Benedict ask President Joe Biden not to attend his funeral? No, that's not true: According to a Vatican spokesperson, the wish of the retired head of the Catholic Church was to have a simple ceremony, and there is no evidence that Pope Benedict specifically excluded the U.S. president from the list of attendees. The White House told Lead Stories that the claim is false.
The claim appeared in a NewsMax article (archived here) shared on Facebook on January 4, 2023. The caption of the post read:
HIS HOLINESS' WISHES: Pope Benedict XVI and the Vatican requested that President Biden not attend Benedict's funeral.
This is what the post looked like on Facebook at the time of writing: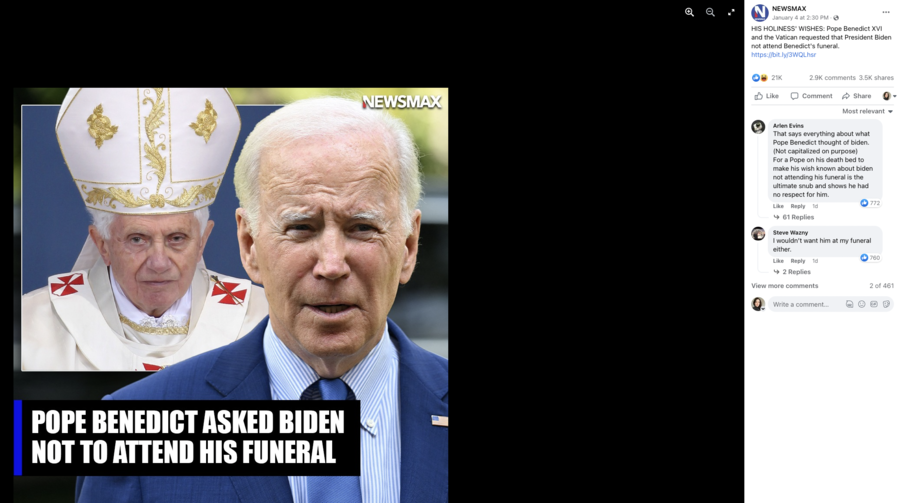 (Source: Facebook screenshot taken on Fri Jan 6 15:52:54 2023 UTC)
Pope Benedict died on December 31, 2022. On the same day, Vatican spokesperson Matteo Bruni said the former pontiff asked for a "simple, solemn and sober" ceremony, as Reuters reported. It took place in Vatican City on January 5, 2023. According to the Holy See statement, only two delegations -- Germany and Italy -- were invited to be present in an official capacity.
A White House spokesperson told Lead Stories via email on January 6, 2022:
It is false to say that Pope Benedict XVI and the Vatican requested President Biden not attend the Pope Emeritus' funeral. As the Vatican has said, it was the late Pope Emeritus' wish that the funeral be simple and it was the Vatican's request that no official delegations aside from Germany and Italy attend. As President Biden spoke to, had he attended in a personal capacity, it would have complicated the funeral. The President had Ambassador to the Holy See Joe Donnelly attend.
On January 4, 2022, President Biden said that his presence would make the funeral much more complicated, considering logistics and safety requirements for the head of the state:
... the reason I'm not attending the funeral tomorrow is because it takes an entourage of a thousand people to show up -- not literally. But we would -- we would move everything in the wrong direction. I inquired about that. And they're -- people are sending mostly their apostolic delegates, their -- the folks in Rome. That's what we're going to do. We would just get in the way.

But I -- I've made my views known. I'm -- at any rate, I think he was a fine man.
The Newsmax article did not cite any sources confirming the assumption made in the headline. Its own story only made a reference to White House Press Secretary Karine Jean-Pierre, who said that Biden's decision was "in line with the wishes of the late Pope and the Vatican."
Other Lead Stories fact checks about the Vatican can be found here.