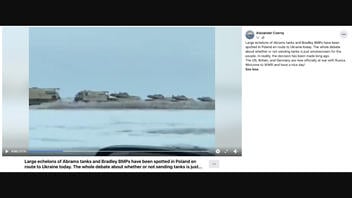 Does a video circulating on social media show American M1 Abrams tanks in Poland? No, that's not true: The clip was shot in the United States, in Kansas. While the video lacks the precise details needed to establish whether the tanks in question are indeed M1 Abrams, the claim that these tanks were delivered to Europe just a day after President Joe Biden's announcement of plans to supply them to Ukraine is not realistic: Tanks cannot be moved across the Atlantic Ocean in less than a day; such a delivery requires preparation and complicated logistics.
The claim appeared in a post on Facebook on January 25, 2023. It contained a video of what appeared to be a train transporting tanks in winter. The caption said:
Large echelons of Abrams tanks and Bradley BMPs have been spotted in Poland en route to Ukraine today. The whole debate about whether or not sending tanks is just smokescreen for the people. In reality, the decision has been made long ago.

The US, Britain, and Germany are now officially at war with Russia. Welcome to WWIII and have a nice day!
This is what the post looked like on Facebook at the time of writing: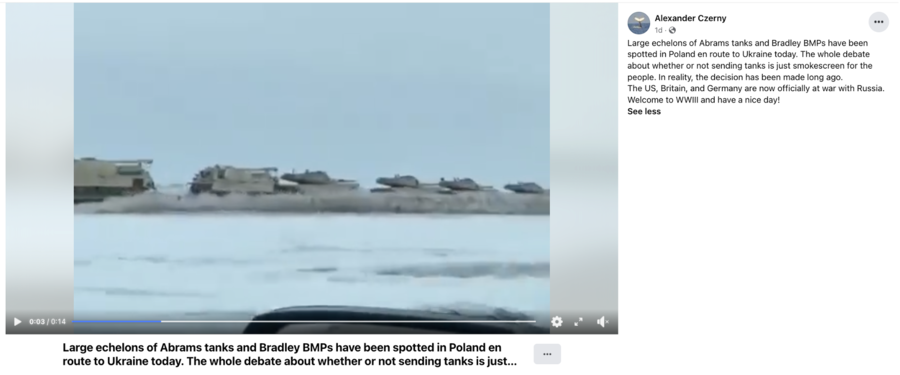 (Source: Facebook screenshot taken on Fri Jan 27 15:40:15 2023 UTC)
A reverse image search shows that the footage was not shot in Poland, Ukraine's western neighbor and ally, but in Kansas, in the middle of the United States. On January 26, 2023, the day after the claim appeared, The Independent, a British media outlet, published on its verified YouTube account an identical clip of these trains in Kansas: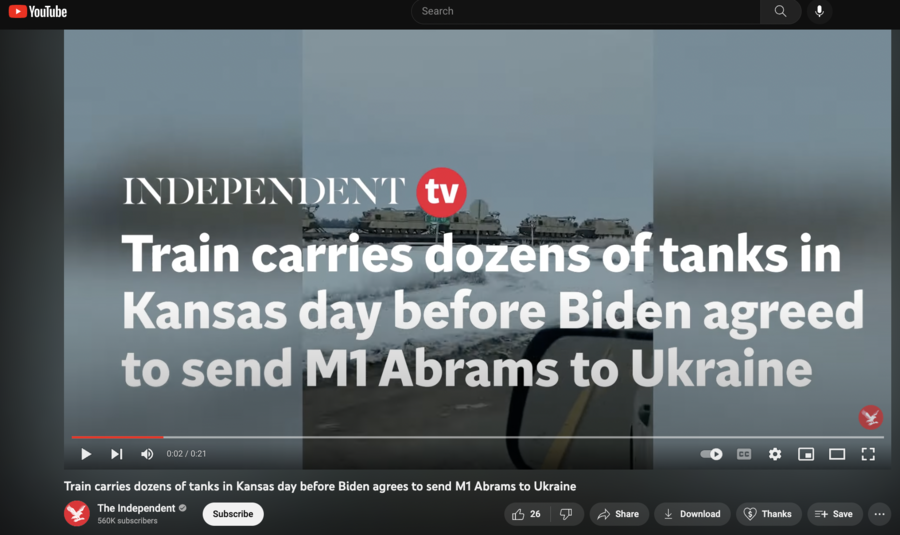 (Source: YouTube screenshot taken on Fri Jan 27 15:49:20 2023 UTC)
The description section specified:
Footage filmed on January 24 shows the tank-laden train approximately one mile west of Gorham on Highway 40.
Google Maps show that Highway 40 splits the city of Gorham, Kansas, into two parts and that, surrounded by fields and hills, its terrain resembles that shown in the video: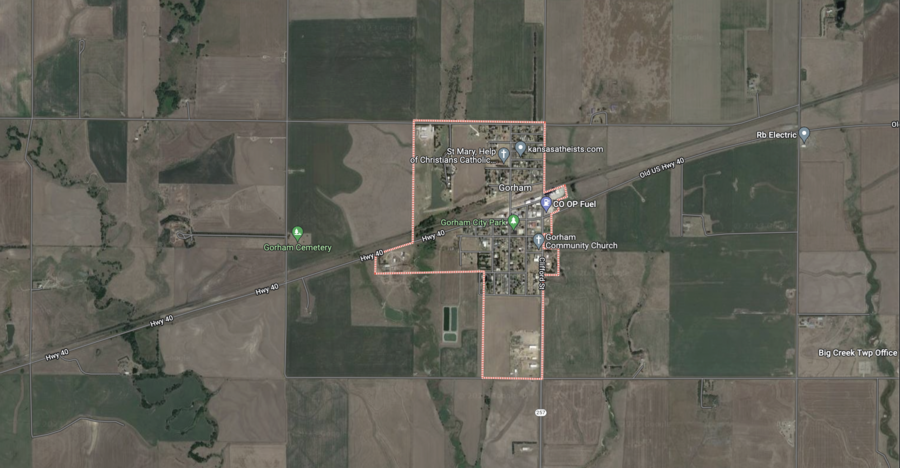 (Source: Google Maps screenshot taken on Fri Jan 27 16:01:42 2023 UTC)
An interactive map of freight railroads also shows one route going through Gorham along Highway 40: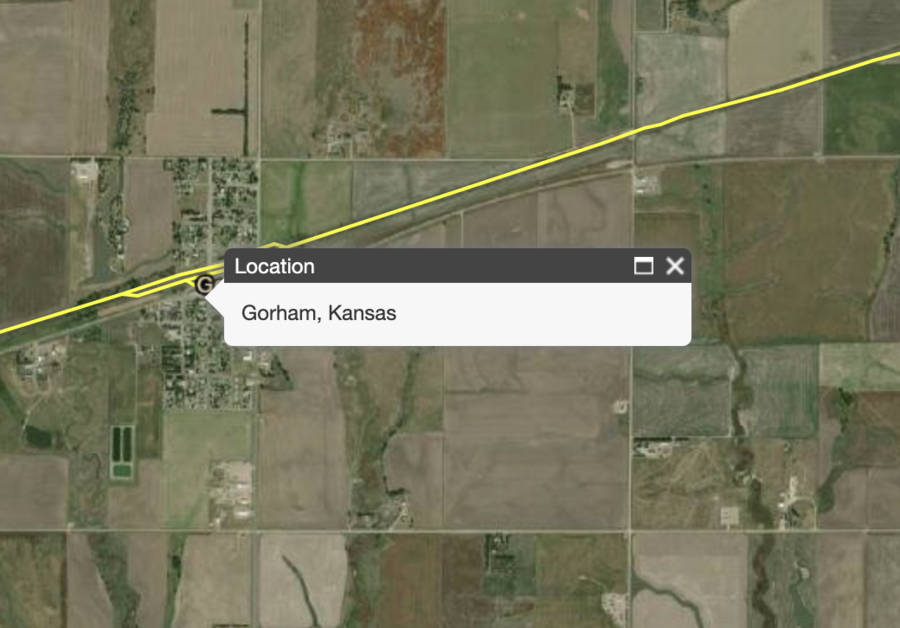 (Source: Acwr screenshot taken on Jan 27 16:44:05 2023 UTC)
Railroad tracks are seen on street-view photos on Google Maps as well: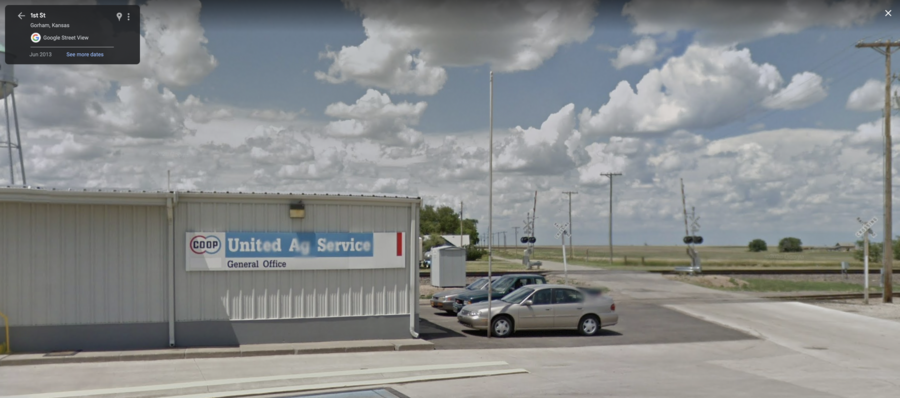 (Source: Google Maps screenshot taken on Fri Jan 27 16:49:59 2023 UTC)
According to TimeAndDate, Russell County, where Gorham is located, saw light snow during the weekend preceding the publication of the video. It was followed by ice, fog and temperatures as high as 34 degrees Fahrenheit during the daytime and as low as 3 degrees Fahrenheit at night.
On January 24, 2023, it was snowing again, as reported by a local TV station: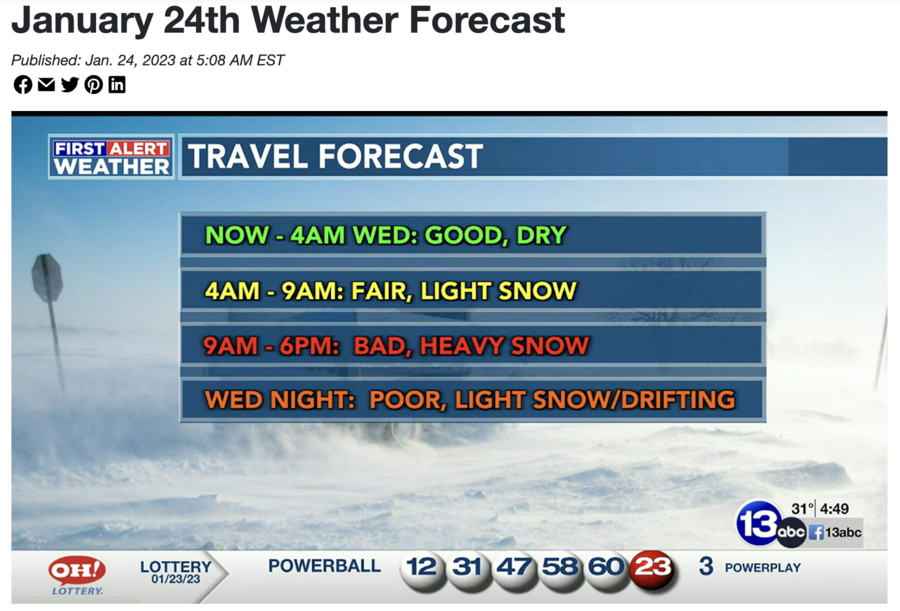 (Source: KWCH screenshot taken on Fri Jan 27 20:16:12 2023 UTC)
That is consistent with the weather conditions seen in the video.
The clip was originally posted on Twitter on January 24, 2023, the date that The Independent said it shot its footage of the tank-bearing train: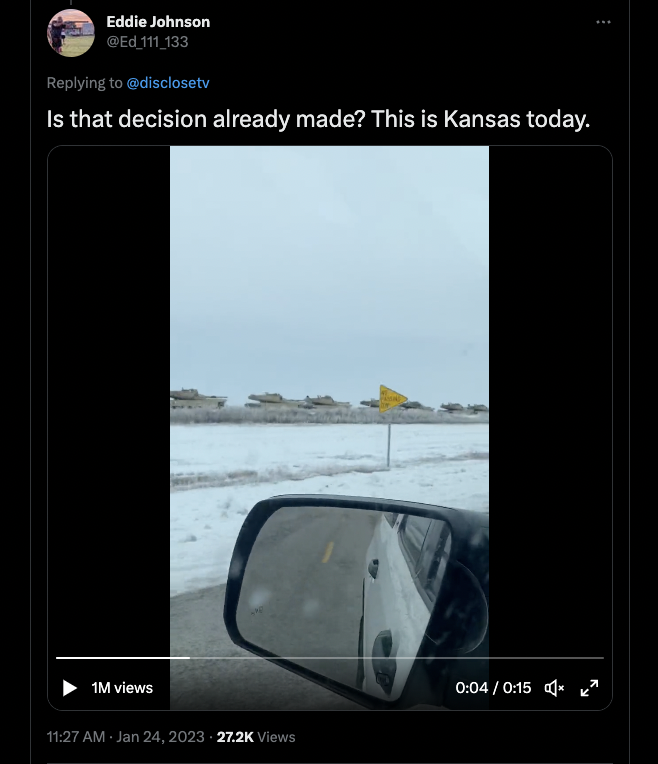 (Source: Twitter screenshot taken on Fri Jan 27 16:30:44 2023 UTC)
Despite the author of this tweet stating that the image was from Kansas, some users half-jokingly suggested in the same thread that it could be Poland.
It was unclear until January 24, 2023, whether the U.S. would send tanks to Ukraine. On that date, Reuters reported that the official announcement would be made the next day.
On January 25, 2023, President Joe Biden said the U.S. would send 31 Abrams tanks to Ukraine along with parts and maintenance equipment. He implied that the tanks were not currently anywhere near the Ukrainian border:
Delivering these tanks to the field is going to take time, time that we'll see -- we'll use to make sure the Ukrainians are fully prepared to integrate the Abram tanks into their defenses.
The gap between this official announcement and the post that claimed the tanks were traveling through Poland was about 24 hours. On January 27, 2023, however, in an interview with CNN, National Security Council spokesperson John Kirby refused to confirm that the tanks would make it to Ukraine even before the end of 2023. Leopard tanks, sent by Germany and several other European countries, could reach Ukraine by the spring or summer of 2023, but the Abrams tanks "will take a little bit more time." He added:
It will be many months before they can get on the ground.
Weighing in at 73.6 tons each, the Abrams require specialized transportation and loading -- a 2010 shipment to Afghanistan can be seen here -- as well as parts, rounds of ammunition, support vehicles and other maintenance equipment. Training Ukrainian soldiers to operate these tanks has not even begun -- deciding on the training plan could take "weeks," Kirby said in a CNN interview on January 25, 2023.

Unnamed U.S. officials earlier also told the Associated Press that the delivery of the Abrams to Ukraine would take "many months."
Time Magazine elaborated on that: Unlike the previous rounds of U.S. military aid to Ukraine, this shipment may be bought through the Ukraine Security Assistance Initiative to purchase weapons from contractors, if the U.S. doesn't have enough in existing military stocks.
The U.S. Army has deployed M1 Abrams tanks overseas since the early 1990s; in particular, during the 1991 Persian Gulf War and the 2003-11 war in Iraq. The tanks can reportedly survive direct hits, but they are heavy and require sophisticated maintenance.
Additional Lead Stories fact checks of claims about the ongoing war in Ukraine can be found here.