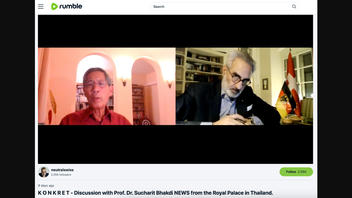 Did the government of Thailand announce plans to cancel COVID-19 vaccine contracts with Pfizer-BioNTech after a suspected connection between the Pfizer vaccine and Princess Bajrakitiyabha's December 2022 collapse was established? No, that's not true: An official from Thailand's National Vaccine Institute told the Associated Press on February 7, 2023, that the country does not intend to reconsider its contract with Pfizer or other COVID-19 vaccine manufacturers. The Royal Office of Thailand has provided no evidence to suggest that a "third shot" of the Pfizer COVID vaccine caused Princess Bajrakitiyabha's health emergency. Her vaccination records have not been made public.
The claim that the Pfizer vaccine was to blame for the 44-year-old Thai diplomat's health condition originated in a 46-minute video interview with Dr. Sucharit Bhakdi, a retired Thai-German microbiologist, that was posted on Rumble on January 28, 2023. (Lead Stories has fact-checked Bhakdi's claims before.) Shortly after the 30-minute mark of the video, Bhakdi alleged that a Pfizer-BioNTech contract with Thailand was "based on fraud because there were no safety studies." He added:
And so they said to me, we will see to it that Thailand is the first country in the world that is going to declare this contract null and nullify the contract. ...

Something happened you know, in December, and that is that the one daughter of the present king ... collapsed and is in coma. She, within, I think it was 23 days, after the third shot ... 44 years old, never been seriously ill, collapsed and is now in a coma and the diagnosis that was given by the authorities and by the university is so ridiculous. She's supposed to have a bacterial infection that will never do what she is suffering from ...

We are sending information to the royal family to alert them to the fact that, in all probability, the princess is suffering as a victim of this jab.
This is how the video appeared at the time of the writing of this fact check: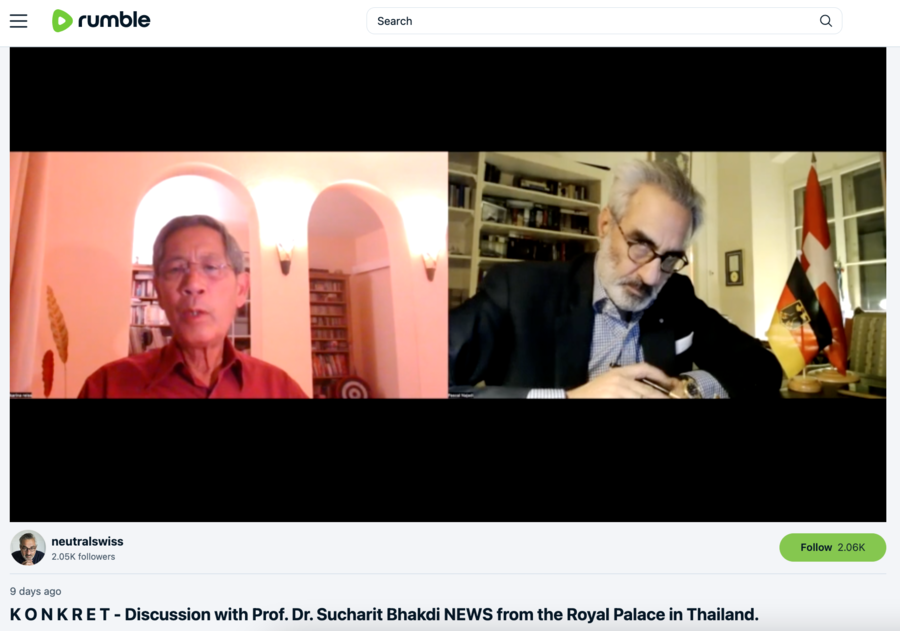 (Source: Rumble screenshot taken on Mon Feb 6 23:37:40 2023 UTC)
A snippet of that video was then shared to Twitter, BitChute, NewsPunch and YouTube. Bhakdi provided no evidence to substantiate his claims linking Bajrakitiyabha's collapse to the COVID vaccine, nor did he provide proof that Thailand planned to nullify any contracts with Pfizer-BioNtech.

Thai government: 'No orders' to end Pfizer vaccination
On February 7, 2023, an official from Thailand's National Vaccine Institute, part of its Ministry of Health, denied that the government is considering ending the import of Pfizer COVID-19 vaccines. The official, who requested anonymity, told the Associated Press:
"There are no orders to stop or slow down usage or reconsider its use," the official said. "We are still moving forward and using it."
The official stated that the vaccine is considered "safe and still recommended for the general public."

No Thai government official ever announced that a ban of Pfizer vaccines was planned in connection with Princess Bajrakitiyabha's December 14, 2023, collapse while walking a dog. A Google News search provides no relevant information about such an announcement.

Thai health officials and the royal family announced in January 2023 that the princess' medical condition was the result of severe heart arrhythmia, an irregularity in the heartbeat caused by inflammation following a bacterial infection.
Princess' collapse caused by bacterial infection, heart irregularity
The Royal Office of Thailand issued three statements that provided updates about the princess' health since her collapse on December 14, 2023. None of these statements mentioned a connection with the COVID vaccine, Princess Bajrakitiyabha's vaccination status or plans to outlaw Pfizer-BioNTech immunizations in Thailand.

According to the first update, on December 15, 2023, the princess collapsed on December 14, 2023 while running with her dog. A second update, on January 7, 2023, noted that she remained unconscious and was being treated for severe hearth arrhythmia, a rare condition caused by inflammation following a bacterial infection known as mycoplasma.
Lead Stories translated into English the following Thai statements from the Bureau of the Royal Household:
On December 14, 2022, 6.20 p.m., Her Royal Highness Princess Bajrakitiyabha was training her dog at the Military Dog Battalion, in the Pak Chong district of Nakhon Ratchasima province for the Thailand Working Dog Championship 2022, [organized] by the Royal Thai Army, which was being held between December 10 - 19, 2022. During the canine training, she collapsed and lost consciousness due to a heart problem. The team of doctors provided the princess preliminary remedies at the local Pak Chong Nana Hospital until she stabilizes to a certain extent. Her Royal Highness was then airlifted to Chulalongkorn Hospital in Bangkok for comprehensive treatments.
The team of doctors providing treatment for the princess reported that her overall condition stabilizes to a certain extent. Her heartbeat was being controlled with medication. A heart examination revealed that her heart was not fully functioning, but a coronary angiogram did not reveal any abnormality. The team of doctors gave her medication and used equipment to support the function of [her] heart, kidneys and lungs. Doctors were continuing to closely monitor the princess' condition.
The team of doctors conclude that her unconsciousness resulted from severe heart arrhythmia due to inflammation of the heart after a mycoplasma infection. Her Royal Highness remained unconscious. The team of doctors continued to administer her medicine, including antibiotics and use equipment to support the function of her heart, lungs and kidneys. Doctors were continuing to closely monitor the princess's condition.
To date, the royal family has not released vaccination records for Princess Bajrakitiyabha, nor have they announced the status of her COVID immunizations. There is no evidence to substantiate Bhakdi's claim that she received her third dose "23 days" prior to her collapse. Lead Stories contacted the Royal Office of Thailand for further information about the princess' condition and will update this article accordingly.
U.S. continues to donate COVID vaccines to Thailand
Bhakdi also claimed that he was in discussion with top Thai authorities to have the Pfizer contracts declared null and void -- an act that would potentially make Thailand the first country to do so. Bhakdi provided no names, official reports or other proof to corroborate these claims.

He told the Associated Press that he had spoken "with highest-ranking advisors to the government and Royal Family" about why Thailand's purchases of the Pfizer vaccine should end, but characterized some of the interpretations of his earlier words as an "exaggeration."

Lead Stories contacted the Department of Medical Sciences, Ministry of Public Health in Thailand for further clarification about such claims, but had not received a response by the time of publication. We will update this article accordingly if we receive a response.
According to the U.S. State Department, the U.S. government has provided 2.5 million COVID-19 vaccines, including 1.5 million Pfizer doses, to Thailand free of charge since July 2021. Bilateral agreements established the terms of the donations. Lead Stories contacted the State Department, the Thai embassy in Washington, D.C. and Pfizer to determine whether talks about ending such an agreement have occurred. We will update the article accordingly if we get a response.
The Tourism Authority of Thailand Newsroom wrote on June 28, 2022, that Pfizer-BioNTech (also known as Comirnaty and Tozinameran) was one of the 13 approved COVID vaccines available in Thailand.
Additional Lead Stories fact checks of claims about COVID-19 vaccines can be found here.