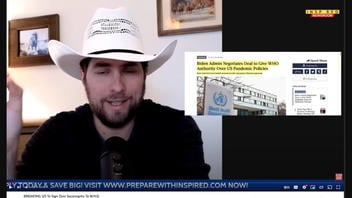 Does a draft of a World Health Organization (WHO) pandemic treaty supplant U.S. sovereignty, giving the international organization the authority to dictate American policies? No, that's not true: Nothing in the draft states the U.S. will lose its sovereignty. In fact, the draft says the opposite by "[r]eaffirming the principle of sovereignty of States Parties in addressing public health matters, notably pandemic prevention, preparedness, response and health systems recovery." An expert who helped draft the accord told Lead Stories that states, localities and the federal government are the only authorities that can make domestic pandemic policies.
The claim appeared in a video (archived here) on YouTube published February 20, 2023. In it, shortly before the 2-minute mark, an unidentified man claimed:
On February 27, they plan to sign sovereignty over to the World Health Organization. This is basically a world government coming in through the back door -- no war -- not in the classic sense.
This is what the post looked like at the time of writing: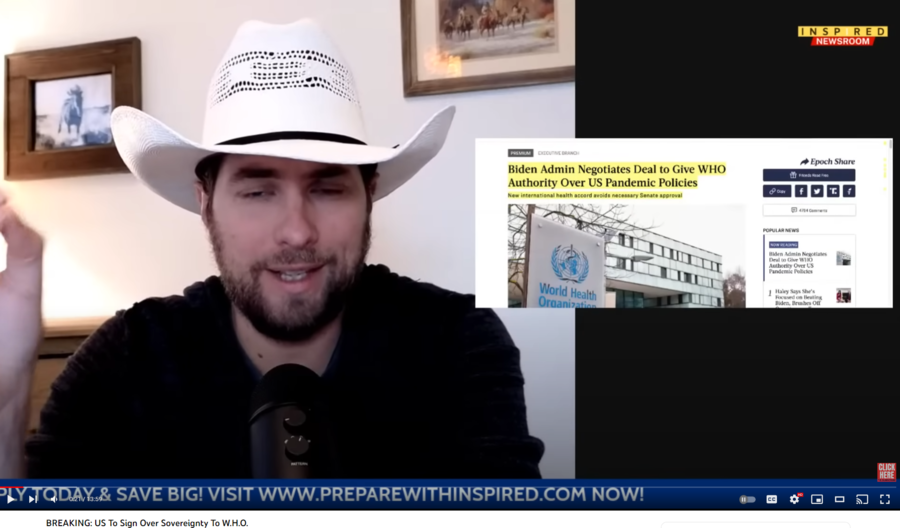 (Source: YouTube screenshot taken on Thu Mar 2 12:28:55 2023 UTC)
As his source, the man cited an article, published by The Epoch Times on February 18, 2023, that was titled: "Biden Admin Negotiates Deal to Give WHO Authority Over US Pandemic Policies." The article referenced this draft of a pandemic treaty that was published February 1, 2023.
At the 1:15 mark in the video, the man said:
I will run you through this article, but let me just give you a quick overview. For the first time in the world's history, if this goes through as planned, 194 nations on February 27th will sign over their national sovereignty to an unelected private body.
The draft, which was being discussed at a meeting taking place February 27, 2023, through March 3, 2023, does not support his statement.
The word "sovereignty" appears just three times in the 32-page document.
The first instance is found in the very first line, which reads, in part: "Reaffirming the principle of sovereignty of States Parties in addressing public health matters, notably pandemic prevention, preparedness, response and health systems recovery ..."
The other two times appear in a section for "Guiding principles and rights," which reads, in part:
Sovereignty - States have, in accordance with the Charter of the United Nations and the principles of international law, the sovereign right to determine and manage their approach to public health, notably pandemic prevention, preparedness, response and recovery of health systems, pursuant to their own policies and legislation, provided that activities within their jurisdiction or control do not cause damage to their peoples and other countries. Sovereignty also covers the rights of States over their biological resources.
In other words, there is nothing in the actual language of the proposed accord that says anything about ceding sovereignty or authority over U.S. pandemic policies.
Lead Stories reached out to Brian Abramson, an adjunct professor of vaccine law at Florida International University, to ask about the post's claims. In an email, dated March 2, 2023, he wrote:
As a law professor, when someone proposes that a document will have a particular effect, I generally ask them to point out the specific provisions in that document that would have that effect. Here, most of the provisions are aspirational, rather than obligatory, and promote goals that the United States would already be pursuing irrespective of the treaty -- such as having a sufficiently large and well trained healthcare workforce to respond to any pandemic that may arise, and having regulatory systems in place to prevent the distribution of counterfeit medications.
We also reached out to Lawrence Gostin, a Georgetown University law professor who helped draft the pandemic treaty, to ask about the post's claim. In an email, dated March 2, 2023, he wrote:
The WHO Pandemic Treaty would not give WHO any authority over US domestic policy in addressing pandemics. The US is sovereign and the only authorities that can make pandemic policy are the federal governments, states, and localities. Those powers are all subject to judicial review, including by the Supreme Court and the US Constitution is supreme.
In response to whether the proposed treaty would mandate vaccines and lockdowns, as alleged here and here, he responded: "Absolutely not." Gostin continued:
Decisions as to whether to mandate vaccines or masks, or order lockdowns, is entirely within the power of the United States. The WHO has, and will, make recommendations on these matters based on science, but the final decisions are wholly within the sovereign authority of the United States.
He noted that, as it stands now, there are also no compliance mechanisms built into the draft.
Lastly, we reached out the U.S. Department of Health and Human Services to ask about the post's claim. A spokesperson responded, via email:
It is false to claim that the World Health Organization has now, or will have by virtue of these activities, any authority to direct U.S. health policy or national health emergency response actions. The WHO has no such enforcement mechanisms, and its non-binding recommendations to member states are just that: non-binding. Any associated actions at the national level will remain reserved to sovereign states, including the United States.
Lead Stories has debunked a number of claims about U.S. sovereignty and the WHO. For example, we reported that President Joe Biden did not form a union with Mexico and Canada that ended U.S. sovereignty, nor was he "set to sell America's sovereignty to globalists" at the WHO.