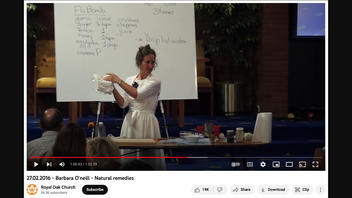 Do castor oil compresses applied to the abdomen "heal" the colon to treat for diarrhea and constipation? No, that's not true: There is no scientific evidence that suggests castor oil has therapeutic benefits beyond its approved laxative properties when taken orally. Claims that castor oil compresses can heal diarrhea and constipation were made by a former naturopathic practitioner barred from practicing by New Zealand health officials in 2019. The U.S. Food and Drug Administration (FDA) confirmed to Lead Stories that "castor oil compresses have not been evaluated by the FDA for safety and effectiveness as a treatment for diarrhea or constipation."
The claim originated in a nearly 2-hour video shared on YouTube on April 2, 2016, that identified the featured speaker as a now-barred naturopath named Barbara O'Neill who posits that when "castor oil is applied to the abdomen" it "will penetrate and soften the colon" to heal constipation and diarrhea. At the 1:01:36 mark of the video, which was posted by Royal Oak Seventh-day Adventist Church in New Zealand, O'Neill said the following:
Now, if castor oil is applied to the abdomen, it will heal any problems in the abdomen... That will penetrate and soften the colon if the person has constipation. That will penetrate into the colon and heal the colon if the person has bad diarrhea.
Below is how the video appeared at the time of this publication: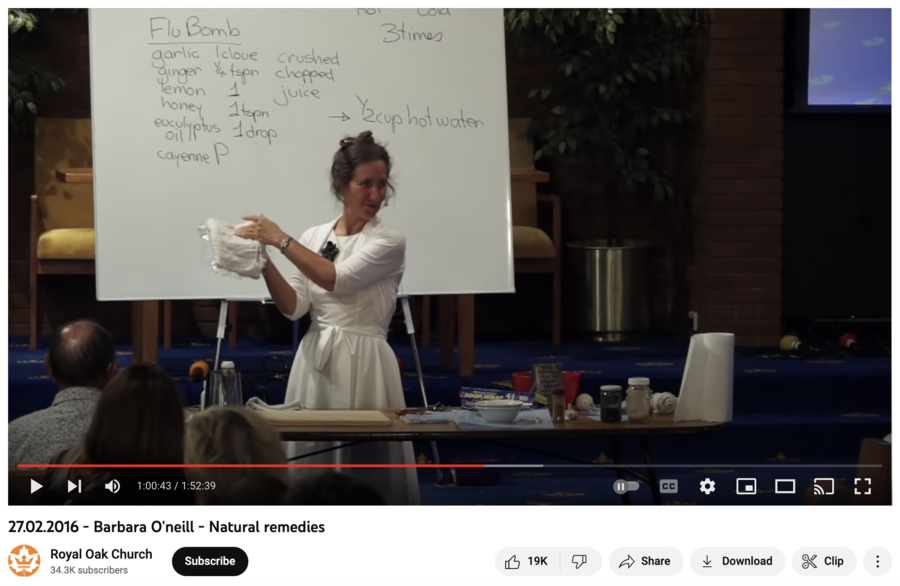 (Source: YouTube screenshot taken Fri April 7 07:27:44 UTC 2023)
At least one post on social media included 1-minute 19 seconds long clip of the above video shared on Facebook on April 5, 2023, with a text overlay that reads, "CASTOR OIL Part 2."
There is no substantive evidence that topically applied castor oil, such as through an abdominal compress wrap, can heal the colon to treat either diarrhea or constipation.
"​​Castor oil compresses have not been evaluated by the FDA for safety and effectiveness as a treatment for diarrhea or constipation, therefore the FDA has no information to provide," Chanapa Tantibanchachai of the FDA Center for Drug Evaluation Research wrote to Lead Stories in an email received on April 10, 2023.
Castor oil is classified by the FDA as "generally recognized as safe and effective for use as a stimulant laxative" when taken orally for a limited period of time and at the discretion of a physician. Scientists in 2012 determined that Ricinoleic acid, a fatty acid accounting for about 90 percent of the oil, binds to receptors in the intestines, which may help to induce bowel movement when taken by mouth. However, because of the observed side effects of castor oil and the contraindications associated with its ingestion, medical providers generally prefer other laxative options.
As Lead Stories first reported in March 2023, O'Neill was permanently prohibited by the New South Wales Health Care Complaints Commission (HCCC) in 2019 from practicing any form of health care after an investigation concluded that her spread of misinformation breached New Zealand's Code of Conduct for Unregistered Practitioners.
Writing in a news release published September 24, 2019 (archived here), HCCC wrote that O'Neill made "dubious and dangerous health claims" that were "not evidence based or supported by mainstream medicine." HCCC added that O'Neill could not stay within the limits of her training, failed to provide health service in a safe and ethical manner, and misled vulnerable people by discouraging them from seeking medical treatments appropriate to their conditions. Ultimately, these conclusions resulted in O'Neill being permanently prohibited in New Zealand from practicing health care in any capacity.
Both diarrhea and constipation are symptoms that may indicate a more serious health concern, such as an infection, food allergy or intolerance, digestive tract problems, or diseases like Parkinson's and celiac, among many other conditions, according to the National Institute of Diabetes and Digestive Kidney Diseases (NIDDKD).
Diarrhea is most typically caused by a viral infection, notes Cleveland Clinic. NIDDKD writes diarrhea can become dangerous if it leads to dehydration and malabsorption, which is the inability to absorb nutrients from food. The Mayo Clinic notes that adults should see a doctor if diarrhea persists for more than two days without improvement, and if a person also experiences dehydration, bloody or black stools, severe abdominal or rectal pain, and a fever above 102 degrees Fahrenheit. It is not recommended to treat diarrhea with castor oil compresses.
Constipation occurs when the colon absorbs too much water from stool, drying and hardening the stool until it is difficult to pass, according to Cleveland Clinic. Similarly, constipation can be caused for a variety of reasons, most commonly due to gastrointestinal disorders like irritable bowel syndrome, certain medications, life changes, or health and nutrition problems like not eating enough, writes NIDDKD. The agency writes that constipation can be treated by consuming more fiber, drinking water, and through some lifestyle changes like physical activity or bowel training. In some cases, surgery or prescription medications may be required to treat constipation. Castor oil compresses are not recognized as a treatment for constipation, either.
Lead Stories previously debunked O'Neill's claims that cayenne pepper can be used as a medicinal component and to treat stomach ulcers, that castor oil compresses can cure tumors, and that underwire bras cause breast cancer.