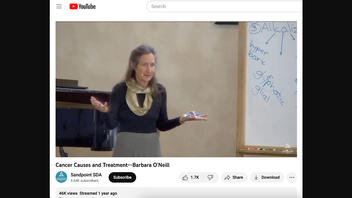 Do bras made of unnatural fibers or those that contain underwire cause breast cancer? No, that's not true: Experts agree that there is no substantive or reliable scientific evidence that wearing underwire bras or those made of unnatural fibers is linked to an increased risk of breast cancer.
The claim originated in a 1-hour video shared to YouTube on October 16, 2021, that identified the featured speaker as a former naturopath named Barbara O'Neill. At the 54:22 mark of the YouTube video, which was posted by a Seventh Day Adventist account that O'Neill lectures for, she said the following:
And the underwire bras are dangerous because breast tissue is lymphatic tissue and it clears into the nodes under the arm and there's a very effective gate there that stops that cleaning process.
Below is how the video appeared on YouTube at the time of this publication: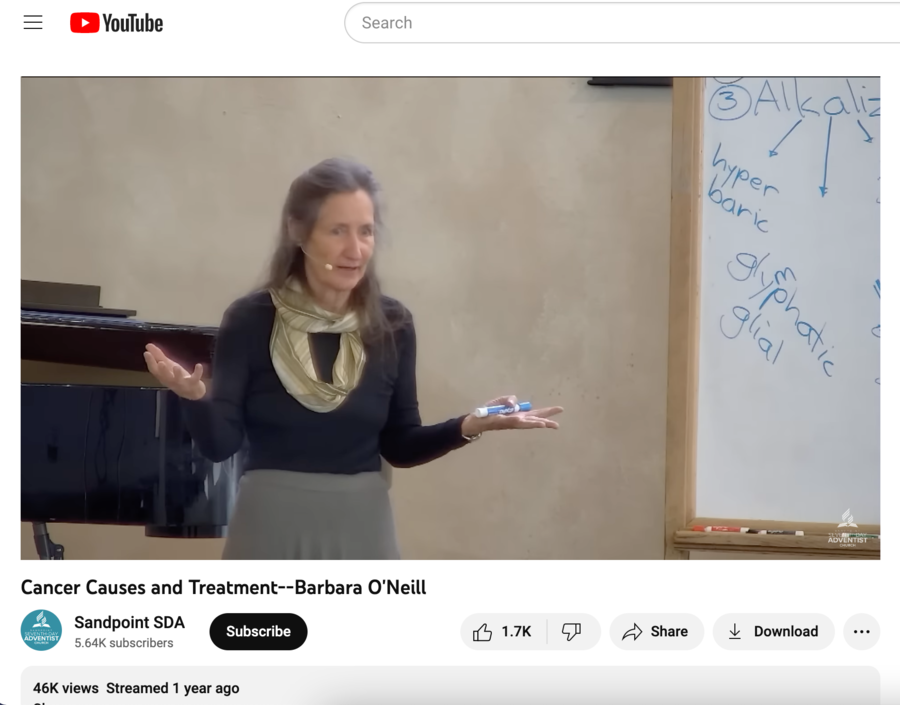 (Source: Facebook screengrab taken Weds March 29 18:32:00 UTC 2023)
A 2 minutes 33 seconds long clip from the above video was then shared on TikTok on March 19, 2023. The video, which features an unidentified woman, was later shared to Facebook. A text overlay on the video read:
Barbara O'Niell. Eileen is cancer free... Be patient with the castor oil. It takes time... underwired bras are dangerous... Natural fiber underwear... Mould contributes to cancer.
Experts including the Canadian Cancer Society, the Cancer Council in Australia and the American Cancer Society agree that there is no substantive or reliable scientific evidence that links wearing underwire bras to an increased risk of breast cancer.
As Lead Stories reported in March 2023, O'Neill was permanently prohibited by the New South Wales Health Care Complaints Commission (HCCC) in 2019 from practicing any form of health care after an investigation revealed her spreading of misinformation had breached New Zealand's Code of Conduct for Unregistered Practitioners.
HCCC wrote in a September 24, 2019, news release (archived here), that O'Neill made "dubious and dangerous health claims" regarding the causes and treatment of cancer, among other conditions. The agency added that O'Neill was unable to stay within the limits of her training and experience and failed to provide health service in a safe and ethical manner and misled vulnerable people by discouraging them from seeking medical treatments appropriate to their conditions. Ultimately, these conclusions resulted in O'Neill being permanently prohibited from practicing health care in any capacity.
Scientific American reported in 2007 that the claim originated in 1995 with the publication of "Dressed to Kill," a book written by husband-and-wife duo Sydney Ross Singer and Soma Grismaijer, who suggested a link between wearing tight-fitting bras and the risk of developing breast cancer. Bras, they claimed, trap toxins in breast tissue by inhibiting lymphatic drainage, ultimately causing cancer.
A 2016 study published in the Journal of Oncology Research and Treatment, a limited study with a small sample size, found a correlation -- not causation -- between "wearing a tight bra for several hours per day and an increased risk of developing breast cancer."
Scientists generally agree, however, that there is no link between the two. For example, the breast cancer organization Susan G. Komen foundation writes that:
Scientific evidence does not support a link between wearing an underwire bra (or any type of bra) and breast cancer risk. There's no biological reason they would be linked.

A 1991 case-control study found women who didn't wear bras had a lower risk of breast cancer than women who did wear bras. However, the authors stated this link was likely due to factors related to wearing a bra rather than the bra itself. The women in the study who didn't wear a bra were more likely to be thin, which the authors concluded might account for their decreased risk of breast cancer.
A 2014 study published in the journal Cancer Epidemiology, Biomarkers and Prevention similarly found that no aspect of bra wearing was associated with risks of two types of breast cancer.
Lead Stories previously debunked O'Neill's claims that cayenne pepper can be used as a medicinal component and to treat stomach ulcers and that castor oil compresses can cure tumors.
Lead Stories has previously reported that "vitamin" B17 was not banned for "cancer-killing properties," that parmesan cheese flavor additive is not toxic in small amounts, that root canals do not cause cancer and that seed oils are not the primary risk factor for skin cancers.